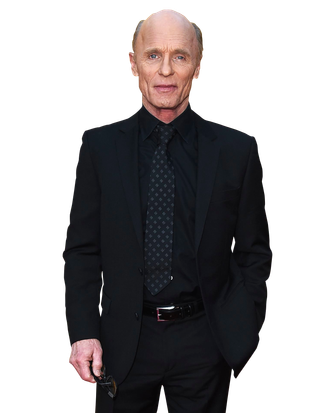 Photo: Jordan Strauss/Invision/AP/Shutterstock
Ed Harris originally signed on to play Westworld's mysterious old-West outlaw the Man in Black, and so he's just as confused as you are about what's happening right now. By this week's episode, "Decoherence," his character, William, has fully become the Man in White, tricked out of his money by Delores and strapped into a straitjacket at a futuristic mental institution. In a hallucination sequence, William encounters multiple versions of himself from earlier parts of his life, ultimately killing them all and announcing that he's the good guy, despite losing most of his humanity from all those visits to the park.
Harris, speaking over the phone from his home in California, where he's currently on lockdown, did not sound especially thrilled about what's happening to William. He spoke with Vulture about how this "wasn't the most joyous season for me," what it was like to act across from (and beat up) a younger version of William played by Jimmi Simpson, and his disappointment about leaving Broadway's To Kill a Mockingbird early due to the coronavirus pandemic.
First of all, what was it like choking out Jimmi Simpson?
[Laughs] You know, I'm just playing a character. I'm just doing what the script tells me to do at the best of my ability. It is kinda fun beating up on him, and Jimmi's a cool guy. It was fun to actually get a chance to work with him a little bit, even if it was a little bizarre.
What was it like shooting those group-therapy scenes? 
It was a new experience in terms of acting for me, but you're either playing the corporate William or you're the guy in the white jumpsuit, and so you just focus on that when you're shooting it. It was a lot of costume changes, but the manner of filming it was very organized. It wasn't confusing.
The show has preserved the mystery of whether William could be a host, and this episode doesn't definitely resolve it. Is that something Lisa Joy and Jonathan Nolan have told you definitively?
They pretty much leave it up in the air. Being a person who enjoys doing theater and making it new and fresh every night, I'd just as soon know the full arc of my character. But, unfortunately, I do not.
So it's just revealed to you episode by episode?
Yeah, pretty much.
In this episode, William arrives at the realization that he's "the good guy." What did you take that to mean for him?
I think he demolishes these aspects of himself. At this point, he feels like he's one whole individual. He knows who he is. He knows he's responsible for the mayhem that has ensued out of the park. His goal is to rectify it.
At one point, James Delos asks William, "Did your life just happen to you or did you choose it?" It seems like he's realizing it doesn't matter. 
I thought that was actually a pretty good answer. If I don't know whether I have free will or not or if it's all ordained. What's the difference? You've still gotta do what you've gotta do. But I think that he feels he has his own free will. He makes his choices based on the moment and what he feels is correct to do. Whether that's true or not, who knows?
Do you have an opinion about whether we have free will?
I'd like to think that we do. Otherwise, it would be a little bit disheartening, waking up this morning. The outlook on humanity on this particular show is not the most optimistic, obviously. I happen to be a human being that still tries to retain some hope in us to progress as a species, which we certainly haven't done a very good job of so far.
In this episode, William's treatment includes what looks like Clockwork Orange-style torture of you being strapped down and manhandled. What was it like filming that?
You do what you gotta do. I mean, I signed on to play the Man in Black. I didn't sign on to play the Man in White. So it wasn't the most joyous season for me, I gotta say.
The character has gone to such a dark place, it must be hard to embody.
It's not so hard to embody, but it's hard to feel like something I'm really enjoying doing.
You were on Broadway playing Atticus Finch in To Kill a Mockingbird when it shut down in March. What was that like?
It was really sad, because we had a show Tuesday night and two Wednesday and then Thursday afternoon, we got this message that the show's done. Didn't get a chance to say good-bye to any of the cast. Didn't get to finish the work on it, because I was still exploring this character. I emailed everybody and we said good-bye. I was hoping we'd get back together and do the show for another four or five weeks when things got back up and the new cast rehearsed, but that's not gonna happen. So, this is the way it is.
What is your life like on lockdown?
Luckily, I've got a few acres here. After five and a half months in New York doing a play where I wasn't able to work outside at all, there's a lot of things to get done out here. So I'm doing that and hanging out with my wife.
What kind of yard work?
I've got a big field that grows up every year, in terms of grasses and weeds, and so it's got to get mowed down or cut down for fire season. So there's a lot of work to do. There's always wood to chop. All kinds of things.