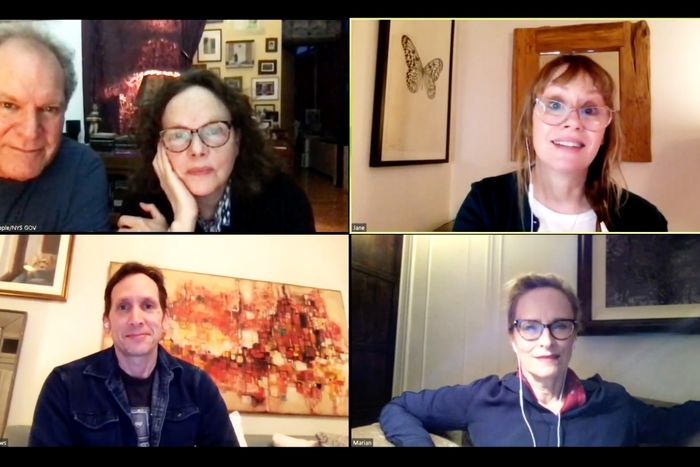 Clockwise from top left: Jay O. Sanders and Maryann Plunkett, Sally Murphy, Laila Robins, and Stephen Kunken.
Photo: Courtesy of The Public Theater
As the coronavirus pandemic makes the group Zoom call an essential part of daily life, it was only a matter of time before the videoconferencing platform became both the medium for and the subject of a new work of art. That's the case with the Public Theater's production of What Do We Need to Talk About? written by Richard Nelson. It will reunite the Rhinebeck-based characters from his series of Apple family plays over a call as they too react to the crisis. The performance will be streamed live on YouTube at 7:30 p.m. on Wednesday, April 29, as the cast, Jon DeVries, Stephen Kunken, Sally Murphy, Maryann Plunkett, Laila Robins, and Jay O. Sanders all call in from their respective homes, acting out the isolated members of the fictional clan doing the same. The cast has been spending their time rehearsing over Zoom under the direction of Nelson, figuring out how to adapt to a new form while also reacquainting themselves with the characters they've known for a decade. "It's like, here is scorched earth after a forest fire, but look, there are little green things popping up," Plunkett said of the feeling of returning to theater right now. "It's kind of exciting, what people can do." In advance of the performance, Vulture caught up with Plunkett and Sanders, who are married and staying together in their West Village apartment, to talk through how they've adapted to performing in a new format.
Realize you have the time: Though Richard Nelson has since expanded his Rhinebeck series to focus on other characters, the Apple family last gathered together onstage at the Public in 2014. But once the pandemic hit, Nelson, who frequently talks with Sanders and Plunkett about various ideas, started talking to them about a new project. Both were available too. Plunkett was preparing to shoot a TV show and going into a workshop for a musical, while Sanders had just opened Girl From the North Country on Broadway. "Richard was like, 'Hey, Jay, you're not doing that now; let's play over here,'" Sanders remembered. "I threw in completely. I said I'd help him manage it."
Figure out the structure: At first, Nelson wanted to revisit The Decameron, the classic 14th-century Boccaccio collection of stories told between people while they quarantine from the black death. "He proposed it to the Public. I said yeah," Sanders said, "then he got back to me and said it's too negative a context. It's like saying, 'This is The Plague.' Instead, he worked that idea into the structure of this play. That's what we're doing, — telling stories in the spirit of The Decameron, and then it becomes interesting instead of being a drag."
Reacquaint yourself with your characters: In the series, Sanders and Plunkett play Richard and Barbara Apple, brother and sister, and a lawyer in the state governor's office and schoolteacher, respectively. Their characters have ended up quarantining together, with Barbara just returned from the hospital, where she's been tested twice and released. Everyone on the call is adjusting to uncertain realities: especially Barbara, normally the caretaker, learning how to be taken care of. "It's her function, and she's a teacher also, so it's about giving," Plunkett said. "To have her suddenly in the position where she must receive care and must accept it is a turning point."
Learn how to rehearse over Zoom: Before streaming the play live, the actors had to all gather on their computers and figure out how to work through the material from their homes. Luckily, they were familiar with the format, at least outside of using it to perform a play. "Jay and I had done Zoom calls with our families, so Zoom with our Apple family felt right," Plunkett said. Nelson would call in to rehearsals and make himself invisible, and then they'd all gather at the end of run-throughs, visibly, together to talk through adjustments. "It was sort of like we're sitting at the table going over notes, like normal," she added.
Make your home the set: To set the scene, Plunkett and Sanders had to stage their West Village apartment as if it were Barbara's home in Rhinebeck. They've gotten advice on making sure the sound and lighting is correct from the Public's tech team, and they then also have some invisible secrets to get themselves in character. "Barbara always brought out a wooden card table that was always present on the set," Plunkett said. "At the end of all it, after five years [of the plays], including the tour, I was presented with the table. That's where we have our laptop set up. Jay and I know that it's Barbara's table, but nobody sees it."
Tape the dress rehearsal, just in case: On Tuesday night, the night before the show, the cast gathered for a formal dress rehearsal, which the Public taped just in case of any tech issues the night of the performance. "Wednesday, I think we're rehearsing some in the afternoon, and then we'll just meet half an hour ahead of time to make sure everything is proper and working," Plunkett said, "and that our phones are turned off."