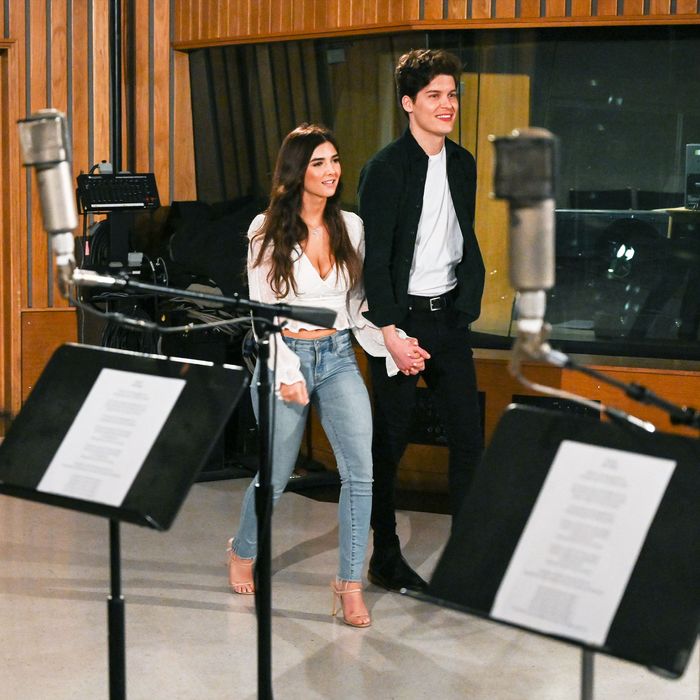 She might need a lot of lovin,' but she don't need you!
Photo: ABC
Congrats to the duplicitous Jed Wyatt and his dog-food jingle for single-handedly willing this show into existence. On April 13, The Bachelor Presents: Listen to Your Heart (not to be confused with the virtuosic Tom Petty standard) will become the newest spinoff for the franchise, which follows a group of cardiologists as they travel around the country alongside Doctors Without Borders. Just kidding. It's about young, sexy musicians looking for their big break. There have been a handful of Bachelor spinoffs in the past, but since they've mostly taken the form of drinking in and out of beachside palapas, we thought it would be a good idea to outline just what exactly the tune-centric Listen to Your Heart entails. Turn up the volume!
All right, how is this gonna work?
Twenty single men and women descend upon the Bachelor Mansion with their instruments of choice in the hopes of finding a "duet partner for life." The dating format thus more closely resembles Paradise than a standard season: The singles (who are each identified by their preferred music genre) mingle and try to find a romantic connection, and, if they find one, they embark on a series of dates that revolve around music. Those dates will then evolve into making sweet, sweet songs (and covers) together and showcasing their work in front of an audience with judges. However, sonic loyalty is not guaranteed, and contestants are allowed to Yoko break up and experiment with someone else in the mansion whenever they want. "It's just like a real-life Star Is Born," someone rationalizes in the trailer.
Are there any repeat Bachelor Nation contestants?
Nope, everyone is new. (Since you're curious, though, Jed is now in a serious relationship.) Chris Harrison is back as our esteemed host, and alum couples JoJo Fletcher and Jordan Rodgers, as well as Kaitlyn Bristowe and Jason Tartick, will be appearing as judges for one of the competitions. But most important, so will the newly coronavirus-free Rita Wilson!
How many episodes is it?
Only six, clocking in at [vinyl scratch] two hours each?!?! What?!?!
Do these people … win anything?
National-television time. More Instagram followers. Maybe a sponsorship deal with the coveted FabFitFun. (Like Rickenbacker is gonna play around with these fools.) But in actuality, no. Unlike The Voice or American Idol, there's no cash prize or guaranteed recording contract.
Is it worth watching?
It's not like we have anything else going on right now.