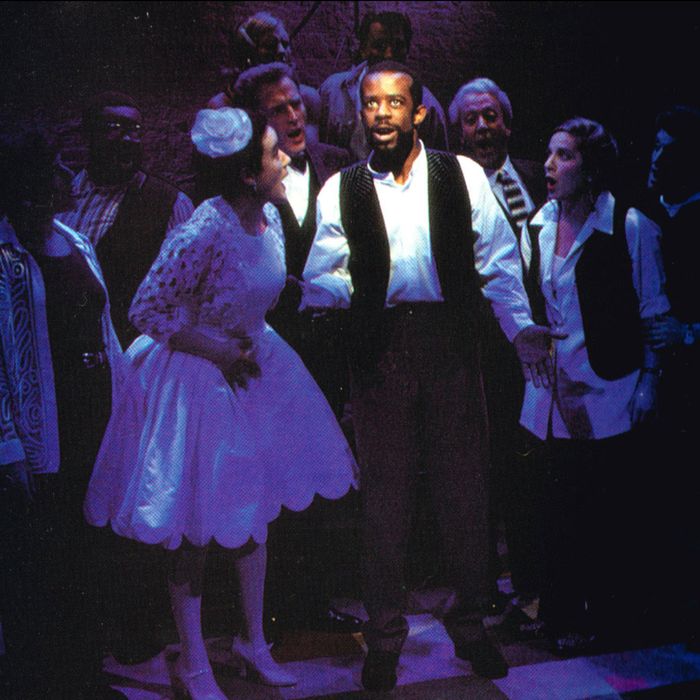 Sixteen shows were about to open when everything shut. You can't go to the theater. Here are some suggested substitutes.
Instead of Company, Watch …
You can't see London's gender-switched revival of Company, which was supposed to open on Broadway on Stephen Sondheim's 90th birthday. And you can't see Sam Mendes's staging of The Lehman Trilogy. But you can watch Mendes's own innovative London revival of Company, recorded in its entirety at the Donmar Warehouse in 1996, on YouTube. Like most London productions of American musicals (including the new Company), it isn't always persuasively American, but it's the most compelling complete version on video. To see fragments of the definitive production — Hal Prince's 1970 Broadway original — consult D. A. Pennebaker's classic documentary Company: Original Cast Album, also on YouTube.
Instead of Six, Watch …
You could listen to the studio cast album available on Spotify, but why do that when you could star in the show yourself? Search for the "Sing-a-Long Edition" and warm up your voice. After that, stream Wolf Hall on PBS or, for silly smut, The Tudors on Netflix.
Instead of Diana, Watch …
Revisit the bizarre viral video footage from a community-theater production of a different musical about the late Princess of Wales. It runs just over two chaotic minutes on Twitter and ends with the dramatic sound of a car crash as the stage cuts to black.
Instead of American Buffalo, Watch …
Watch Dustin Hoffman in American Buffalo, the 1996 movie based on the David Mamet play, on Hulu. For a more literal, less shouty approach, the Smithsonian Channel is airing The Last Buffalo, a documentary about the fight to save the great American bison, on April 5.
Presley Ryan, the ensemble member turned lead of the show, is a TikTok celebrity in her own right. Since you can't see her play Lydia Deetz, consider watching her short, silly videos while quarantining instead. Or there's always the 1988 film, VOD-able everywhere.
Martin Scorsese's Rolling Thunder Revue on Netflix offers a documentary view of Bob Dylan's 1975 tour. Watching it will likely be much less painful than sitting through the Conor McPherson musical entirely too loosely based on Dylan's tunes.
Lauren Patten singing "You Oughta Know" is the absolute pinnacle of this Alanis Morissette jukebox musical: Patten burns through it in a way that breaks your heart and nearly breaks the show. So why not listen to her (a) singing that on the album and (b) talking about what Alanis means to her? Then go stream Reality Bites (VOD it, or watch it for free if you have Hulu). Bingo, whammo — that's your '90s.
Instead of The Minutes, Watch …
The stream of City Council Meeting, by Aaron Landsman, on Here, on April 22 (Here@home watch party), plus Register to Vote, and stream Tracey Letts's TV show Superior Donuts.
Instead of The Lehman Trilogy, Watch …
The Big Short on iTunes. Actually, that's a terrible suggestion in this recession. Maybe watch Hustlers.
Instead of Tina, Watch …
Head over to YouTube and search for any number of videos of Adrienne Warren singing "River Deep." Then, proceed to fall into an algorithmically suggested rabbit hole of videos of Warren's vocal chords defying the laws of nature.
Instead of Flying Over Sunset, Watch …
Alas, unless you already have a stash of LSD, social distancing will make buying some difficult. So just read an e-book of Aldous Huxley's The Doors of Perception or stream Cary Grant in To Catch a Thief on Amazon Prime.
*A version of this article appears in the March 30, 2020, issue of New York Magazine. Subscribe Now!