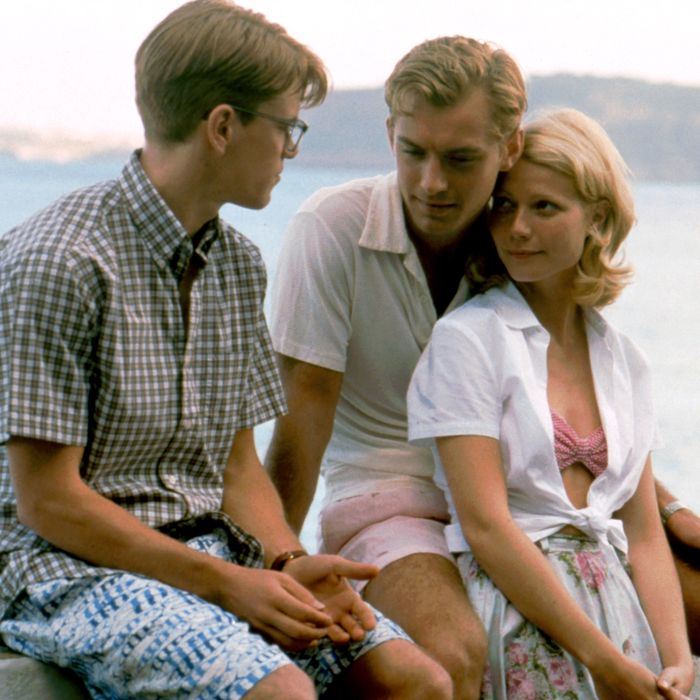 Matt Damon, Jude Law, and Gwyneth Paltrow in
The Talented Mr. Ripley
.
Photo: Miramaz
Every week for the foreseeable future, Vulture will be selecting one film to watch as part of our new Friday Night Movie Club. This week's selection comes from our film critic Alison Willmore, who will begin her screening of The Talented Mr. Ripley on May 1 at 7 p.m. ET. Head to Vulture's Twitter to catch her live commentary, and look ahead at next week's movie here.
The last time I really left the house was on March 10, when I went to a friend's book event and then for drinks after, enjoying the end of that interlude in which doom seemed imminent but also abstract. I've been outside since, sure, strapping on a mask to scurry to the grocery store or take furtive walks around the block for some air, but that evening marked the end of going out for the enjoyment of it, a concept that now feels as distant as the moon. The pandemic has had a way of making little liberties — like sipping a coffee outside a café, or browsing through records at a shop — seem in retrospect like wild extravagances. It's turned bigger ones into something almost inconceivable — imagine the decadence of going on vacation! Imagine heading abroad to, say, Italy, and finding it scenic and sunny and not staggering back from its own bouts with the virus.
Now, imagine doing that all on the dime of a shipping magnate who's under the mistaken impression that you're the right person to convince his playboy son to return to his obligations in the U.S. Yes, our spirits may be drooping, our hair may be unwashed, and our clothes may be even more so, but that's exactly why it's the right time in which to partake in The Talented Mr. Ripley, an already impossible travelogue that now feels as heady as a nitrous hit. Anthony Minghella's 1999 film, adapted from the Patricia Highsmith novel, provides equal parts delirious pleasure and simmering dread — because what's escapism without a streak of something darker to give it zest? The pleasures it offers up are beyond anyone's grasp, like a 1950s Venice yet uncluttered by influencers, or an idyllic coastal town of Mongibello that's actually a fictional invention. Fitting for a movie that's all about wanting what you can't have, whether that's a person, a wardrobe, or a decadent expat existence.
To covet the luxury The Talented Mr. Ripley puts onscreen isn't just expected, it's thematically appropriate — and holy hell is its luxury covetable. There is, for instance, much to desire about the airy coastal villa in which Dickie (Jude Law) turns out to have ensconced himself, though personally, I prefer the leafy courtyard outside Marge's (Gwyneth Paltrow) place, the one that also serves as her writing nook. Not to be underestimated are the lavish Rome apartment that the scheming Tom Ripley (Matt Damon) rents and the crumbling Venice mansion he later makes his own — and that's just the housing. Where to begin with the clothes — all those fine linens and sharp suits, the high-waisted bikinis and leopard-print coats that earned costume designers Gary Jones and Ann Roth an Oscar nomination? Then there's the scenery, like the pristine beach at Mongibello, and the deep-blue ocean as seen from Dickie's boat, and the sprawling plazas in whose outdoor cafés intrigues unfurl.
And, of course, the cast. As Dickie, Law is as beautiful and dangerous as a big cat, while as his beleaguered lover Marge, Paltrow is exquisitely patrician with a steely core. Damon, meanwhile, eases his character into affluence like it's a warm bath he then doesn't want to get out of, as infatuated with Dickie's lifestyle as he is with the man himself. Plus Cate Blanchett, and the much-missed Philip Seymour Hoffman, and Philip Baker Hall in a final-act appearance — it's a movie whose abundance of riches rivals the ones its characters grew up with. Those riches have shaped and, in some cases, seriously warped the adults they've become, which doesn't stop Tom from wanting to be like them. Which is the ultimate reason you should join me for The Talented Mr. Ripley — because it's about how seductive the idea of being on an endless vacation might be, never having to get serious and go home, but in the end it ruins everyone. We're the lucky ones, shut up at home, waiting to someday reemerge into the light. And if you squint hard enough while watching the movie, you might even be able to believe it.
The Talented Mr. Ripley is available to rent on Amazon Prime, iTunes, Google Play, YouTube, and Vudu.