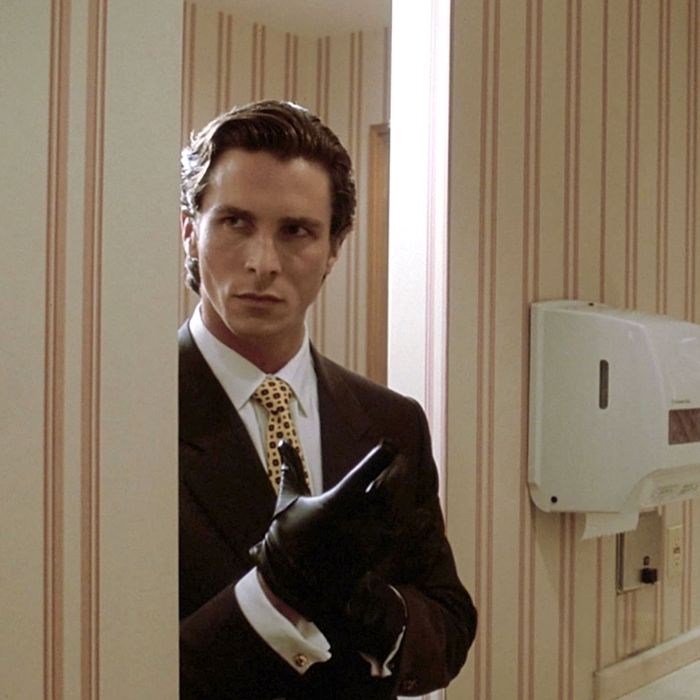 Patrick Bateman told us in the starkest terms that we were living in a world of murderous greed and indifference.
Photo: Lions Gate Films
Every week for the foreseeable future, Vulture will be selecting one film to watch as part of our new Friday Night Movie Club. This week's selection comes from our staff writer Lila Shapiro, who will begin her screening of Mary Harron's American Psycho on April 24 at 7 p.m. ET. Head to Vulture's Twitter to catch her live commentary, and look ahead at next week's movie here.
Patrick Bateman, the status-obsessed Wall Street investment banker who moonlights as a serial killer in American Psycho, has three heroes: fellow mass murderers Ed Gein and Ted Bundy, and Donald Trump. In Bret Easton Ellis's 1991 novel, Bateman keeps a copy of The Art of the Deal on his desk and gazes longingly at Trump Tower — "tall, proudly gleaming." Then he shifts his gaze to the black teenagers standing in front of it and contemplates murdering them.
In Mary Harron's cruel and glittering adaptation, which came out 20 years ago this month, Trump is referenced only sparingly, but his shadow lies over every scene. When Bateman admires his biceps in the mirror while having sex, when he silently rages with envy over the sight of a colleague's new business card, when he tells a date that she will be ordering the peanut-butter soup with smoked duck (before quickly adding that "New York Matinee" called it a "playful but mysterious little dish"), he is conjuring a certain type of man — vain, jealous, absurdly petty, materially wealthy but culturally bankrupt, and above all else, obsessed with what other people think. In the New York of the 1980s, that personality reached its apotheosis in the form of the young, glamorous Donald Trump. Yes, glamorous. Before he was an overripe orange spewing conspiracy theories, he was "tall, lean and blond, with dazzling white teeth," a playboy who belonged "to the most elegant clubs," as the New York Times gushed in 1976.
American Psycho's relationship to Trump doesn't end with Bateman's emulation of the man. Over the years, as Trump's stature has risen to previously unimaginable heights, so has the film's. At the time of its release, it polarized critics, earning a few positive reviews but also wide condemnation. "Even people who liked it wouldn't have considered it an important film," Harron told me in a recent interview. Now it regularly appears on lists of the greatest horror films of the 21st century. Looking back, it can be seen as an eerily prescient skewering of the social conditions that allowed Trump to get to where he is now. Throughout the movie, Bateman is desperate to confess his crimes, but no one will listen. When he tells a model at a nightclub that he works in "murders and executions," she tells him, eyes glazed over with boredom, that the guys she knows who work in "mergers and acquisitions really don't like it." When he tells his lawyer that he's killed 20 — or maybe 40 — people, the guy thinks it's a joke. (The real punch line is that Bateman's lawyer doesn't recognize him, confusing him for one of his look-alike colleagues — a pervasive face-blindness that seems to afflict most of the characters in the story.)
In the end, even the detective investigating one of the murders, played with brilliant ambiguity by Willem Dafoe, is cheerfully determined not to finger Bateman as the suspect. Bateman is psychotic, but so is the culture that surrounds him. Every person he encounters is so insanely self-absorbed, so consumed by their own quests for status and wealth, that they aren't just indifferent to his murderous rampage; they refuse to acknowledge it. Rewatching the film, you may find yourself thinking of a claim Trump made while he was running for president: "I could stand in the middle of Fifth Avenue and shoot somebody and wouldn't lose any voters, okay?" (Trump was making a point about loyalty, which is where the similarities between Trump and Bateman end. No one pretends to be loyal to Bateman; most people can't remember his name.)
But the fanatical self-absorption that Trump represented in the '80s has only strengthened its grip on American life since then, a fact that's never been clearer than in recent weeks, as Trump and his friends, many of them products of the very institutions that gave rise to Wall Street's culture of unfettered greed in the 1980s, have used the greatest crisis of our time to funnel staggering sums of money into the coffers of the world's wealthiest companies. Meanwhile, the body count is rising. But you can't say that we weren't warned. Bateman told us in the starkest terms that we were living in a world of murderous greed and indifference. Of course we were incapable of hearing it. That was Harron's whole point. "This confession," as Bateman concluded at the end of the film, "has meant nothing."
This Friday, beginning at 7 p.m. ET, let's all revisit Harron's film for Vulture's latest Friday Night Movie club. I'll be livetweeting, but first, I've got to return some videotapes.
American Psycho is available to rent on Amazon Prime, iTunes, Google Play, YouTube, and Vudu, and is available to stream with a subscription to Cinemax.