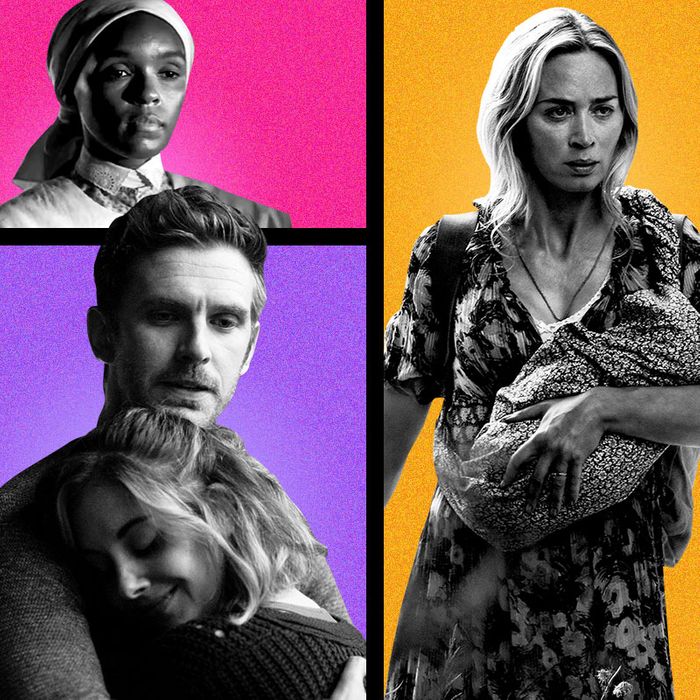 From Prime Video's
The Vast of Night
to the Janelle Monáe–starring
Antebellum
to
A Quiet Place
sequel.
Photo-Illustration: Maya Robinson/Vulture and Photos Courtesy of Studios
Chances are the unending flow of pandemic news has been providing all the dread necessary for you this quarantine. But for some of us, a little fictional horror can act as a counterintuitive balm to real-life fears — or serve as an outsize reflection of the anxiety we're already feeling. The coronavirus has wreaked havoc on upcoming horror release plans, just as it has so many things, with some titles (like Antebellum) being pushed later into the season while others (like Come Play and The Forever Purge) have been bumped from the summer schedule entirely. That said, there are still plenty of worthy genre offerings on the calendar, ranging from a retro Twilight Zone-esque adventure to John Krasinski's follow-up to his post-apocalyptic 2018 hit. The latter is scheduled for theaters, presuming that they'll be open by the time we approach the fall. But even if we aren't ready for anything resembling a wide release soon, it's worth remembering that a lot of films are at least heading to drive-ins, which are definitely operating around the country and are an excellent place to communally shriek at the screen while remaining socially distanced.
The Vast of Night 
This arty, propulsive debut has already earned favorable nods from critics when it played at the Toronto International Film Festival in 2019. The film takes place in 1950s New Mexico as two teens — a switchboard operator named Fay and a radio DJ by the name of Everett — discover a strange frequency being broadcast through the town that opens their lives up to fascinating, strange new directions over the course of a single night.
On Prime Video May 29
Tito
Grace Glowicki — who wrote, directed, and stars in this self-proclaimed "gothic feminist fable about a man being hunted by sexual predators" —plays the title character, a jumped, traumatized man who finds himself abruptly befriended by a neighbor named John (Ben Petrie). While not traditional horror, Tito is without reservation an immersively effective nightmare, a spiky snarl of a movie anchored by an audaciously committed central performance.
On demand July 10
Relic
Based on the reviews that came out of Sundance about Relic, the debut film of Japanese-Australian writer-director Natalie Erika James, this film is totally up my alley for its exploration of the relationships between mothers and their daughters. The film centers on the bruising story of Kay (the always excellent Emily Mortimer) and her daughter, Sam (Bella Heathcote), who journey from Melbourne to the countryside after Kay's mother goes missing. Even when her mother (Robyn Nevin) reappears, Sam is forced to confront the way she's deteriorating. The horror in the film, reportedly, is rooted in the nature of the house that becomes the nexus of these tangled familial issues. Like Hereditary and The Babadook before it, Relic has the potential to be an incisive look into motherhood and family through the lens of horror.
In theaters and on demand July 10
Impetigore
Joko Anwar's Satan's Slaves was a 2018 Vulture favorite, a Hereditary-like occult thriller unfolding within the home of a family that recently lost its matriarch. The Indonesian filmmaker's latest, Impetigore, takes another angle on the idea of inherited horror, centering on a woman (Tara Basro) who heads home from the city to her ancestral village for the first time in two decades, her best friend (Marissa Anita) in tow, hoping to find something of value left by her family. Obviously, all does not turn out to be well in the remote community — expect dark secrets, enthusiastic gore, and some shadow puppetry.
Streaming on Shudder on July 23
The Rental
Joe Swanberg, a filmmaker who's devoted much of his career to dramas about blurry millennial relationships, may not be the first name to come to mind when thinking about horror, but the mumblecore king collaborated with Dave Franco for his directorial debut, with the two writing the script together and Swanberg producing. It's a choice that suggests The Rental, which is about two couples taking an ill-omened celebratory weekend trip together, will turn out to be as much driven by tensions between the friends as by external menace — like, say, the growing suspicion that someone might be spying on them. Alison Brie, Dan Stevens, Sheila Vand, and Jeremy Allen White make up the cast, while Franco appears to be keeping his focus behind the camera.
In theaters and on VOD July 24
La Llorona
Jayro Bustamante's film is one haunted by genocide as well as by ghosts. At its center is a Guatemalan general (Julio Diaz) who's standing trial for his actions three decades earlier against indigenous populations — a real campaign of mass murder and rape that this fictional character (a seeming stand-in for dictator Efraín Ríos Montt) continues to insist was justified in the face of brutal testimony from survivors. But where justice can be corrupted and warped to protect the powerful, the supernatural has no such obligations. When the general's servants flee, no longer wanting to be in a house besieged by angry protesters and belonging to a man with weapons and dementia, a new maid (María Mercedes Coroy) arrives who may or may not be an apparition from the past that the man has been trying to suppress.
Streaming on Shudder on August 6
Antebellum
The trailer for Antebellum is full of eye-catching imagery that obscures more than it reveals the dynamics of the plot: a sun-dappled lawn in which a black woman furiously runs from men on horseback; black people picking cotton as a plane flickers in and out of existence overhead; moss-covered trees swaying in the hush of night. The film follows the beguiling Janelle Monáe as successful author Veronica Henley, who finds herself in a horrifying scenario she must escape, where the parameters aren't clear. Are these black people forced to work the land brought here by means supernatural or frustratingly human? Does it involve time travel? Alternate dimensions? It's unclear what route Antebellum will take in contextualizing the nightmarish scenario its lead finds herself in, but I'm eager to see how the film threads together notions of blackness and the surreal.
In theaters on August 21
A Quiet Place II
A Quiet Place was not the first or the second film John Krasinski directed, though when it came out, there was a scattering of press that referred to it as his debut — as though it wiped the existence of the David Foster Wallace adaptation and cornball dramedy that preceded it from history. But brawny horror seems to be Krasinski's real calling as a filmmaker, and the inevitable sequel to his 2018 hit picks back up with the Abbott family, now short a patriarch, as they navigate a post-apocalyptic world in which sound draws the attention of the deadly aliens who've invaded. Krasinski's put a lot of effort into rebranding as an action star in recent years, but his real-life and onscreen spouse Emily Blunt already proved she is in Edge of Tomorrow, and it'll be nice to see her take the lead in this new installment. Millicent Simmonds and Noah Jupe are back as the children, while Cillian Murphy plays another survivor the group encounters when they venture out in search of a new sanctuary.
In theaters September 4
Train to Busan: Peninsula
The 2016 film Train to Busan is one of my favorite viewing experiences with friends that I've had in the last few years. The film is the rare zombie flick that hits me not just viscerally but emotionally. How can returning director Yeon Sang-ho top the film? By going in a completely new direction. Peninsula reportedly takes its cues from George Romero's Land of the Dead, Mad Max: Fury Road, and mangas like Akira and Dragon Head. Yeon said to Screen Daily, "The scale of Peninsula can't compare to Train to Busan, it makes it look like an independent film. Train to Busan was a high-concept film shot in narrow spaces whereas Peninsula has a much wider scope of movement." Peninsula picks up four years after Train to Busan. The world is rendered nearly hopeless. Governments have collapsed. Zombies overrun the planet. Gang Dong-won stars as a soldier tasked with retrieving something important from South Korea. The mission is complicated as he comes across people in need of saving themselves. Peninsula looks to be a bombastic thrill ride, but I hope it doesn't lose sight of the emotional terrain that made its predecessor such a gut punch.
In theaters on a date TBD
More Summer Horror Movies
Becky
On demand June 5
Dreamland
In theaters and on demand June 5
Exit Plan
In theaters and on demand June 12
Scare Package
Streaming on Shudder June 18
Yummy
Streaming on Shudder June 25
Unhinged
In theaters July 1
Metamorphosis
Streaming on Shudder July 2
The Beach House
Streaming on Shudder July 9
Lake of Death
Streaming on Shudder July 16
Random Acts of Violence
Streaming on Shudder August 20