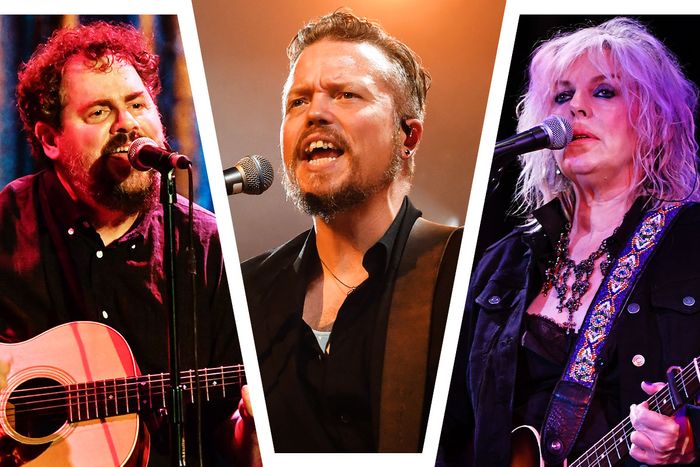 These four albums are words we need to hear in 2020, a year that has obliterated every late 20th century, early 21st century American's sense of what a "bad year" can look like.
Photo: Left/Center: Erika Goldring/Getty Images, Right: Larry Marano/Shutterstock
Times get tough, and country music gets tougher. The tumult of the late 1920s is the backdrop for songs of solace by early stars like the Carter Family. Peaceniks and hippies responding to the unrest of the '60s assumed the trappings of country music to vent in tunes like the Band's "The Weight" and Crosby, Stills, Nash & Young's "Ohio." In the early aughts, the Dixie Chicks put fame on the line speaking out against endless war in the Middle East. Their gumption persists in this era, where singers and songwriters have processed an increasingly uncertain future through their music. Using the words of the veteran Nashville writer Lori McKenna, Tim McGraw delivered a message of unity in the 2016 country chart-topper "Humble and Kind." After the tragic shooting at Route 91 Harvest Festival in Las Vegas in 2017, headliner Eric Church addressed a fractured nation on Desperate Man's "Kill a Word" and "Monsters." This year, new albums by southern rockers the Drive-By Truckers, singer/guitarist and former Trucker Jason Isbell, and Americana lifers Lucinda Williams and Steve Earle speak powerfully to the stress of being alive right now.
Through albums like The Dirty South and Southern Rock Opera, the Drive-By Truckers have examined the triumph and tragedy of the American experiment with earnestness and a Faulknerian sense of scale. January's The Unraveling — the Athens, Georgia, band's 12th and most incisively political album — takes after songs like "The Three Great Alabama Icons," which examined Cotton State culture via its love of Lynyrd Skynyrd vocalist Ronnie Van Zant, governor and noted segregationist George Wallace, and U of A coach Bear Bryant, who barred black players from the Crimson Tide roster in the '50s and '60s. The new album challenges the current status quo. "Thoughts and Prayers" uses the scene of a mass shooting to teach a lesson about inertia and denial, then closes telling politicians where to cram their thoughts and prayers. "21st Century USA" cruises through a dying town pointing out the spoils of capitalism impoverished locals can't afford. "Heroin Again" laments a spike in intravenous drug use; "Babies in Cages" decries injustice at the nation's border. Truckers singer-songwriter Patterson Hood uses The Unraveling to ask how good people manage to sleep at night when other good people are suffering, how parents look their children in the eyes knowing there are thousands of children just like them going hungry. The answer never comes.
Soul-searching and personal reckoning fuel Alabama troubadour Jason Isbell's Reunions, his seventh album and fourth fronting the ace backing band the 400 Unit. Isbell's earliest exposure as a performer came when the Truckers invited him into the fold on the Southern Rock Opera tour. He stuck around for three albums, pitching stunning originals like "Decoration Day" and the Band tribute "Danko/Manuel." Reunions finds Isbell at the peak of his powers as a writer, a player, and a band leader. The album mixes crushing odes to youthful innocence like "Dreamsicle" and "Running with Our Eyes Closed" with heavier songs like "St. Peter's Autograph" and "Only Children," remembrances of close friends gone much too soon. On "It Gets Easier," Isbell outlines his own journey in recovery from alcohol addiction, leaving the listener with words to live by in the chorus: "It gets easier, but it never gets easy." In "Be Afraid," a message about the fearlessness required to play gigs in public, he serves more wisdom: "Be afraid, be very afraid / But do it anyway." "St. Peter's Autograph" captures the anxiety of the era in a few words: "We're all struggling with a world on fire and the fear we're taught." Reunions fights fire with love, family, and friendship.
Grief and perseverance are the through lines in Ghosts of West Virginia, the new album from Steve Earle and the Dukes. Earle studied under Nashville legends like Guy Clark and Townes Van Zandt in the '70s, then hit the ground running with a stream of critically acclaimed folk, bluegrass, and country-rock albums including 1986's Guitar Town, 1995's Train a Comin', and 1999's The Mountain. Earle's songs celebrate working-class heroes and the will it takes to go on living when the deck's stacked against them. Ghosts of West Virginia is inspired by the 2010 disaster at the Upper Big Branch mine, where a coal dust explosion killed 29 miners, and an investigation into safety violations on site led to a $209 million corporate liability settlement. Ghosts takes up the plight of the deceased and the bereaved across tunes like "Black Lung," where he voices a sick coal miner gasping for air, noting grimly that "half a life is better than nothing at all," and "The Mine," where an addict pawns his wedding ring for a fix and hatches a plan to buy it back by taking a job shuttling coal. Ghosts was written to accompany Coal Country, a stage play about the Upper Big Branch tragedy, but it stands on its own as a highlight in Earle's catalogue of stories about Americans making the most of a bad situation, using his wit as a writer and the grit in his voice to cry out for justice.
Wit and grit are Lucinda Williams's tools of the trade, and never so much as on Good Souls Better Angels, the Louisiana singer-songwriter's 13th album of original material as a solo artist since her 1979 Folkways debut Ramblin'. In the intervening 40 years, Williams penned jangle-pop classics like 1988's "Passionate Kisses," roots-rock gems like 1998's "Car Wheels on a Gravel Road," and tender autobiographical tunes like 2016's "Louisiana Story." She's a straight shooter and a truth teller, and this year she's fed up with the lies and grift in the news. "These are the dark, blue days," Williams sings on the new album's "Shadows and Doubts." Good Souls is a scathing, bluesy airing of grievances, but it comes with words of comfort. "Man Without a Soul" protests a powerful figure "without shame, without dignity and grace" but promises an end to his deceit. "Bad News Blues" vents about the pervasiveness of fear in a world specked with video screens, but "When the Way Gets Dark" promises an end to our long, dark night if we stay strong.
The prophesy of doom for Lucinda Williams's terrifying "Man Without a Soul," the stoic tenacity of Steve Earle's "Heaven Ain't Going Nowhere," the cautious optimism of Jason Isbell's "It Gets Easier," and the unsure forward push in the Truckers' "Awaiting Resurrection" are words we need to hear in 2020, a year that has obliterated every late 20th century, early 21st century American's sense of what a "bad year" can look like. 2020 has amplified all our worst traits, our selfishness and hardheadedness, but it has also aroused a will to fight. We're rough stock. Like styrofoam or nuclear waste, we'll persevere one way or another. That's the message of The Unraveling, of Reunions, of Ghosts of West Virginia, and of Good Souls Better Angels. This shit sucks, but it can't suck forever.