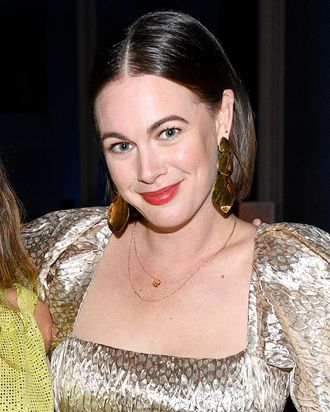 Alison Roman
Photo: Clint Spaulding/Getty Images for Bloomberg
Well, it looks like the New York Times is going to make like the principal in Max Keeble's Big Move and break up a food fight. Namely, Alison Roman is "on temporary leave" as a food columnist for the paper after she made judgmental comments about fellow lifestyle influencers Chrissy Teigen and Marie Kondo in an interview with the New Consumer. The Daily Beast reports, "According to Times insiders, Roman had a piece that was prepared to run last week amid the controversy, but it was ultimately not published." Roman quickly faced backlash for how her comments singled out successful women of color, and in Teigen's response to the interview, she noted that she had even "signed on to executive produce" Roman's upcoming series. Last week, Roman issued an apology to Teigen and Kondo, and Teigen responded on Twitter, saying, "thank u for this, @alisoneroman. To be clear, it never once crossed my mind for u to apologize for what you genuinely thought! The comments stung, but they moreso stung because they came from u! It wasn't my usual news break of some random person hating everything about me!" Still, at a time when many need easy, stew-y, at-home recipes most, Roman will be on temporary leave from the Times. Now, anyone got eyes on Bret Stephens?
Update, May 19, 8 p.m.: Teigen seems to have responded to the news of Roman's temporary leave from the Times. Replying to a tweet celebrating Roman's shallot pasta recipe, Teigen wrote "It is a very good recipe!!" When asked if "the beef was squashed," she replied, "I hope we can laugh about it one day but I'm not happy with the NYT leave so she def can't laugh about it yet. It just sucks in every way."
Update, May 21, 12 p.m.: Teigen once again clarified on Twitter that she has forgiven Roman and that she does not agree with the Times putting Roman on leave, writing, "I don't agree with what the NYT has done" and that "I'd like her back."
Update, May 26, 2:30 p.m.: Alison Roman reemerged on Instagram with a picture of a compost bowl, announcing that she will be focusing her energy on her newsletter:
As for the other kind of work, for the foreseeable future, you can find me in that newsletter I started 3 years ago and never sent out lol. There will be recipes, reader emails, recommendations, and discussions about things that I hope you will like or find helpful. In lieu of the comments section or DMs, I encourage you to submit questions/comments/concerns to qcc@alisoneroman.com, the idea being to share some of them in the newsletter (I am learning "the comments section" is not the best place for public discourse).
The full caption says that she is responding to emails and going through a "healing process." Unrelated, but Roman's literal kitchen garbage looks more edible than anything we've cooked in quarantine.
Update: May 27, 1 p.m.: On Wednesday, a spokesperson for the New York Times told Vulture, "It was always the plan for Alison's leave to be temporary. Her column will return," which is the same statement they gave to The Wrap on Tuesday. The spokesperson did not elaborate on when exactly Roman will return from her leave, which followed the backlash from her statements about Chrissy Teigen and Marie Kondo in an interview with The New Consumer. Between bringing multiple reptiles into her quarantine pod and filming her coronavirus nasal swab, Teigen forgave Roman on Twitter and tweeted: "I'm not happy with the NYT leave."
This post has been updated throughout. It's original headline was "Alison Roman on Leave From New York Times and You Know Why."