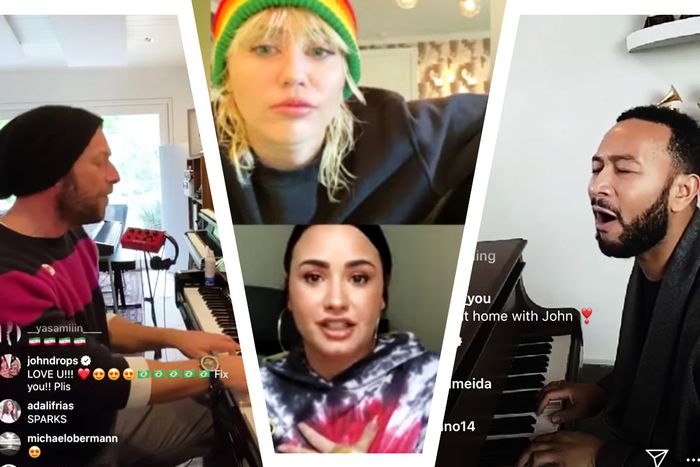 As artists scramble to figure out what to do next, many have started livestreaming concerts from their homes, empty venues, or wherever they can.
Photo: Vulture, Chris Martin/Instagram, Miley Cyrus/Instagram and John Legend/Instagram
At this point, just about every concert has been canceled due to the coronavirus pandemic — and if it's not, you really shouldn't be going anyway. As artists scramble to figure out what to do next, many have started livestreaming concerts on social media from their homes, empty venues, or wherever they can while they practice social distancing. Here's a list of the performances you should be checking out while you stay inside, too, updated as more artists announce their livestream plans. And, hey, since you're getting all this good, live music for free, why not use that ticket money to order merch from an independent artist right now who could really use the business?
Below, check the schedule of artists hosting recurring livestreams, updated daily. All times are in Eastern Standard.
DJ D-Nice
The DJ of Boogie Down productions fame, whose star-studded Instagram parties have drawn everyone from Oprah Winfrey to Rihanna to Joe Biden, recently performed a prom on House Party. He previously DJ'd the televised return of Club MTV on April 25, partnered with Michelle Obama and When We All Vote for a #CouchParty on March 25, and DJ'd his "Homeschool" party for ten hours on March 21.
Miley Cyrus: Bright Minded
While it's not quite a concert, Cyrus has been livestreaming with a slew of guests at 2:30 p.m. Monday through Friday on her Instagram. Come for the revelation that her and Demi Lovato probably hooked up during their Disney days, stay for the Cyrus family reunion. Her show's guests so far have included everyone from Reese Witherspoon to Hilary Duff to a Hannah Montana reunion with Emily Osment to a revealing reunion with Selena Gomez.
Diplo
A fixture of our new livestreamed era since his first set on March 13, the producer is now streaming themed sets five nights per week: A Very Lazer Sunday (inspired by his group Major Lazer) at 4 p.m., Ronatronix (for his early Hollertronix parties) on Tuesdays at 10 p.m., The Thomas Wesley Show (country) Thursdays at 10, Corona Sabbath (ambient) Fridays at 11 p.m., and Coronight Fever ("a good, old-fashioned … rave) Saturdays at 11. A press release confirmed that all the musicians he spins will be paid: "In an unprecedented coordinated effort, major publishers and record labels will allow the archived streams to live on YouTube and to be monetized by respective rights holders, with royalties being paid to all those whose music is played in the shows," it said.
Charli XCX
After a week off, the pop singer came back for another week of streaming programming. She streamed a horoscope reading with Orville Peck, a "psychopath test" with Rina Sawayama, a voice lesson with Tove Lo, "life drawing" with Lucas David, yoga with Ashnikko and a makeup tutorial with Zara Larsson. She previously streamed with her friends throughout the week of March 18: Christine and the Queens kicked things off with "an emo chat," followed by a workout with Diplo, "Girls Night In" with Rita Ora, a game of Would You Rather with Kim Petras, and an art lesson with Clairo.
Christine and the Queens
Chris has set a daily 6 p.m. appointment on her Instagram "to deal with the ENNUI" of social distancing. "Doubtful concepts and mystery guests are to be expected in the coming days," she promises.
Ben Gibbard
The Death Cab for Cutie leader is streaming daily concerts from his home to Facebook and YouTube, complete with many song requests and some promised digital guests. He released the song "Life in Quarantine" on March 26.
Andrew Lloyd Webber (and Lin-Manuel Miranda)
The composer has been isolating by his piano, taking music requests from fans. On March 19, he played "All I Ask of You" from Phantom of the Opera and assured his dog that it wasn't a selection from Cats. He also challenged Lin-Manuel Miranda to play a song, too, because of course — so Miranda took on "Everything's Alright" from Webber's Jesus Christ Superstar.
Pitchfork Live on Instagram
Blake Mills last performed for the music news website's Instagram concert series, raising money for United for Respect. Margo Price previously performed for Oxfam, Hamilton Leithauser performed for the Newport Festivals Musicians Relief Fund, Nilüfer Yanya performed for Artists in Transit, (Sandy) Alex G performed for Oxfam, Waxahatchee performed for the MusiCares COVID-19 Relief Fund, Lido Pimienta performed for Fuerza De Mujeres Wayuu, Phoebe Bridgers performed for the Bail Project and Soccer Mommy performed for Oxfam. The series will continue on Wednesdays and Fridays.
The Roots
The hip-hop band, not to mention Jimmy Fallon's longtime house performers, filled up their dormant YouTube channel during the week of April 6. Live performances included nightly "DJ Questlove Presents" shows, along with a live podcast episode of Questlove Supreme. The band has also released videos with Bruce Springsteen, Mariah Carey, Stevie Wonder, Al Green, and Phil Collins, and a Tiny Desk performance by member Black Thought featuring new music.
Garth Brooks
The country legend, who was set to receive the Icon Award in April at the since-postponed Billboard Music Awards, will stream "Live From Studio G" from his home on Mondays to perform music. His wife Trisha Yearwood joined last episode for a duet of "Shallow." The couple also performed on CBS on April 1 for the special "Garth and Trisha Live!"
The National
The indie band, your perfect somber quarantine soundtrack, will host a weekly "exciting communal event" at 5 p.m. each Monday. On April 11, they released their 2018 Primavera Sound set. On April 6, they premiered "The National - High Violet Live From Brooklyn Academy of Music (BAM)" on YouTube, directed by D.A. Pennebaker and Chris Hegedus from a May 2010 concert of their triple LP.
Billboard Live at Home
Billboard began livestreaming performances from musicians' homes, starting with JoJo on the magazine's Facebook. Tinashe, Tank and the Bangas, Jewel, Hozier, Alessia Cara, Melissa Etheridge, Luke Bryan, Vanessa Carlton, Jesse McCartney, Fifth Harmony's Dinah Jane, Tori Kelly, Chloe x Halle, Princess Nokia, Rebecca Black, Cheat Codes, The Driver Era, Josh Groban, Skip Marley and Kenny G have all also performed. Each artist will donate proceeds to a charity of their choice.
UnCancelled Music Festival
The festival, held on StageIt, began April 2 and "will continue every day until the crisis subsides" to help musicians who have lost touring income. April 4's especially stacked Fender stage included Snail Mail, Waxahatchee, Beach Bunny, and Brian Fallon (formerly of The Gaslight Anthem). Tickets for each set are a minimum of $0.10, but a recommended $5.
Katharine McPhee and David Foster
After the Smash and Waitress star streamed a piano concert with her composer husband on Instagram, she announced that the pair would put on mostly daily concerts at 8:30 p.m. and take song suggestions from fans. They've since done country-, Disney-, Broadway-themed streams, among others.
H.E.R.
The R&B performer will host a weekly "Girls With Guitars" performance on Instagram, which began April 6.
La Blogotheque
The Paris venue is streaming daily "Stay at Home" shows on Instagram at 1 p.m. Recent performers have included Soccer Mommy, Laura Marling, Hamilton Leithauser, Natalie Prass, Nilüfer Yanya, Luke Jenner of the Rapture, Porches, Marcus Mumford, Tasha, Hanni El Khatib, Kelcey Ayer of Local Natives and Andrew Bird.
Third Man Records
Jack White's Nashville label is beginning a YouTube Live series called Public Access. Pedal steel guitarist Luke Schneider played the first show on March 19 ahead of releasing his new album Altar of Harmony, followed by Teddy and the Rough Riders on March 20.
Elara Radio
The indie studio founded by the Safdie Brothers and producer Sebastian Bear-McClard has started a radio show, streaming daily at ELARA.FM beginning at 1 p.m. Michael Chaiken, curator of the Bob Dylan Archive, hosted the ambient show "Hide Your Sheep" on March 31. On March 30, Josh Safdie and Bear-McClard interviewed Uncut Gems' "Handsome Older Man" Wayne Diamond for their show "QUAR." Daniel Lopatin, a.k.a. Oneohtrix Point Never, hosted "DEPRESSIVE DANNY'S WITCHES BORSCHT" on April 9.
Members of Cap'n Jazz, Touché Amoré, Saves the Day, and More
Norman Brannon, former guitarist of emo band Texas Is the Reason and founder of '90s zine Anti-Matter, hosted "Stay the F*ck Home: The Isolation Interviews" on Instagram. The series featured Thursday singer Geoff Rickly, Touché Amoré singer Jeremy Bolm, Tim Kinsella of Cap'n Jazz and Joan of Arc, Saves the Day singer-guitarist Chris Conley and Refused singer Dennis Lyxzén.
Frankie Cosmos
The lo-fi musician will be performing new sets of music every Friday at 9 p.m. on her Instagram.
Arca
The experimental musician invites you to "transmute, transist & transmogrify" with her on Twitch for Diva_Experimental_Radio.FM.
Virtual Festival
A group of Nashville musicians and organizers quickly put together Virtual Festival, a collection of sets streamed on Facebook Live. The last performance was on April 11.
Below, check the individual day-to-day schedule, updated daily. All times are in Eastern Standard.
May 31
Banding Together
Musicians including Brandi Carlile, Dave Matthews, the Avett Brothers, and the Lumineers will stream at 8 p.m. to raise money for the Colorado Music Relief Fund. The event will also be broadcast on Colorado CBS stations.
May 29
Dropkick Murphys
The Irish rockers will perform live from the field at an empty Fenway Park at 6 p.m., streaming on YouTube and social media. Bruce Springsteen will join remotely.
May 28
Artists United for Amazonia
Barbra Streisand, Sting, Carlos Santana, Dave Matthews, Peter Gabriel, Ricky Martin, and Nahko performed on Facebook to benefit the Amazon Emergency Fund, raising money for indigenous communities at risk of COVID-19.
Noisey Night In
Phoebe Bridgers, Bad Bunny, Finneas, and more musicians performed for a Vice livestream, raising money for the Sweet Relief Musicians Fund.
May 24
National Memorial Day Concert
The country's annual Memorial Day event went virtual this year on PBS, Facebook, and YouTube. Musicians Cynthia Erivo, Renee Fleming, Trace Adkins, Kelli O'Hara, and Christopher Jackson appeared, along with the National Symphony Orchestra and other figures, to honor the military and medical workers.
May 21
Usher and Jermaine Dupri
The two R&B icons joined forces for Verizon's latest Pay It Forward Live performance, raising money for small businesses.
May 19
Safe and Sound
This benefit stream for Safe Place for Youth featured the National's Matt Berninger, Aloe Blacc, Grouplove, and others.
May 18
A Night of Covenant House Stars
Meryl Streep, Dolly Parton, Jon Bon Jovi, and others streamed on Broadway on Demand and various social media to raise money for Covenant House.
May 15
Katy Perry
The singer debuted her new single "Daisies" and answered fan questions in a short Amazon Live stream.
May 14
#TheNewGig Live
Sheryl Crow, Elvis Costello, Angelique Kidjo, and others performed on a livestream to raise money for the Jazz Foundation of America's COVID-19 Musicians' Emergency Fund.
May 11
Rise Up New York
The telethon benefit featured performances by Billy Joel, Mariah Carey, Bon Jovi, and Sting to raise money for New York's response to COVID-19. Tina Fey hosted the program on CNBC and most New York TV and radio stations.
May 10
320 Festival
The three-day mental-health festival, organized by Warped Tour founder Kevin Lyman, featured performances by Chris Martin, Echosmith, Lindsey Stirling, and others from May 8-10.
May 8
Virtual LemonAid
The New Mexico festival streamed performances by David Byrne, Buffy Sainte-Marie, Meredith Monk, members of Grizzly Bear and Deerhoof, and others.
May 7
Tribute to The 1975
British culture magazine The Face organized an Instagram tribute to The 1975, which is set to release their fourth album Notes on a Conditional Form on May 22. Collaborator Phoebe Bridgers, along with Clairo, Rina Sawayama, Pale Waves, and others, performed covers on Instagram.
May 5
Diplo and Dillon Francis
The producers teamed up to DJ a Cinco de Mayo set on Twitter for, yes, Corona beer. The beer company made a donation to the Restaurant Employee Relief Fund for the performance.
21 Savage
The rapper performed with DJ Marc B on Tequila Avión's Instagram.
May 1
The Call to Unite
The 24-hour livestream featuring musicians such as Questlove, Alanis Morissette, Mandy Moore, Common, and Josh Groban, along with other celebrities like Oprah, Quincy Jones, Julia Roberts, Naomi Campbell, Daniel Dae Kim, Jennifer Garner, and Rob Lowe, begins at 8 p.m. at unite.us and various social-media platforms. Guests will use their time to "answer the call in their own way."
Kesha
After having to cancel her "High Road" tour, the pop star will perform on Instagram with Jack Daniels at 7 p.m. to raise funds for the Sweet Relief Musicians Fund.
John Legend
The singer and noted EGOT will perform a tribute to first responders with iHeartRadio on Facebook, hosted by Ryan Seacrest, at 7 p.m.
The 1975
As the band readies the release of their fourth album, Notes on a Conditional Form, currently postponed to May 22, singer Matty Healy led a Twitter listening party to their self-titled debut.
April 30
Janelle Monáe
The R&B performer followed on Verizon's Pay It Forward Live series, benefiting small businesses.
April 29
Offset and Friends
The Migos rapper linked up with Young Thug, Rich the Kid, and Saint Jhn for a performance benefiting the Atlanta Community Food Bank.
April 28
Dashboard Confessional
Emo bandleader Chris Carrabba streamed to raise money for the Music Health Alliance.
April 27
Ariana Grande and Shoshana Bean
The pop superstar and the Broadway darling joined forces for a Facebook performance in collaboration with New York venue SubCulture to benefit the SubCulture Relief Fund.
April 26
Earth Day 50
Patti Smith, Michael Stipe, Flea, Cat Power, Tony Hawk, and others will came together on Instagram to celebrate the 50th anniversary of Earth Day.
April 24
Elvis Duran's Stay at Home Ball
The radio host brought together artists including Kesha, Charlie Puth, Jojo, Bebe Rexha, Alessia Cara, Pete Wentz, Thomas Rhett, and others to benefit Project C.U.R.E.
PlayOn Fest
The Warner Music event featured 72 hours straight of past concerts by artists including Bruno Mars, Cardi B, Ed Sheeran, Panic! At the Disco, Paramore, Charlie Puth, Green Day, Coldplay, Lil Uzi Vert, and many others, with merch sales benefiting the WHO.
Square Garden
Experimental pop breakouts 100 gecs put on a festival in Minecraft featuring sets from Charli XCX, Dorian Electra, Kero Kero Bonito, Tommy Cash, PC Music leader A.G. Cook, Cashmere Cat, and Benny Blanco, among others. It raised money for Feeding America.
Post Malone
The rapper-singer streamed a Nirvana tribute on YouTube, with proceeds going toward the COVID-19 Solidarity Response Fund for WHO. The performance got love from Courtney Love and Nirvana member Krist Novoselic.
Earth Day Live
Musicians and other figures began streaming on Twitch the morning of April 22 for a three-day celebration of the 50th anniversary of Earth Day. Performers included Questlove, Marina, Dave Matthews, Brockhampton, Ani DiFranco, Angelique Kidjo, Jack Johnson, Linda Perry, Tank and the Bangas, Flying Lotus, and Talib Kweli.
April 23
Stonewall Gives Back
The Stonewall Inn presented a livestream event to benefit LGBTQ nightlife, featuring performances by Troye Sivan, Cyndi Lauper, Kim Petras, Rufus Wainwright, MUNA, Kristin Chenoweth, Betty Who, Pabllo Vittar, Peppermint, Nina West, and others. Michelle Visage and Tyler Oakley hosted on YouTube through WOWPresents.
Hip Hop Loves NY
The Universal Hip Hop Museum and Mass Appeal Records brought together iconic rappers for a livestream to benefit the Bronx Community Relief Effort and SOMOS Community Care. LL Cool J, Chuck D, the Wu-Tang Clan, Nas, DMC, De La Soul, Naughty by Nature, and others appeared on YouTube.
NFL Draft-a-Thon Live
The NFL presented a fundraiser special as the draft began April 23, featuring performances by Lil Wayne, Big Boi, Offset, Quavo, Tinashe, Brad Paisley, and many others. It took place on NFL.com, the NFL app and various social media, hosted by Rich Eisen and Deion Sanders with guest Kevin Hart.
Travis Scott
The rapper will put on a concert in Fortnite at 7 p.m., called "Astronomical" and will feature a song premiere. The event will open at 6:30. More shows will happen April 24 at 10 a.m. and April 25 at midnight, 11 a.m., and 6 p.m.
April 22
Jersey 4 Jersey
The Garden State benefit was helmed by Bruce Springsteen and Jon Bon Jovi, and also featured performances by Charlie Puth, SZA, Tony Bennett and Halsey.
Billie Eilish and Finneas
The pop savant and her producer brother were the latest guests on Verizon's Pay It Forward Live series, benefiting small businesses.
April 20
Snoop Dogg
The rapper hosted a DJ set and "smoke-in" to celebrate the streaming release of Dr. Dre's The Chronic.
Come and Toke It
Willie Nelson's anti-festival Luck Reunion streamed a 4/20 event on Twitch featuring performances by Kacey Musgraves, Billy Ray Cyrus, Angel Olsen, and Ziggy Marley, along with other guests such as Matthew McConaughey, Jeff Bridges, and Beto O'Rourke. The festival raised money for the Last Prisoner Project, a cannabis justice group.
Higher Together
Wiz Khalifa, Erykah Badu, Billy Ray Cyrus, Stephen Marley, and others performed on a livestream on Weedmaps, the dispensary directory.
Cypress Hill
In place of the stoner rap group's "Wanna Get High" tour, their four members came together from across the globe on LivexLive.
April 18
One World: Together at Home
The Lady Gaga–curated special boasted a stacked lineup including Taylor Swift, Paul McCartney, Stevie Wonder, Alanis Morissette, Elton John, Jennifer Lopez, Usher, Pharrell Williams, John Legend, Billie Eilish and Finneas, Kacey Musgraves, Lizzo, and Andrea Bocelli. Those are just the musicians, and that's not to mention the six-hour pre-livestream.
The Killers
The band performed and took fan questions on Instagram, filling the void in your soul now that you can't dance to "Mr. Brightside" at crowded bars.
April 17
BTS
The K-Pop superstars put on a two-day event called "Bang Bang Con" in lieu of their postponed tour. The group will released eight past live performances across two days, beginning with a 2015 show.
Music Lives
The 48-hour festival streamed on LivexLive's website, featuring performances by J. Balvin, Nas, Swae Lee, and others to benefit the MusiCares COVID-19 Relief Fund.
Robyn
The dance-pop performer DJ'd a set for her Konichiwa TV: Club Domo, complete with a lot of dancing.
April 16
Sound Mind Live
The music and mental health advocacy organization put on "Closer in Crisis: A Virtual Benefit Concert for COVID-19 Mental Health" on YouTube. Performers included Taylor Goldsmith of Dawes and Chad Urmston of Dispatch, while comedian Chris Gethard hosted. The event, in collaboration with Mental Health America, the American Psychiatric Association, and the National Alliance on Mental Illness of New York City, raised money for Backline, the mental health organization for musicians.
Laura Marling
After moving up the release of her new album, Song for Our Daughter, to April 10, the folk singer-songwriter performed a Tiny Desk set from her England home for NPR.
Luke Bryan
The country singer, who recently postponed his album Born Here Live Here Die Here, performed on Verizon's Pay It Forward Live series on Twitter. The performance supported small businesses affected by closures, with Verizon donating $10 for every tweet with the hashtag #PayitForwardLIVE up to $2.5 million.
April 15
Jazz at Lincoln Center
The New York arts organization presented its 2020 gala, called the "Worldwide Concert for Our Culture," on YouTube and Facebook. Performers included the Brussels Jazz Orchestra, Dianne Reeves, Chucho Valdés, and others, and viewers are encouraged to donate to Lincoln Center's jazz program.
April 14
Waxahatchee and Kevin Morby
Katie Crutchfield and her boyfriend Kevin Morby joined NPR's Tiny Desk series, from their Kansas City home, to promote her new Waxahatchee album Saint Cloud. They also performed their cover of "Farewell Transmission" by Jason Molina's Songs: Ohia.
Torres
The rock singer-songwriter joined Seattle's iconic KEXP from her home for a performance off her recent album, Silver Tongue.
April 13
Real Estate
The rock band debuted its Quarantour app, offering its now-canceled tour in augmented reality, including stage banter and an encore. It's available on Android and Apple.
April 12
Andrea Bocelli
The Italian singer performed from the iconic Duomo cathedral in Milan for Easter Sunday upon an invitation from the City of Milan.
Pussy Riot
The radical Russian punk band performed on a YouTube livestream after postponing a tour.
April 11
RZA vs. DJ Premier
The Instagram battle pitted the Wu-Tang Clan founder against the GangStarr and PRhyme member.
American Football
The emo band headlined a well-titled virtual music festival called Nether Meant in Minecraft, as part of Brooklyn venue Elsewhere's Elsewither series through the game. Baths, HANA and others also performed.
Angel Olsen
The rock singer-songwriter performed a ticketed "evening of songs on piano and guitar" to fundraise for the MusiCares COVID-19 Relief Fund, along with her own band and crew. She debuted two new songs, according to Stereogum.
Noisey Night In
Vice's music site hosted a fundraiser concert for the Sweet Relief Musicians Fund, featuring Margo Price, Brian Fallon, Open Mike Eagle, Anna Burch, Twin Peaks, and others.
April 9
Alicia Keys
After postponing her upcoming album ALICIA, the singer performed on Verizon's Pay It Forward Live series on Twitter. The performance supports small businesses affected by closures.
Mannequin Pussy
The rock band taught the guitar part of their single "Drunk II" on Instagram.
April 8
Bruce Springsteen
The Boss himself took the reins on SiriusXM's E Street Radio (currently free!) for a bit, spinning songs by Bob Dylan, Lucinda Williams and others, including a tribute to the late John Prine. "I am here to wish you well and to play you some songs that kind of work with the times that we're living through," Springsteen said in a statement.
King Princess
The pop performer was the latest to record a Tiny Desk from home for NPR, playing Cheap Queen cuts live from her "quarantine shed" in Hawaii.
William Tyler
The guitarist who recently scored Kelly Reichardt's film First Cow performed on a livestream in partnership with Duke Arts. The group encourages viewers to donate to local arts reliefs funds organized by the Durham Arts Council and NorthStar Church of the Arts.
April 5
Teddy Riley vs. Babyface
The singer and producer who created new jack swing in the late '80s with the group Guy faced the iconic R&B producer of 26 No. 1 hits. Did you keep score?
Erykah Badu
The neo-soul icon put on the second episode of her "Quarantine Concert Series, Apocalypse Two: The Rooms," after one in late March. The experience allowed fans to move through rooms of her house, "exploring and experimenting with different genres of music interpreted through her catalogue of hits." Find future events at BaduWorldMarket.com.
ACM Presents: Our Country
The Academy of Country Music aired a two-hour special on CBS in place of its annual awards. Performers included Miranda Lambert, Sheryl Crow, Carrie Underwood, Lady Antebellum, Tim McGraw, Brandi Carlile, Eric Church, Blake Shelton and Gwen Stefani, Kelsea Ballerini, Keith Urban, Kane Brown and John Legend, Shania Twain, Little Big Town. Luke Bryan, Brad Paisley and Darius Rucker performed tributes to Kenny Rogers.
April 4
T-Pain vs. Lil John
Both performers, producers, and autotune aficionados in their own rights, T-Pain and Lil John faced off in an Instagram battle chock-full of '00s club hits.
April 3
Light in the Attic
The Seattle record label hosted a livestream beginning on YouTube and Twitch to benefit the MusiCares COVID-19 Relief Fund. Performers included prolific streamer Ben Gibbard, along with Fred Armisen, Jim James of My Morning Jacket, Jarvis Cocker, Barbara Lynn, Devendra Banhart, and others.
April 2
Ryan Tedder vs. Benny Blanco
The OneRepublic leader and prolific songwriter for Beyoncé, Adele, Kelly Clarkson, and others faced Benny Blanco, performer and producer with credits including Maroon 5, Ed Sheeran, and Justin Bieber.
Migos
The Atlanta rap trio celebrated Quavo's birthday on Instagram. Quavo writes, "Dropping All Yall Favorited MIGOS CLASSICS and We Opening Up The Vault Unreleased VIBES!!!"
Indieheads Festival
The subreddit r/indieheads put on a two-day remote festival on Instagram that included Dogleg, The World Is a Beautiful Place and I Am No Longer Afraid to Die, Ratboys, oso oso and Boy Scouts.
April 1
Fader Fort
The magazine took its annual SXSW event digital this year on its website. Performances from March 31 and April 1 stayed live for 24 hours. The April 1 lineup featured Waxahatchee and Kevin Morby, Frances Quinlan, Tayla Parx, Sofi Tukker, Kero Kero Bonito, Riz Ahmed, the Aces, and more. Jamila Woods, 070 Shake, G Herbo, Smino, Aminé, Dogleg, TOKiMONSTA, Control Top and many others performed on March 31.
Phish
The jam band played on, debuting its new album Sigma Oasis during a livestream. It's the first Phish studio album since Big Boat in 2016. The band has been replaying archival footage in nightly Dinner and a Movie streams.
Scott Storch vs. Mannie Fresh
The Roots keyboardist turned producer whose credits include Beyoncé, 50 Cent, Snoop Dogg, Erykah Badu, and Christina Aguilera in the mid-aughts battled a former Cash Money and Lil Wayne producer from around the same era.
Julien Baker
The singer-songwriter and one-third of boygenius performed on her Instagram. Clif Bar, sponsor of the livestream, donated to the MusiCares COVID-19 Relief Fund corresponding to the amount of viewers.
Ravyn Lenae
The R&B up-and-comer performed on the Levi's 5:01 Live series on Instagram.
March 31
Tory Lanez vs. French Montana
Ahead of his new album The New Toronto 3, Lanez battled the Sean Combs– and Rick Ross–co-signed rapper on Instagram, with Timbaland stepping in to declare French Montana the winner.
March 30
HomeFest: James Corden's Late Late Show Special
Corden's late-night show returned from his LA garage in a cross-continent extravaganza, featuring video performances by BTS in South Korea, Dua Lipa in the UK, Andrea Bocelli in Italy, and Billie Eilish (with Finneas) and John Legend in Los Angeles. The program encouraged viewers to donate to the CDC Foundation and Feed the Children.
March 29
Living Room Concert for America
Elton John hosted the commercial-free, hourlong musical tribute on Fox in place of the iHeartRadio Music Awards. Mariah Carey, Billie Eilish and Finneas, the Backstreet Boys, Alicia Keys, and others performed live from their homes — even John banged out a song at the end. Fox encouraged donations to Feeding America and the First Responders Children's Foundation during the show, which honored medical workers.
Charlie Puth
The pop singer, songwriter, and producer performed from his home studio for the Bud Light "Dive Bar Tour: Home Edition," singing chilled-out versions of his hits in front of an apt neon Bud Light sign.
March 28
Twitch Stream Aid
The livestreaming service put on a stacked "festival" of performances that included John Legend, Charlie Puth, Diplo, and many others doing 5-to-15-minute sets.
The-Dream vs. Sean Garrett
The hit-maker for Rihanna, Beyoncé, and Mariah Carey faced a Swizz Beatz collaborator most known for Usher's "Yeah!" in a songwriting battle.
March 27
Megan Thee Stallion, Jason Derulo, Alicia Keys, and others on TikTok
Your favorite shortform video platform (and the new hub for viral music) tried out a "Sound Check" livestream under #HappyAtHome on the app. March 27's lineup included Alicia Keys, Megan Thee Stallion, Jason Derulo, Kelsea Ballerini, Meghan Trainor, Hailee Steinfeld, Troye Sivan, Lauv, DJ Khaled, and Yungblud.
Boi-1da vs. Hit-Boy
The second can't-miss beat battle of quarantine featured a Drake go-to who became one of hip-hop's giants up against one of Kanye West's former GOOD Music prodigies.
Tinashe
The R&B singer-songwriter performed cuts from her latest album Songs for You on a livestream through LiveXLive media. She even played some never-performed songs off the album, because "Life's too Short."
Taking Back Sunday, Tank and the Bangas, Sofi Tukker, and more
Bandsintown presented its second eight-hour day of livestreamed performances on Twitch. Tank and the Bangas, Sofie Tukker, and Tayla Parx anchored the March 27 performances, while Taking Back Sunday, The Mowgli's and Matt Quinn of Mt. Joy were highlights of March 26. The stream raised money for the MusiCares COVID-19 Relief Fund.
COLORS
Various performers and artists streamed from a London studio on the COLORS YouTube channel beginning March 23. The stream returned March 27. Turn it on and see what you find!
Peter Bjorn and John
The whistling Swedish folk-pop band hosted a 36-hour livestream called "36h Ingrid" on Twitch, including one of their own sets. Other musicians joined for performances and DJ sets through March 28.
Sister Polygon Records
The DC-based label presented a "Stay-At-Home" variety show on Instagram, "with music, readings, tutorials, politics, interviews, comedy, poetry, and conversations about what's getting us through this extremely strange and rough time." Katie Alice Greer, formerly of punk band Priests, will host.
March 26
Dua Lipa
The pop singer and maker of quarantine anthems livestreamed a Q&A at ahead of the pushed-up release of her second album Future Nostalgia, now out March 27.
Ty Dolla $ign
The R&B singer and prolific collaborator performed on his Instagram for #TogetherAtHome. He followed it up with new single "Superstar" on March 27.
Margo Price & Jeremy Ivey
The outlaw country singer-songwriter and her musician partner performed an NPR Tiny Desk from their home, including a new song called "Someone Else's Problem."
Waxahatchee
Ahead of her new album Saint Cloud's March 27 release, Katie Crutchfield of Waxahatchee performed on Instagram March 19, and she did it again March 26, once again joined by musician partner Kevin Morby. She released her fittingly titled new single "Can't Do Much" on March 17.
March 25
Charli XCX
Following her week of programming with her friends, the pop singer guest DJ'd the "online queer party" Club Q on Zoom, with a half-hour set of "personal favorites and rarities from her own back catalog." Find the Zoom code on Club Q's Instagram at 9 p.m. Other DJs and drag queens also performed, as they do nightly.
Weyes Blood
The singer-songwriter performed live from her home on Pitchfork's Instagram. She canceled the remainder of her Australian tour in support of 2019 album Titanic Rising due to coronavirus. "A Lot's Gonna Change," indeed.
March 24
Timbaland and Swizz Beats
Two of hip-hop's most prolific and accomplished producers filled their time with a beat battle from the comfort of their homes through Tidal. Be the judge of who won — and enjoy the visual of Timbaland holding a glass of wine while dancing to his own work.
Kali Uchis
The Colombian-American singer performed requested covers on Instagram and announced afterward that she donated $10,000 to the CDC.
Pete Wentz of Fall Out Boy
Think you're bored while isolating from your friends? Watch the Fall Out Boy guitarist's action figure concert and think again.
Soccer Mommy
The singer-songwriter became the first NPR Tiny Desk guest to perform from home. "I've pretty much just been writing and recording music and playing Stardew Valley and Animal Crossing," she said of her quarantine.
Chloe x Halle
The Beyoncé-approved sisters (including our future live-action Ariel) took to Instagram for a #TogetherAtHome performance.
March 23
Sufjan Stevens
The singer-songwriter pushed up the release of his jammy new album Aporia, featuring stepfather and label partner Lowell Brams (as in Carrie &), from March 27 to March 23 and streamed a first listen on YouTube.
Christine and the Queens
Along with her evening Instagram livestreams, the pop performer continued the #TogetherAtHome series, and struggled to save the video (but Global Citizen helped).
James Blake
The electronic musician and singer took to Instagram to perform some covers, including Frank Ocean, under the shadow of his isolation partner Jameela Jamil.
Years & Years
Olly Alexander of the British pop band followed Chris on #TogetherAtHome with his piano, some fan requests and some incense. He invites you to light incense while watching too, if you'd like.
Jens Lekman
After postponing his tour with youth symphony orchestras, the singer-songwriter will Skype you to play one requested song, before moving onto the next call. He's planning to do that for an hour a day from March 23–29.
March 22
Miguel
The R&B star took a break from "cooking up" new music in "the lab" to play a #TogetherAtHome set with some fan requests.
Katie Couric
The newscaster, apparent pianist, and prolific Instagram Live user, who is "not John Legend," played songs such as "Moon River" for #TogetherAtHome.
March 20
Ultra Music Festival
One of the first festivals to cancel because of the coronavirus, Ultra presented the Ultra Virtual Audio Festival on SiriusXM's UMF Radio, featuring exclusive sets by Major Lazer, Afrojack, and Martin Garrix.
Neil Young
After performing for a digital Bernie Sanders rally, the folk icon played his first deep-cut-filled "Fireside Session" from his home, shot by his wife, actress Daryl Hannah.
Shawn Mendes and Camila Cabello
Not even a quarantine can tear the internet's Most couple apart, who came together for a #TogetherAtHome livestream in front of some trees.
J Balvin
To celebrate the release of his new album, Colores, the reggaeton singer livestreamed a quick listening party.
Hozier
The "Take Me to Church" singer-songwriter livestreamed a #TogetherAtHome set, complete with a Britney Spears cover.
March 19
Ariana Grande
The pop star, who invented staying home, posted an in-the-dark cover of Whitney Houston's "I Believe in You and Me" to Twitter.
Finneas
The pop savant and 2020 Grammy Producer of the Year winner hopped on Instagram to play some solo songs, sans his little sister. He released his song "Let's Fall in Love for the Night" the same day.
H.E.R.
The R&B singer-guitarist made a stage of her own home during an impromptu Instagram performance.
Sony Music Nashville
The label is showcasing more of its country stars, most notably Brad Paisley, Chris Young and Luke Combs. In a true DIY spirit, Paisley asked that fans text him requests!
Luck Reunion
The Texas festival to be held in Willie Nelson's backyard instead streamed its sets, including performances by Nelson, Jewel, Margo Price, and Nathaniel Rateliff. Fans could digitally tip the artists for a donation to a charity of that performer's choosing.
Niall Horan
Taking the mantle from Charlie Puth, the former One Direction boy played new music on Instagram for Global Citizen's #TogetherAtHome series, and took fan requests on Twitter.
Common
After Horan's performance, rapper Common followed close behind on #TogetherAtHome on Instagram.
Kelsea Ballerini
Coronavirus didn't stop country singer-songwriter Ballerini from releasing new album Kelsea on March 20. She livestreamed a release party on Instagram, "since staying in is the new going out."
The Black Madonna
The producer turned her dining room into the Boiler Room, performing a two-hour set.
Indigo Girls
The folk duo streamed a performance on Facebook Live and Instagram, "playing a low key, home grown set of songs" and taking questions from fans. Call it "Closer to Fine" — but not too close!
March 18
Charlie Puth
The pop star took to Instagram as part of Global Citizen's #TogetherAtHome series to sing and take fan requests.
March 17
Dropkick Murphys
The St. Paddy's Day show went on for the Irish rock band, which hasn't missed the holiday in over two decades. They performed live from Boston.
John Legend
Taking up his friend Chris Martin's mantle, Legend streamed a #TogetherAtHome concert on Instagram Live. And if you're wondering, yes, Chrissy Teigen appeared.
Specialist Subject Records
Artists like Jeff Rosenstock and AJJ rocked out on a "Distant Together" mini-showcase put on by label Specialist Subject, which streamed performances by its artists on Instagram. The label has since put on a second showcase, headlined by Camp Cope.
March 16
Chris Martin of Coldplay
Martin took the time he would've been spending with his band to stream what he dubbed a #TogetherAtHome concert on Instagram, taking requests and talking to fans.
P!nk
The pop star posted a video of her performing "To Make You Feel My Love" on piano to Instagram, as a "free concert slash piano lessons from my heart to yours."
Keith Urban
Even in Australia, country star Urban livestreamed a show from his home on Instagram for an audience of one: his wife, Nicole Kidman, who gifted us her own dance performance throughout.
Yo-Yo Ma
The iconic cellist hasn't forgotten about "the healthcare workers on the frontlines" of the coronavirus response, dedicating a Twitter performance of the Sarabande excerpt from Bach's Cello Suite No. 3 to them.
Yungblud
The first episode of The Yungblud Show, helmed by the rock performer, debuted with guests MGK, Bella Thorne, and Oliver Tree (only a pandemic could bring those names together) on YouTube.
Hinds
While quarantined in their home country of Spain, the rock band posted a video tutorial of how to play their song "Come Back and Love Me," with each member teaching their instrument from their own home. "During these quarantined days music don't die 💔," the band wrote.
March 15
Alejandro Sanz and Juanes
After both their Bogotá, Colombia, shows were canceled, the Spanish and Colombian singer-songwriters joined forces for a livestreamed concert from Miami's Art House Academy. They dubbed the performance "El Gira Se Queda En Casa Para Todos (The Tour Stays Home for All)."
March 14
Code Orange
One of the pioneers, we'd say, of the pandemic livestreamed concert, Code Orange streamed the release show for new album Underneath from the Roxian Theatre in Pittsburgh, for a live audience of none but an online audience of many.