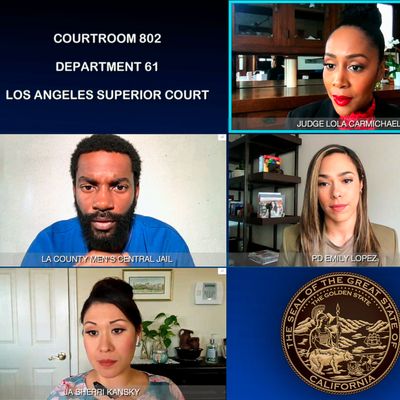 The (virtual) court is in session.
Photo: CBS
When All Rise began filming Monday night's special coronavirus-themed episode, Simone Missick didn't just have to act. She and the other stars of the CBS legal drama had to essentially become one-person production crews, carrying out the jobs of 12 different set departments while also virtually rehearsing and performing from inside their own homes. Missick, who plays newly appointed Los Angeles judge Lola Carmichael, compared it to working on a "big-budget guerrilla indie film," where she was her own camera crew, grip, and gaffer, and handled location scouting, lighting, set design, props, wardrobe, hair, makeup, IT, and even craft service.
"Me, the overachiever, decided to do different hair and makeup for every day," Missick said with a laugh. "But then I couldn't remember, what did my eye shadow look like? I have no clue! I actually regretted that part of it. That's why we have professionals for all of these things. But I'm very proud of myself. The acting, who knows? But the hair and makeup!"
"Dancing at Los Angeles" was shot over six days in April, followed by eight days of postproduction, with about half of the show's 90-member cast and crew. Written by executive producer Greg Spottiswood and co-executive producer Greg Nelson, the episode takes place during the lockdown and focuses on Judge Lola presiding over a virtual trial about a dispute between brothers and a stolen car. Emily (Jessica Camacho) represents the defendant, and Mark (Wilson Bethel) prosecutes the case, which is his first in his friend Lola's courtroom. Simone's husband Dorian Missick, also an actor, guest stars as a DJ who provides a comforting voice and music soundtrack for quarantined L.A.
All Rise had been in the middle of production on its penultimate episode of its freshman season when the pandemic shut Hollywood down in mid-March. After the show's executive producers agreed on a story that would work for a virtual shoot, Spottiswood and Nelson wrote it in a week by video-chatting with the aid of a digital white board. To a large extent, actors filmed their scenes with technology they already owned, typically late-model MacBook Pros or MacBook Airs and iPhones. Production also assisted with Wi-Fi hot spots, ethernet cables, and Google Nest units for those with weak internet signals or a need to be in several parts of their homes. All actors received two small battery-powered ring lights to attach to their computers to shape how the light hit their faces. Straight Up Technologies, a California-based IT company, designed the architecture for connectivity, feeding all the different cameras in all the various households to a video village where producers could watch, Michael Robin could direct, and the first assistant director could manage virtually.
It was an unusual experience to say the least. Robin says he had to adapt to giving actors more breaks — "They were like, 'Just give me a minute. I literally have to stop sweating from moving the chairs over here and the table'" — while the cast gained an appreciation for what their production crew does in ordinary times. As Missick led producers and Robin through a virtual location scout of her home, she found herself questioning her decorating choices — Why did I paint that wall? — and sometimes disagreeing about the best areas to shoot. "Lola's house is a mid-century modern estate. They wanted to duplicate the wood, but my house is an Arts and Crafts style house," she said. "So we just found a space that had a lot of wood. But then came staging it! So I'm dragging furniture from different parts of the house to make my dining room look like an office."
Technically, the episode's scenes were shot in grid view, mimicking the way people look when they are video-chatting. The production used FaceTime, WebEx, Zoom, and other social media and online technology. Each shot within the grid was recorded individually — "It actually became a very simple way to shoot," Robin said — and visual effects were used to create backgrounds in the actors' homes. A cinematographer operating solo from a vehicle and abiding by social-distancing guidelines also captured exterior footage that reflects the desolate streets of Los Angeles.
Working with Robin over Skype on shaping the scene beats felt the same as collaborating with him on set, Missick said, but the tricky part came in figuring out her eyelines. "Actors, as I saw them, were not how they were going to be oriented on the TV screen," she explained. "Michael said, 'Okay, look at Wilson, but imagine that it's Jessica.' And I was like, 'That is not going to work at all!'"
Missick came up with a low-tech solution: She asked production to send her a screenshot of the courtroom, and then she cut out everybody's faces and taped them to her laptop screen. "I couldn't see them acting in real time, but at least I knew where they were supposed to be in my eyeline," she said, explaining how she had to instead rely on what she noticed in her co-stars' performances during rehearsals. "You definitely had to tune in more with listening and knowing what the relationship is between you and your fellow characters to amplify what couldn't be picked up in a normal filming setting."
Although she admits the experience was "exhausting," Missick is proud of what the All Rise team accomplished. "This small amount of hard work that we all did is going to bless all of our fans who are watching this, who are out as essential workers — nurses and doctors and delivery people, and those working in our grocery stores," she said. "We can feel like being safely inside our homes and moving furniture and lights is hard, but what they do every single day is hard, too. So if I can suffer through it for a couple of days to give people something to look forward to, I'll take it."