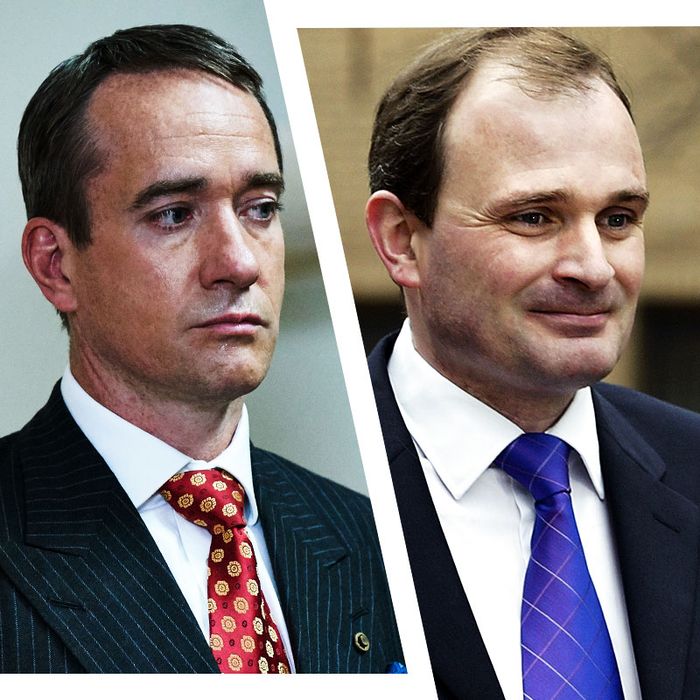 Matthew Macfayden as Charles Ingram, and "the Coughing Major" himself.
Photo: Left: Courtesy of AMC, Right: Getty Images
Back in 2001 when coughing in public spaces was a societal norm, one of the juiciest game-show scandals in history emerged from across the pond: Charles Ingram, an English army major of some renown, appeared on Who Wants to Be a Millionaire? and things went … pretty screwball.
Following a mediocre first day on the chair where Ingram used two of his lifelines on "easy" questions, he spectacularly bounced back upon his return, changing his answers at an erratic and confusing pace that made the British show's host, Chris Tarrant, visibly confused on several occasions. Ingram would go on to win the £1 million prize, only for the production company to launch an investigation into irregularities for his game.
What ensued was a made-for-the-tabloids criminal trial that alleged Ingram conspired with his wife, Diana Ingram, and fellow player, Tecwan Whittock, for them to cough when Ingram read an answer aloud, indicating that it was correct. The trio were found guilty of procuring the execution of a valuable security by deception, although to this day the couple maintain their innocence. Their story is now the subject of AMC's three-part miniseries Quiz, which premieres Sunday night starring Matthew MacFadyen and Sian Clifford, is bound to satiate our appetite for another summer of scam. Here's a helpful character-by-character guide if you choose to watch, or if you just want an amusing TV history lesson.
Matthew Macfayden as Charles Ingram
Charles Ingram appeared on Who Wants to Be a Millionaire? on September 9 and 10 in 2001, which at the time was one of the most-watched programs in Europe, with about 19 million people tuning in to watch every night. Prior to sitting in the chair, his wife, Diana, and his brother-in-law, Adrian Pollock, had been contestants on the show: They both won £32,000, respectively. Charles, who was described by his colleagues as a "model officer who was ripe for promotion," struggled with the game on his first day, which ended with £4,000 and only one lifeline left. Upon his return the second day, however, he went on a winning spree that can perhaps be best described as amusingly mercurial, where he would frequently change his answers and ramble about each question for several minutes.
This erraticism can be seen on full display in the below video, where, after initially stating that he never heard of popular singer-songwriter Craig David, he proceeded to put Craig David as his final answer:
Charles won his Millionaire game with the final question of: "A number one followed by one hundred zeros is known by what name?" (It's "googol," by the way.) Days after his win, the show's production company, Celador, suspended his winnings on the suspicion that he cheated his way to victory. Problems first arose when a sound technician for the show, amid filming Ingram's episode, called creator Paul Smith to alert him of what was believed to be an unusual correlation between coughing sounds and Charles' answers. Minutes after his win, a researcher for the show said that she overheard him and his wife loudly arguing in his dressing room. "They didn't seem happy or anything else, really," she testified in court. "Mrs. Ingram seemed a little bit agitated, and Mr. Ingram seemed a little bit tense."
Charles Ingram's trial began in March 2003. During his testimony, he asserted that he knew all of the answers due to his background as an honors A-level student and gave detailed responses about the extent of his knowledge when asked about certain Millionaire questions. (During the trial, he was also coined as "The Coughing Major" in the English media and was often mocked by coughing people on the street.) "I was not aware of any coughing while sitting in the hot seat from any part of the audience or contestants or otherwise," he claimed, saying he was in a "cocoon" and couldn't focus on anything else. "As the tension and stress increases and the money goes up and so on — I know because it happened to me — your doubts increase." He added that his rambling was a tactic to ensure the host, Tarrant, wouldn't interrupt his thought process.
Following a four-week trial, Charles was convicted by a majority verdict of procuring the execution of a valuable security by deception. He was sentenced to a suspended 18-month sentence, fined £15,000, and ordered to pay two separate legal costs of £10,000 and £40,000. Months after his trial, he was also ordered to resign from his commission in the Army. "My service in the Army is and will remain a source of pride," he said upon the dismissal. His attempt to appeal the verdict and fines were unsuccessful. To his day, he continues to maintain his innocence.
Sian Clifford as Diana Ingram
Diana Ingram won £32,000 on Millionaire months before her husband went on the show, and helped him practice for his appearance with a custom-built "Fastest Finger First" machine in their home. Phone records confirmed that she called Tecwan Whittock, a contestant who played immediately after her husband's win, for a short chat the evening prior to the second game day. During her testimony, Diana said the chat was merely a friendly one where she offered advice about the game, as opposed to conspiring about coughing the correct answers. She also refuted claims that she and her brother, Pillock, tried a different cheating scheme on her husband's first game day: That they strapped four pagers around Charles' body and would call the corresponding pager with the answer. This accusation gained steam during the trial due to Pillock only attending the first game day and the fact that he was spotted by several production crew members sneaking out of the studio with a cellphone — in a dead zone for reception.
Like her husband, Diana Ingram was convicted by a majority verdict of procuring the execution of a valuable security by deception. She was sentenced to a suspended 18-month sentence, fined £15,000, and ordered to pay two separate legal costs of £10,000 and £40,000. Her attempt to appeal the verdict and fines were unsuccessful, and she also maintains her innocence.
Michael Sheen as Chris Tarrant
Tarrant, a tenured television and radio presenter, hosted Millionaire until the show ended its first run in 2014. His testimony was considered to be a big break for the Ingrams and Whittock, as he said he didn't notice any suspicious coughing due to the "exciting behavior and very-hard-to-follow behavior" from Ingram as well as the "loud" audience applause. "They seemed as normal as people who had just won £1 million would be in that situation," he told the court, noting how he and the couple celebrated with a glass of champagne after the big win. "If I thought there was anything wrong, I certainly would not have signed [the check]." Tarrant added that when the producers alerted him of their suspicions, he "could not believe it" and "did not want to believe it."
Mark Bonnar as Paul Smith
As the founder and CEO of Celador, a prominent entertainment company in England, Smith was an integral figure in developing the Millionaire that we know and love today. (You may forget that it was not an American game show, but rather, Disney adapted it for the States.) When he received a call from the show's sound technician during Charles Ingram's taping, Smith, who was not present in the studio, initially believed that the coughs were a coincidence and demanded production not be halted. He changed his mind after reviewing the game's footage and was the one who called Charles to alert him of the ensuing investigation. "I have to tell you that we have suspicions from viewing the recording of last Monday's program," Smith told him, "and subsequently studying the tapes carefully, that there were irregularities during the taping of the show in which you participated." Smith would go on to serve as a prosecuting witness for the trial.
Michael Jibson as Tecwen Whittock
According to the video and audio recording submitted by Celador at the trial and confirmed by an independent sound analyst, 192 coughs were recorded throughout Charles Ingram's game. Out of these coughs, nearly two dozen came at a much more "significant" volume from the Fastest Finger First row of players, one of whom was Whittock, a university lecturer from Wales. (He would go on to play Millionaire right after Ingram's win but only won £1,000 after incorrectly answering his £8,000 question.) One of these coughs contained a subtle cry of "no!" At the trial, Whittock admitted that he indeed coughed on several occasions throughout Ingram's game, but only because he long suffered from an uncontrollable dust allergy and hay fever, which was confirmed by his doctor. He also reaffirmed what Diana Ingram said about their call, which was that she only offered advice about the show.
Whittock was convicted by a majority verdict of procuring the execution of a valuable security by deception. He was sentenced to a suspended 12-month sentence, fined £10,000, and ordered to pay a separate legal cost of £7,500. Unlike the Ingrams, Whittock did not appeal the verdict or fines. Following the trial, he resigned from his university job and trademarked his last name so it wouldn't be used for cough medicine.