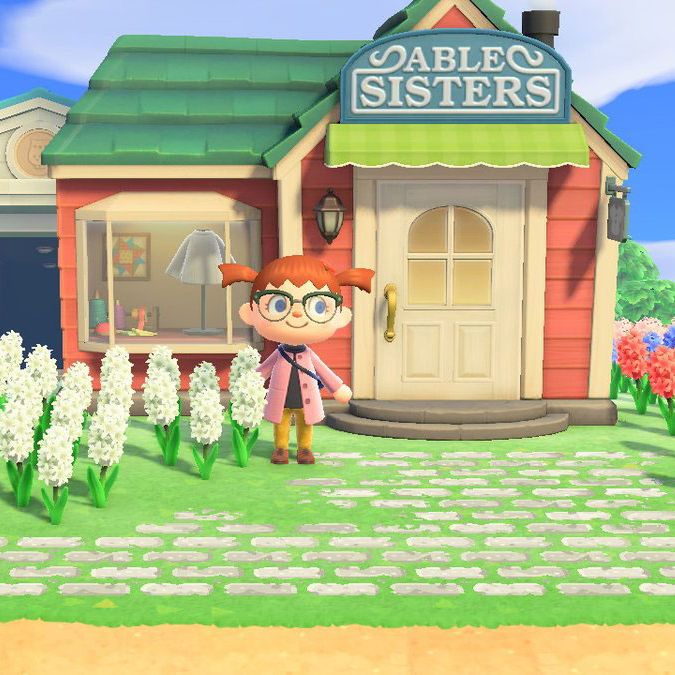 Vulture's Kathryn VanArendonk on her
Animal Crossing
island.
Photo: Nintendo
Like many people, I'm a relatively new (but dedicated!) Animal Crossing player. I'd never played any of the previous versions of the game, but when Animal Crossing: New Horizons came out for Nintendo Switch right as a pandemic swept across the globe, I downloaded it immediately and have been a regular player ever since. I shake all the trees on my island daily, hoping to find cute new furniture. I water my flowers; I chat with my animal villagers. And I go into the island's tailor shop, The Able Sisters, where I head straight for Sable, the only character in the entire game that gives you access to an actual story.
If you've not jumped on the Animal Crossing bandwagon, the thing to know about the game is that there's essentially no narrative to it. The main action is collecting and arranging — finding new items to decorate your island, catching fish and bugs, picking fruit, selling things so you can expand your little house. There are other villagers who live on the island with you, but they're mostly compilations of personality traits, not full characters. Some are very weird; there's a hamster on my island named Graham who seems to live inside a server room and who I suspect must be a bitcoin farmer. Giving them any kind of story is pure projection, an act that happens entirely in the player's mind. Inside The Able Sisters, it's different. There's drama, there's tragedy, there's family tension. But many players have no idea, because the game hides it from you.
When you start Animal Crossing you live on a mostly deserted island. As you gradually earn enough money — the Animal Crossing currency is called Bells — and gather enough resources, you can set up a few permanent stores. There's Nook's Cranny, a general store staffed by two baby raccoons, and there's The Able Sisters, run by two hedgehogs, Mabel and Sable. Mabel greets you at the door when you walk in, asking if there's anything she can help you with. It's a standard Animal Crossing interaction, helpful and fairly bland.
By and large, the animal characters in the game are polite. But Sable ignores you. She sits in the back of the shop working away on a sewing machine, and if you try to start a conversation with her, she politely tells you she's too busy to talk. If you return the next day and ask her to talk, she'll say she's busy again. She'll keep saying she's busy for several days in a row, far beyond the point most casual players would ever consider continuing to bother her. Why would you? This game is largely about cuteness and trying to sell your turnips for more than you bought them for; it's just not that complex. But eventually, if you ignore everything the game seems to be telling you and continue bothering this introverted hedgehog seamstress for at least a week, a whole story starts spilling out.
Sable, you discover, is much older than Mabel. Their parents died tragically many years ago, and Sable had to take on the responsibility of caring for her little sister. Now she feels like she can't ever take a break or relax, because the whole burden of caring for the family has fallen on her shoulders. Even more startling, once you start talking with Sable you realize there's a third hedgehog sister, Label, who appears occasionally in the game as one of the rotating itinerant salespeople. Here's where stuff gets extra dark. Label grew apart from her sisters after their parents' death, moving away so that she could strike out on her own and start a design company. Sable and Mabel are still supporting Label, still keeping the Able Sisters shop up and running so that Label has the freedom to pursue her dream. Sable resents Label for leaving. Mabel scolds Sable for suggesting their sister is ungrateful. I, having wandered around this island for weeks with nothing but an ever-increasing house payment and a shortage of purple windflowers to keep me going, clung to this story like a drowning person who'd been thrown a life preserver.
What is Label's problem?! Do Sable and Mabel even like the tailor business? What is this deeply sad story doing hidden inside this overwhelmingly twee game? As I started Googling frantically for more answers, I learned that the backstory of the Able Sisters has been hidden in many earlier installments in the Animal Crossing franchise, including City Folk, where Label (calling herself Labelle) works as a clerk in another city's store. But this most recent version of the game has been massively popular among players like me, people with no previous experience in the franchise. With no earlier clues that Sable has something interesting to say, many players of New Horizons just ignore her.
"There's a Sable character arc??" one player (a writer on The Leftovers) asked over Twitter DM, after I started poking around about the tragedy of the Able Sisters. Many people told me they would've never thought to keep chatting with her, because it seemed so rude. "I used to [try to talk to her]," another player named Sam told me, "but I gave up because I was asked to respect her boundaries." "I have maybe talked to her about three times, but I don't want to bother her," another player told me.
Of the people I spoke to who had chatted with Sable, there were many passionate feelings. "It's so sad. Like, SO SAD," one player said. "It seems pretty tragic for such an otherwise happy game," said another. "I almost feel guilty on Fridays when [Sable] talks about how she will be sewing all weekend to get a head start on next week's work." "I despise Label," added a player named Jess. "I think she is selfish."
So much of the appeal of Animal Crossing is in its calm, soothing simplicity. There are no devastating outcomes in the game, no punishments for playing "incorrectly," and there's no real goal to achieve beyond collecting things and making your island look pretty. The story of the Able Sisters feels incongruous, an unexpectedly dark well of sadness buried deep inside the game's otherwise uncannily nice exterior.
But maybe it's not that far off from where many Animal Crossing players' minds wander while playing the game, anyways. One player told me she hadn't actually seen any of the hedgehogs' story, because she didn't want to bother Sable. But she had come up with a narrative for them all on her own. "My theory," the player said, "is that Label struck out on her own so she could escape Mabel's hedgehog tyranny."