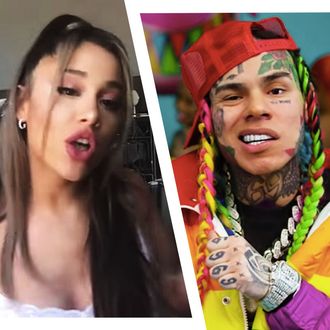 "Congratulations to all my talented ass peers in the top ten this week, even No. 3."
Photo-Illustration: Vulture and YouTube
Two friends working together can do two times the good. Ariana Grande and Justin Bieber, friends who conveniently share a manager, hit No. 1 on the Billboard Hot 100 this week with their coronavirus charity single, "Stuck With U." It's the third No. 1 debut for Grande and Bieber, tying them with Mariah Carey and Drake (who netted his third No. 1 debut with "Toosie Slide" just last month). It's also Grande's third No. 1 total, but Bieber's sixth. And, somehow, it's Scooter Braun's first No. 1 as a writer — although he'll have to get five more to pass Taylor Swift. Ariana Grande and Justin Bieber's good deeds don't end at donating single proceeds to the First Responders Children's Foundation and throwing a No. 1 to Braun. Their song also kept Tekashi 6ix9ine's postprison return, "GOOBA," from debuting at No. 1, keeping that song at No. 3. It's tied for 6ix9ine's highest-charting single with his own Minaj-featured song, "FEFE."
Tekashi, who has been accusing Billboard of messing with his chart numbers, isn't having it. "YOU'RE A LIE AND CORRUPT," he wrote to Billboard on Instagram. "YOU GOT CAUGHT CHEATING AND THE WORLD WILL KNOW." In another post, he alluded to "6 credit cards used to buy 60,000 copies in the last hour," presumably referring to "Stuck With U." In her own post celebrating the No. 1, Grande replied, "My fans bought the song. JUSTIN'S fans bought the song. OUR fans bought this song (never more than four copies each, AS THE RULES STATE)." She added, "To anybody that is displeased with their placement on the chart this week or who is spending their time racking their brain thinking of as many ways as they can to discredit hardworking women (and only the women for some reason …), i ask u to take a moment to humble yourself." In conclusion, she wrote, "Congratulations to all my talented ass peers in the top ten this week. even number 3."
If you can believe it, there were more than two songs on this week's Hot 100. Last week's No. 1, "Say So" — the first for both Doja Cat and remix guest Nicki Minaj — falls to No. 2 this week (we hope Mrs. Petty enjoyed her week at the top). Megan Thee Stallion's "Savage," now featuring Queen Bey herself, fell to No. 5. And most of this year's past No. 1s are also all still in the top ten: the Weeknd's "Blinding Lights," Drake's "Toosie Slide," and Roddy Ricch's "The Box." Some things never change.
Update, 5:15 p.m.: Justin Bieber has now entered the chat. Grande's collaborator responded to 6ix9ine's chart-cheating claims on his Instagram Story, telling fans, "60,000 units came because we don't disclose our numbers until end of week. That's called strategy." Bieber also added, "This is my song with Ariana Grande and I'm honored to work with her to help raise money for a great cause. If you gonna say her name make sure you say mine because it's our song."
Update, May 19, 8:25 a.m.: Hmm, maybe Scooter Braun made a call. Instead of pushing back against Ariana Grande's and Justin Bieber's Instagram posts (well, he doesn't even acknowledge Justin Bieber), Tekashi 6ix9ine insists that he wasn't coming for Miss Ariana on a personal level — all his smoke is for Billboard. "I wanted to make this video to address Ariana," he says, Brooklyn accent wildin'. "I don't want you to think that I'm coming at you. I'm not saying that you're not talented, not saying that you can't sing. You're a beautiful singer. You just don't understand my pain. My frustration is with Billboard. I speak for the millions of kids who come from nothing." Haven't those kids been through enough, Tekashi? Leave them alone!
Meanwhile, Billboard attempted to clear up all of 6ix9ine's claims about the chart data and their process in an article published Monday night. While he says his streams were not properly counted, Billboard notes that counts visible on audio and video platforms like YouTube and Spotify don't reflect the audited numbers that define the chart. Plus, YouTube play counts are global whereas Billboard only counts U.S. streams. That last-minute spike 6ix9ine claims "Stuck With U" benefited from was likely caused by signed singles that went on sale in Grande and Bieber's web stores on Thursday, May 14, the final day of the tracking week. As for the "six credit cards" Tekashi believes bought a large percentage of the "Stuck With U" sales, Billboard and Nielsen Music/MRC Data work to identify bulk purchases and remove them from the count, but they have reached out to Fame House and Bravado, a retailer and direct-to-consumer sales reporter, for further insight, just in case. So, in the end, "Stuck With U" drew 28.1 million U.S. streams, 26.3 million in radio airplay audience and 108,000 sold, while "GOOBA" had 55.3 million U.S. streams, 172,000 in radio airplay audience and 24,000 sold. Hips, numbers – things that simply do not lie.