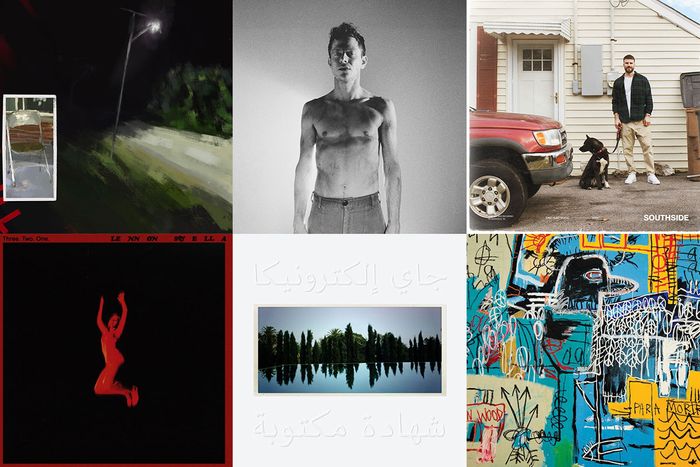 Here's a roundup of some of the best albums of the spring.
Photo: Courtesy of record label
The rise of Instagram Live as a stopgap entertainment hub for people whose nighttime meeting grounds are shuttered indefinitely was the first sign that the quarantine couldn't completely quash plans for spring music, even in the absence of live events in the traditional sense. Over the past month, Minecraft has hosted festivals featuring performances from emo godfathers American Football, Nintendocore vets Anamanaguchi, U.K. star Charli XCX, and St. Louis pop disruptors 100 gecs — and Fortnite premiered a psychedelic audiovisual spectacle featuring rapper Travis Scott — offering proof of creative thinking on how to engage audiences in a pandemic. While Lady Gaga, Alicia Keys, the Dixie Chicks, Willie Nelson, and more have delayed music, others are charging ahead into the unknown.
Fiona Apple's Fetch the Bolt Cutters was intended for a fall release, but the singer's decision to ignore her label's advice and drop the album in April rendered its homespun production all the more poignant. The Weeknd's After Hours resisted proposed delays to its March release date, and it topped the Billboard 200 album chart with 444,000 equivalent units sold, the best first-week haul in the Canadian singer's career and the second-most successful sales week of any album in 2020 thus far after BTS's Map of the Soul: 7. The Weeknd's gamble worked because he's an A-list pop star with a nearly decade-long track record of hits to drive anticipation for new product. Artists who don't have that pull are getting crafty.
Novelty records about the coronavirus saw a surge in March. Brooklyn DJ iMarkkeyz's song sampling a Cardi B clip about the virus charted on iTunes and received the Bronx rapper's blessing. Dominican dembow artist Yofrangel's "Corona Virus" mixes gallows humor and sound advice about preventative measures, as does U.K. drill artist Psychs's "Spreadin' (Coronavirus)." Cali rhymer Tyga's remake of Detroit rapper and TikTok star Curtis Roach's timely pre-quarantine "Bored in the House" jam was an early entry in a wave of music videos made at home. Home productions are growing in scope and star power, as SNL at Home has proved. Late in the month, Take Me to the World: A Sondheim 90th Birthday Celebration offered an amusing night of living-room and backyard renditions of classic show tunes by the likes of Meryl Streep, Patti LuPone, and Lin-Manuel Miranda.
When lockdown put a damper on plans to track a new album with his band the Mountain Goats, front man and lo-fi vet John Darnielle relied on his first bandmate, an ancient Panasonic boom box, to record Songs for Pierre Chuvin, a critically acclaimed collection of musings about pagan sects wiped out by the Roman Empire, with proceeds going to his furloughed crew. Post Malone livestreamed a set of faithful Nirvana covers in late April, raising over $2 million for the Recording Academy's COVID MusiCares relief fund in just an hour, matched 200 percent by Google. This week, Charli XCX's How I'm Feeling Now ushers in the era of pop albums written and recorded in isolation. COVID can keep us off the streets, but it can't kill creativity.
Even without live shows, new music has helped to keep us sane through the long days and longer nights at home. Respect is owed to the artists releasing vital new work without any immediate prospect of a tour to back it up. Here's a roundup of some of the best albums of the spring.
Perfume Genius, Set My Heart on Fire Immediately (May 15)
The music Mike Hadreas makes as Perfume Genius manages to be both sweetly enticing and brutally honest. Set My Heart on Fire Immediately, Perfume Genius album No. 5, continues on the path paved by 2017's No Shape, gliding effortlessly across glam rock, synth-pop, folk, and experimental pop, with Hadreas's delicate vocal and intimidating pen guiding the way.
Lennon Stella, Three. Two. One.
You may remember Lennon Stella as Nashville's Maddie Conrad, one-half of a country singing group that paired her with her real-life sister, Maisy. Stella's solo debut, Three. Two. One., proves her mettle in a pop field of play, calling on producers like Malay (Frank Ocean's Channel Orange) and Joel Little (Lorde's Pure Heroine, Taylor Swift's Lover) to give Lennon's quiet, reflective songs a bit of a commercial sheen.
Sam Hunt, Southside
Georgia singer-songwriter Sam Hunt brought modern hip-hop and R&B airs to slick pop-country with his excellent 2014 debut, Montevallo. This long-awaited follow-up tells the story of Hunt's rebound from a breakup to a wedding over a grab bag of adventurously twangy R&B tunes, achingly beautiful folk jams about settling down, and romantic country-radio hits like "Kinfolks" and "Body Like a Back Road."
Alina Baraz, It Was Divine
Kali Uchis, To Feel Alive
Tory Lanez, The New Toronto 3
DVSN, A Muse in Her Feelings
Either through coincidence or divine providence, a lot of the early albums of note in quarantine celebrate human intimacy through sensual R&B. If you liked the latest from the Weeknd, Partynextdoor, and Kehlani, try the bedroom vibes of Alina Baraz's It Was Divine, the yearning balladry of Kali Uchis's To Feel Alive EP, and the moody T.O. trap-soul of Tory Lanez's The New Toronto 3 and DVSN's A Muse in Her Feelings.
Car Seat Headrest, Making a Door Less Open
Car Seat Headrest is the flagship project of Virginia indie musician Will Toledo, who began releasing homemade records as a teen and later graduated to fronting a full band. Toledo's songs are wry and often self-effacingly honest; the music is scrappy, euphoric four-piece rock and roll. Their latest adds tasteful electronics to the mix, rocking the boat a little but never flipping it over.
Jay Electronica, A Written Testimony
Ten years after the release of his debut single, "Exhibit C," New Orleans mystic Jay Electronica has delivered his debut album. With the help of Roc Nation founder Jay-Z, Elec offers deeply personal verses, philosophical koans, and wizened insights on A Written Testimony. Come for sage words from Electronica, and stay to hear Jay-Z revel in a sparring partner worthy of his razor-sharp ripostes.
The Strokes, The New Abnormal
NYC rockers the Strokes' latest is the front-runner for the most eerily prescient album title of 2020. The downcast The New Abnormal imagines the '70s power-pop aesthetic of Is This It adapting to the synth-pop and power ballads of the '80s. The lyrics are romantic if melancholic; catchy tunes like "Bad Decisions" and "The Adults Are Talking" make for the band's best album since its post-9/11 heyday.
Jason Isbell and the 400 Unit, Reunions (May 15)
Alabama singer-songwriter Jason Isbell ponders planetary disorder and personal peace on his seventh studio album and his sixth as leader of the 400 Unit, a collective of gifted southern Americana players. Reunions touches on loss and fatherhood, on families breaking apart, and on families fighting to stay together, delivering devastating turns of phrase and soulful tones on both voice and guitar.
*A version of this article appears in the May 11, 2020, issue of New York Magazine. Subscribe Now!