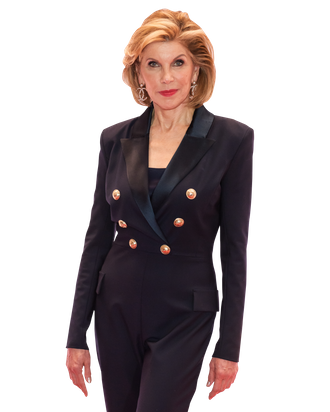 Christine Baranski
Photo: Jason Koerner/Getty Images
Christine Baranski has a good reason why she's calling from inside her parked car, at a public beach, near her Connecticut home where she is quarantining. "I don't get cell service in my country house, and I have a house full of grandchildren," she explains, as exact and articulate as ever, "so I come to the public-beach parking lot and do my interviews." Baranski was midway through production on the fourth season of The Good Fight, and about to start filming Downton Abbey creator Julian Fellowes's new HBO drama The Gilded Age, when everything shut down. Currently, she's running what she refers to as "Auntie Mame's Camp for Boys," running through her Gilded Age lines on long walks, and conducting her interviews at night when the house is quiet and she can escape.
It's a sudden shift out of an incredibly busy stretch for Baranski, whose character in The Good Fight was in the midst of the show's most outrageous season yet. By the time of the show's seventh episode, which serves as its unintentional finale, Diane Lockhart had started an investigation into a mysterious government conspiracy around something called Memo 618, tried on a leather catsuit after seeing an in-universe version of Slave Play, and did her best to figure out whether or not Jeffrey Epstein really did kill himself. "It's my favorite season and I'm sorry we didn't get to finish it," Baranski said, "because I have a feeling Diane might have wound up in jail for her efforts." From her parked car, she talked through the season's most audacious moments, what it was like to shut down so suddenly, and why she's still optimistic that The Gilded Age will happen.
The season's final episode dives deep into so many Jeffrey Epstein conspiracy theories. Did you fall into that wormhole filming it?
When we read the episode, all of us were thinking, "This is so outrageous!" We called [creator] Robert King and he said, "Do you realize all of this is true?" That's what so hair-raising about it. It's unfortunate that we did not get to finish the season, but if you had to go out with a bang prematurely — and I don't mean all those sexual metaphors there — I think the Jeffrey Epstein episode packs a punch. There's so many unanswered questions there, and the whole season is about unanswered questions, and who's enabling some people to get an off-ramp when it comes to justice. It's uncanny that we were shooting this season before the Michael Flynn case was dropped, but the Kings have written about something that's going on in the present. The virus notwithstanding, they did not predict the virus.
Did Michelle and Robert King tell you where the Memo 618 conspiracy was going?
I know the Kings are very, very busy right now, but I will eventually ask them at least for the outline to tell me where they thought it was going to end up. It's probably better for me not to know, because I've had to do all this press, and if I knew I might be inclined to talk about it. Who knows, when we go back, if we can continue where we left off? By the time we go back, we may have had an election. We might start filming before the election, but by the time it airs, it may be postelection. These are truly uncertain times.
I have to say, the shot that the Jeffrey Epstein episode ends on, on what they call BUD, is quite the kicker for the season.
I haven't seen the cut yet! But I can't wait. I know how it's written. Imagine that we end on that. So funny.
Speaking of elections, this season kicked off with an alternate reality episode where Diane wakes up in a timeline where Hillary won. It ends up challenging a lot of her assumptions about how that election could've magically fixed everything. What was it like to travel to that alternate universe?
I found it very liberating, because when you play a dream sequence, well, it's a dream. There was much about it that was comedic and tongue-in-cheek. Maybe next season, all of it should be nostalgia. We should just keep these characters in a pre-COVID world, everyone knows the virus will come or that it has come, but in Diane's dream sequence she's still a well-dressed woman who shows up to her office, instead of in her bathroom Skyping her legal material.
The show has really pushed Diane to consider how much her liberalism is predicated on women like herself, who are privileged and white, getting to succeed. It's making her think about race, maybe even more than before.
I think that was always part of their plan. The pilot was like, "How does a woman of that age starting over adjust to life in a Chicago African-American law firm?" It just so happened that Trump was elected president and suddenly there was a lot of raw material to work with, but I think those issues can still be dealt with.
Has filming the show, playing Diane through that series of shocks to her perspective made you think differently about race, or where you see yourself in the structure of power?
It's thought-provoking on every level. On a personal level, I've learned from my African-American colleagues. I'm often the only white person in a scene in the conference room. I've embraced and loved the opportunity to act with Audra [McDonald] and Delroy [Lindo] and Cush [Jumbo] and Michael [Boatman] and Nyambi [Nyambi]. It's a very diversified cast, and so we bring who we are to the set. In terms of playing Diane: At this moment in my life, I want to pay attention to what happens in the country, but playing her has made me singularly focused on it. I've been something of a news junkie these many years, my television went on in the morning to watch Morning Joe. My TV was on in my dressing room, following everything from the Kavanaugh hearings to the impeachment. It's breathless to keep up with the news, but Diane is someone who pays attention. It's frustrating and it can be numbing, but we all have to stay awake and pay attention to what's going on and not retreat.
In this season's most delightfully absurd episode, the characters see parodies of themselves doing BDSM in a fake version of Slave Play. What was it like watching fake you onstage?
Well, she was so beautiful and looked so great in the catsuit, that's fine by me! We all were a little concerned that it would feel like a ratings grab or be gratuitous, but actually, the Kings once again very specifically wanted to address certain issues about power and sexuality — and also send up that play, which was so the Zeitgeist. To poke a little fun at it. I liked the way it turned out. I thought it made its points without being sensational or uncomfortable.
Did you see Slave Play? What did you think of it?
Yes, I did. Um … thought-provoking. Thought-provoking. I appreciated it. It brought up more questions certainly than it answered, but I think that was its purpose. A great brainteaser, wasn't it?
What was it like when you were told you had to shut down production on The Good Fight in New York?
For a couple of weeks we were told, "Okay, everybody wash your hands." Then there was no more food in catering unless there was packaged food. It was in all our consciousness by the end of February, early March, nobody on the set showed symptoms and yet we were getting nervous. By the time we shut down there was a sense of Okay, thank God, because we were all getting a little skittish. We all sat in the conference room and [executive producer] Brooke Kennedy said we were going to shut down for a couple weeks. We all said good-bye. My favorite thing was Cush Jumbo saying, "Is it okay for us to take some of the toilet paper rolls off the set? Because it's hard to find toilet paper in Brooklyn."
We shut down, and by the end of the week, I was gathering my things in New York. My son-in-law was at the family homestead in Connecticut. He said, "Don't wait till tomorrow, get out of the city now." It escalated rather quickly, and then that became our new reality. It was so much more serious than anyone imagined.
Were you about to start filming The Gilded Age then, too?
When we shut down, I was maybe a week away from starting filming. There was a slight overlap between it and The Good Fight. There was just such a feeling of excitement about launching it, and I had done so much work and research, and it was an incredible ensemble of people. Then we shut down, and that's a very large ship to launch. I'm sure it will again, because they've already invested so much in it. So I go on very long walks now with my scripts and I'm memorizing it. I'm onto episode five. The least I can do is know all my lines. My fear is that both shows will start at roughly the same time and I'll just go from being somebody who had nothing to do but watch her grandsons to having two jobs at once.
You and Cynthia Nixon are playing sisters on that show, which is a fun throwback to when you were in The Real Thing together in 1984.
I adore her! And then she played the role that I originated on Broadway in the revival. She's a wonderful human being and actress, and when I see her, the first thing I want to ask her is, "Aren't you glad you didn't win the governorship of New York?" Can you imagine! Maybe she would have welcomed it, but who would want to be a governor of New York now? Andrew Cuomo has done a heroic, wonderful job in my opinion, but talk about just being handed a … you know.
Maybe she would've risen to the challenge, who knows?
Well, she wouldn't have seen much of her family, probably. And she loves her family, so. Anyway, hopefully you will see us in The Gilded Age.