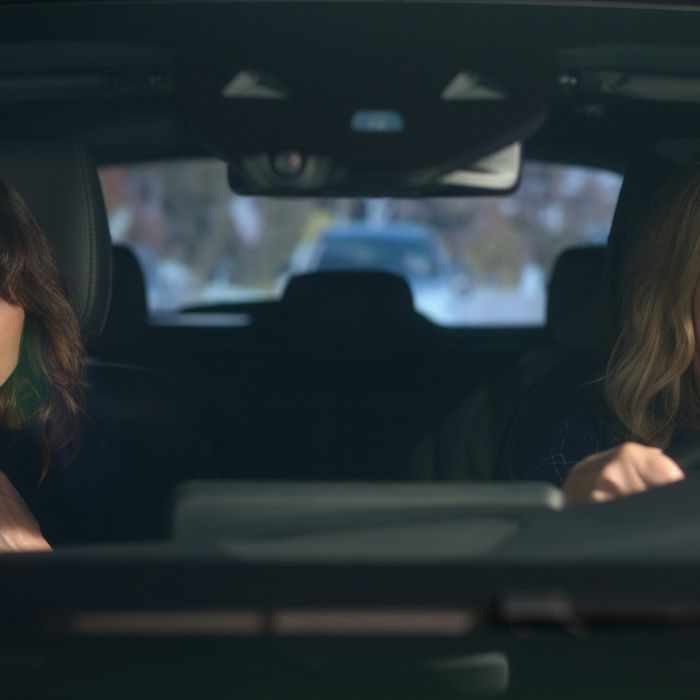 Photo: Courtesy of Netflix
The writers of Netflix's hit dramedy Dead to Me could have started the second season anywhere, but they chose to open their sophomore year almost immediately where they left their characters in 2019. Well, mostly. "You Know What You Did" cleverly leaves most of the questions about the season-one finale in play to start the season. Namely, what exactly happened with Jen (Christina Applegate) and Steve (James Marsden) that led to his bloody body floating in her pool? And where exactly is Steve now?
While breathlessly continuing the action of season one, this year's premiere also has the job of setting the table for a new arc, and one could argue that "You Know What You Did" falters ever so slightly in that department, feeling more like an echo of last year's climax than a confident start to a new one. Well, at least until that shocker of a final scene, one designed to make sure no one watches only the season premiere on May 8.
Dead to Me is (was?) a show about friendship and forgiveness, both of which are at their breaking point as we enter season two. At the end of the first season (click here if you need a refresher), Jen learned the truth about her husband's death and the involvement of her new BFF Judy (Linda Cardellini). She pushed Judy out of her life and it looks like she killed Steve. But need trumps animosity, and so the season opens with Judy helping cover for Jen, even as her panic level continues to rise.
The first major question of the season is what isn't Jen telling Judy about Steve's death? She says that Steve "got in my face and tried to strangle me," but Applegate subtly makes it sound like a lie, or at least a partial story. There's also something strangely thin about the reasoning she gives Judy as to why they don't just go to the cops and tell them Steve died in an act of self-defense. Jen says something about it looking suspicious because of Steve's involvement with Ted's death, but wouldn't the opposite be true? Steve found out that Jen knew about the hit and run and was trying to cut off a loose end, so Jen had to protect herself. It would probably be open and shut. Unless there's something she's not saying.
One of the more subtle aspects of the season premiere is how Judy is dealing with both guilt and grief simultaneously. Yes, Steve was not a good guy, but Judy was very recently in love with him, even rekindling their relationship last season. Now she has to help hide his body. It's nice that the writers haven't ignored the complexity here, allowing Judy to grieve while she's covering up a murder. Let's hope they don't drop that thread.
More urgently, Judy needs a place to sleep. She goes back to the nursing home she works at to try and crash in Abe's room, but it's already being given to a new tenant. While she cry-eats pudding in a storage room, Jen has problems of her own, including the fact that nosy neighbor Karen (Suzy Nakamura) not only heard a male voice last night (but notably not a gunshot), but has surveillance cameras that face the street. Dammit, Karen.
While Jen is looking at Karen's recordings and learning that there is now footage in the cloud of Steve coming to her house on the night he disappeared, Karen goes and opens the pool, revealing … nothing more than something blocking the drain! Where's Steve?!?! Is he really dead? Why did they close the pool, then? (And note that the blockage is really the wooden bird that Judy hid money in to give to Charlie. Did it have something to do with Steve's death?)
As viewers ponder what Judy and Jen did to Steve's body — or if he somehow got out, dried off, and just went on his way — Jen has to teach Charlie how to drive. As if her life isn't stressful enough, Jen isn't really built for teaching a teen boy to drive. She has one of her anger management episodes and reminds Charlie that no one should ever tell a woman, especially this particular woman, that she's overreacting. Jen needs a way to channel her nervous energy, and it will apparently be getting a new stop sign put in her neighborhood. It's a nice echo of season one's bad driver plotline that led to Jen vandalizing a sports car. Apparently, no one knows how to drive in Laguna Beach and it's driving Jen Harding (more) insane.
While Judy is dodging someone on her phone, Jen watches the recording of her yard from that fateful night. We learn that she put the gun down and it looked like she was going to part ways with Steve. Did someone else shoot him? Did he slip and fall? Ominous foreshadowing comes when Jen encourages her son that no one will take her away and that he'll "always have his mom." Will he?
Jen basically discovers two things in the premiere, that she can't do this alone, and that she can't leave Judy by herself, either. She's not going to let her only real ally in this nightmare sleep in her car, so Judy finds her way back to the Harding home in time to catch The Facts of Life. And, somewhat surprisingly, we learn the truth about what happened that night: Steve had turned his back on Jen and said he was out when she attacked him, hitting him in the back of the head. (With the wooden bird? Irony!)
The next morning, there's a knock at the door. It's Steve! Wait, is this Santa Clarita Diet?!?
Extra Counseling
• Do you feel differently about Jen knowing that it appears she did not kill Steve in self-defense? Yes, Steve was awful, but this could be morally thin ice for the show, right? She bludgeoned a man who had turned his back on her to death. The writers will likely try to justify this — I expect to find out Steve was even worse than we thought — but it's a dangerous move in terms of how it could make some people feel about Jen.
• No one licks a pudding cup and cries at the same time quite as sadly as Linda Cardellini. It's a truly heartbreaking shot.
• I forgot how sharp the dialogue can be on this show, and it feels like Applegate and Cardellini are even more in tune with creator Liz Feldman's dark tone this time, more accustomed to their characters. Let's hope that keeps up all season.
• It's cool to see who the show is willing to bring back and add to this new season. So far, no sign of Nick, but you have to think that Natalie Morales, who plays the woman who drops off her mom in Abe's room, is going to return. If you can't place her, she played Tom's girlfriend on Parks and Recreation and was great on Netflix's underrated Santa Clarita Diet.
• Is Steve a zombie now? That's gotta be a twin, right? But is it the evil twin or the good twin?