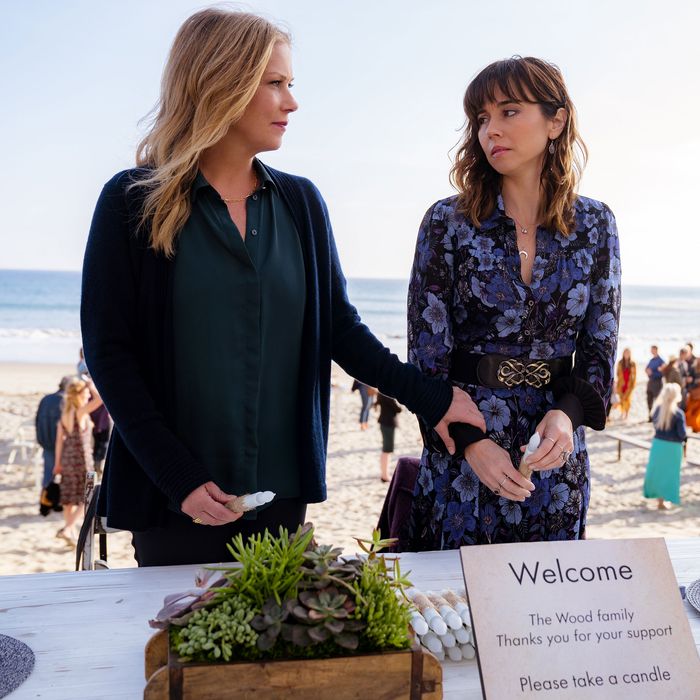 The second season of Dead to Me continues spiraling into even darker emotional territory by having Jen and Judy organize the vigil for the man that only they know is dead and buried in Los Angeles National Forest. It's another clever episode of television that's elevated even further by some new characters played by TV veterans (Frances Conroy! Jere Burns!) as well as the balance between human drama and soapy mystery that define this show. Liz Feldman and her team so deftly alternate character-driven scenes about love and loss with a series of revelations meted out through the season. Will Judy be able to date the ex-girlfriend of a woman openly investigating her for multiple cases? Could Jen possibly find happiness with the semi-identical twin brother of the man she killed? And how long before Charlie figures all of this out?
"If Only You Knew" opens with a moment of rare happiness for Judy Hale. She's next to Michelle after their first night together, and they're an adorably cute couple. Judy talks in her sleep, and says things like "I'm sorry" a lot, which could be a problem, but the more immediate one comes when Judy runs into a shocked Detective Perez in the kitchen. The awkwardness is handled perfectly by both actresses, Cardellini leaning into the fast-talking and smiling thing that Judy does to break tension, and Riva getting her best line yet: "Don't offer me my own espresso."
Across town, Jen is spending the morning using a radar gun on her neighbors and telling Charlie about the difficulty of childbirth. (Charlie is going to need so much therapy in his twenties.) Charlie is in a good mood, telling mom how much he likes Ben. The writers are clearly pushing closer and closer to Charlie figuring out Jen and Judy's secret. What will he do when he figures out mom is a killer?
Judy comes back to Jen to tell her that Michelle "has a roommate" and notices that her BFF got dressed up to show Ben houses today. Before Judy can reveal the Perez connection, Ben comes over and drops that they found Steve's burned-out car. Uh oh. He can't look at houses because he has to plan a vigil now. Watching Ben flounder for what to do next gets to Jen and she volunteers to organize it. Even Judy isn't sure this is exactly smart, but Jen relates to the emotional horror of having to plan Ted's funeral on her own. Finally, Judy tells Jen about the Perez issue, and Jen orders her to break up with Michelle. Poor Judy.
And that's basically what happens in the nursing home bathroom, where Michelle first apologizes to Judy, telling her that her ex can't keep them apart. But it's Judy who pulls back, and Cardellini delivers one of her most heartbreaking lines ever: "You don't want to have anything to do with me." Judy is a fascinating character because she's always considerate of the energy and karma she puts into the world, but she's not wrong that she's bad luck, too. She tries so hard to be good but keeps falling into bad.
Most of this episode takes place at the actual vigil on the beach, a wonderful place for the writers to bounce pretty much all their characters off each other, including ones we haven't seen in a while and some new faces. In the former category, Pastor Wayne (Keong Sim) returns to lead the vigil, and Judy finds out the very hard way that Steve's new girlfriend Heidi (Chelsea Spack) is four months pregnant. Ugh. We also get to meet Steve and Ben's mother, played by the wonderful Frances Conroy, and someone who knew Steve and yells at Judy for even being there, played by the also-wonderful Jere Burns.
The vigil is one of the strongest scenes of the series, moving both parallel tracks forward and working in character-driven registers, like Judy's reaction to learning that Steve is going to be a posthumous father, while also allowing Perez to turn up the heat on the investigation. Both elements really come together during the slideshow, wherein Applegate is allowed to play the arguably opposed roles of mother and murderer. As she looks back and forth from the slideshow of Steve to Eileen to Charlie, she considers what she's done to another mother. And yet there are surely viewers out there who remember that Steve was a monster and arguably a murderer. Jen sure does. The inner monologue of guilt and grief that Applegate conveys in this scene is fascinating. It's such a great part for her.
Somewhat expectedly, the swirl of emotions and alcohol pushes Ben and Jen together. He says that the silver lining in all of this was meeting her before giving her his coat—something his brother would never do, by the way. And then they kiss with just the right timing for Judy to see it, which must be WEIRD. She spirals a bit, swearing at Perez. Is Judy going to reveal something she shouldn't to Michelle?
It may not matter, because the slideshow reveals something to Charlie when he spots Steve, who is missing, next to the Benz that was in his mom's storage unit. How is Jen Harding going to talk her way out of this one?
Extra Counseling
• I love the decision that Jen makes when she's introduced to Eileen to refer to herself as a "friend of Ben's." She purposefully disconnects from Steve for obvious reasons, and the truth is that Ben IS the reason she's there. Well, half the reason.
• Anyone else increasingly creeped out by the Holy Harmonies lyrics? "That saved a wretch like Steve" made me cringe.
• You have to love that Jen's assessment of Michelle having a roommate is that it's "fucking lame" when Judy is basically Jen's roommate. Pot, kettle.
• Perez's shirt that says "Stay in Your Lane" may be the best costuming choice of the year.
• Let's talk about the new faces! Frances Conroy is probably best known for Six Feet Under and most people in the world saw her as Penny Fleck in last year's Joker. She's also a regular on American Horror Story and has over 100 credits. She's always reliable and sometimes great.
• Speaking of reliable, let's hope the writers of Dead to Me have multiple season plans for Jere Burns, who transitioned from a sitcom actor in most of his career to a wonderfully menacing presence on shows like Breaking Bad, Burn Notice, Bates Motel, and, most of all, Justified. He is perfect for this show's blend of menace and dark comedy.