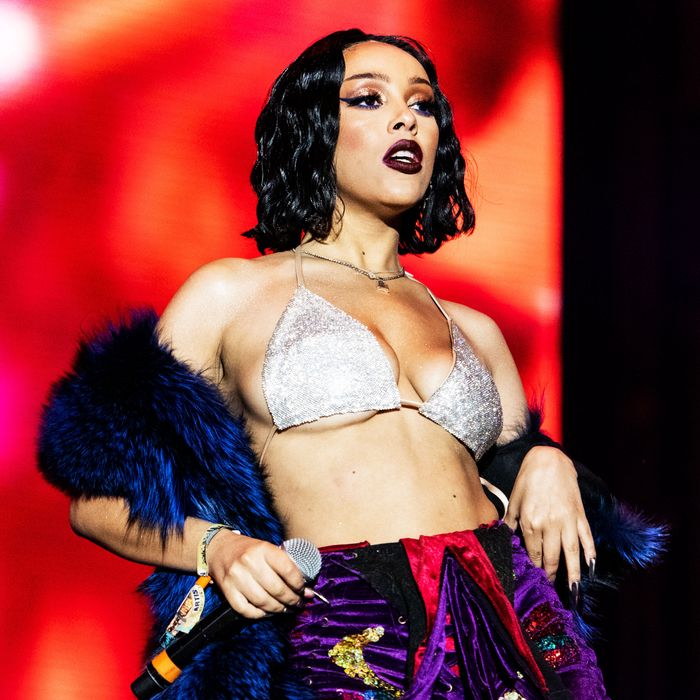 Doja Chat.
Photo: Timothy Norris/WireImage
Doja Cat's wigs may have gotten their lives together, but the eccentric, unfiltered rapper-slash-singer has never once given up her unruly ways. The nascent 24-year-old star has been stirring up trouble long before she went viral with 2018's "Mooo! (Bitch, I'm a Cow)," and her latest scandal probably won't be her last. While videos and photos of Doja Cat saying the N-word, stripping, and hanging out in an alleged alt-right Tinychat room went viral, internet sleuths unearthed more insensitive videos, tweets, and even music. On the heels of her first Billboard No. 1 for "Say So," Doja Cat has dominated all aspects of the quarantine news cycle. First a TikTok viral hit, now an internet-scorching and potentially career-damaging controversy. Here's a timeline of all the messes she's found herself in, including the Tinychat tea you've been looking for.
2014: Before Fame
Early 2014: At 17 years old, Doja Cat (born Amalaratna Dlamini), who'd been killing it on SoundCloud since 2012's "So High," signs to RCA Records with a joint-venture deal with Dr. Luke's vanity label Kemosabe Records. Later that same year, Dr. Luke, real name Lukasz Gottwald, is accused of sexual assault and emotional abuse by Kesha, who is still under his label after five years of legal battles. Gottwald produced Doja Cat's latest hits, "Say So" and "Juicy," both credited under Tyson Trax (as well as Hot Pink tracks "Rules" and "Shine"), one of several pseudonyms Variety says he's used since the #FreeKesha movement bolstered support for the pop star. Doja Cat hasn't publicly commented on her relationship with Dr. Luke but has liked tweets theorizing that she didn't know and wouldn't have signed with him had she known.
March 27, 2014: Doja Cat releases the music video for her song "So High," an immediate breakout. It currently has over 30 million views. But the video was recently called out for "sexualizing and appropriating Hindu culture" and offensive lyrics like "Now we both look Asian," referencing a stereotype to describe the effect weed has on her eyes.
November 2, 2015: Doja Cat uploads "Dindu Nuffin" to her SoundCloud but later removes it. "Dindu Nuffin" is a racist slang term coined in alt-right online circles to demean victims of police brutality who "didn't do nothing." When the song resurfaced in May 2020, rumors circulated that it was made in response to the July 2015 death of Sandra Bland, a claim that Doja Cat denied in her Instagram Live follow-up.
2018: Going Viral
August 10, 2018: Viral status achieved. Doja Cat's "Mooo!" a pixelated home music video goes viral for the best reason to go viral: pure unadulterated joy. But we all know happiness is fleeting.
August 28, 2018: Just over two weeks later, an offensive tweet resurfaces, as offensive tweets tend to do. In one, Doja Cat uses the F-slur to refer to Tyler, the Creator and Earl Sweatshirt in 2015.
That day, Doja responded by retweeting one screenshot of the tweet with the caption, "Lmfaooooooo."
"I called a couple of people faggots when I was in high school in 2015 does this mean I don't deserve support?" she then wrote on Twitter. "I've said faggot roughly 15 thousand times in my life. Does saying faggot mean you hate gay people? Do I hate gay people? I don't think I hate gay people. Gay is ok."
Yeah, that just made people more mad, including Will & Grace star Debra Messing, who quote-tweeted it in anger. So Doja got the message and tweeted out another reply, this time via Notes App. "I've used horrible derogatory and hateful words towards people out of ignorance," she said. "I just want you guys to know that you're incredibly special and I hold you dearly to my heart. I'm sorry for anyone I've offended or hurt deeply. You all are worth love and support," she wrote. But apparently that one was too long because she then tweeted out a more succinct final version: "I apologize for the derogatory terms I've used in the past and no one should be discriminated against for their race, religion, or sexual orientation," she wrote. "I love you and I hope to make more great music with and for you in the future."
August 29, 2018: By the next morning, that apology tweet was deleted, too.
Unknown: A video of Doja Cat saying "Stop being a faggot, thank you," recently resurfaced on Twitter and YouTube, with claims that this occurred after her apology debacle, although Vulture was unable to verify this. Many fans justified Doja Cat's use of the slur because she is bisexual, but others still are uncomfortable.
2019-present: Pop Stardom
November 7, 2019: Doja Cat's second studio album, Hot Pink, comes out to good reviews and even better streams.
December 11, 2019: Paper magazine publishes a profile of Doja Cat where she talks all about her "religious" chatroom hobby. "People would pick on me and use horrible, horrible language, just the worst, and I just didn't understand why people were so crazy on there," Doja says. "So I became the person who would make offensive jokes and do things sort of out of the box."
February 27, 2020: Doja drops the video for her TikTok hit, "Say So," featuring a cameo from the TikTok dance creator herself, Haley Sharpe. All's well … for now.
April 13, 2020: Almost as if foreshadowing all the drama to come, Doja Cat is #canceled by Barbz on Twitter. When a Doja Cat fan was attacked by Barbz for saying they'd rather see Doja in the middle of an illustration of Doja, Nicki Minaj, and Megan Thee Stallion, Doja replied and called Minaj's fans "scum" for being upset over it. One of entertainment's most notorious fandoms, they immediately threw a #DojaCatIsOverParty. "don't ever come for the barbz when the majority of your fans are barbz and the biggest fan page someone has of you is ran by a BARB," one tweet read. Doja Cat was unbothered, and clearly so was Nicki Minaj.
April 29, 2020: One Tinychat user tweets about seeing Doja Cat in the chat that night, just weeks before it becomes public knowledge.
Later, after the blowup, he says that she didn't say anything racist when he was on the chat with her.
May 1, 2020: Doja Cat and Nicki Minaj drop a remix to "Say So," squashing any potential beef between the two of them and their stans.
May 11, 2020: Their remix debuts at No. 1 on the Billboard Hot 100 after a fierce but friendly competition against Megan Thee Stallion and Beyoncé's "Savage" remix. The song makes history as Nicki Minaj's first No. 1 after 108 previous entries; it's also Doja's first No. 1.
2020: #DojaCatIsOverParty
May 16, 2020: A Lipstick Alley user starts a thread about Doja Cat on the Tinychat chatroom TeaTimeChats after discovering that the singer was currently online. (The thread was taken down, but archived versions can still be accessed.) They posted videos as proof and updated the thread on what she was up to. "Theyre telling her to stop showing her feet after she made footjob jokes … now they are making fun of the black guy who came into the room she said he tried to private message her, always bootyclapping for these yts," the original poster commented. Later, they posted a video of this moment, which has since been clipped and reposted many times.
"ADd just DM'd me "Learned anything new today?" and I said "Yeah, I learned that if you sunk a dunker you can be anybody," Doja Cat says. Then another user addresses ADd, the only black man in the chat, and says, "You look Arabic, are you?" Many interpreted this to be a racist remark, especially considering that Arabic is a language, not a way someone can "look."
In another video from the night, Doja asks user "S0CKS" "Would you feed a tube into my ass with a funnel at the end and pour all types of liquor down there?" (S0CKS says yes.) You can see a user in the chat say "Doja is never serious on here."
Lipstick Alley users discussed other rumors about Doja's Tinychat habits, claiming that she's gotten naked, made lewd gestures, made offensive comments, and stood by while others made offensive comments, screenshots of which later made it to Twitter. While the chat she was in (and admittedly frequents) isn't explicitly for racists or the alt-right, other Tinychat users anecdotally describe it as a place where those people are often found.
"It's like a known fact on tiny chat, my friend who explores different rooms (the one who told me Doja uses the site) tells me tea about crazy shit that happens on Tinychat," the original poster wrote on LSA. "One guy was exposing her talking about her showing a cucumber up her p*ssy and pushing it out with a dead straight face (on Skype). I'm assuming that's her attempt at using shock value/being a weirdo as comedy."
It turns out that managing your secret life as a Tinychat troll is harder than it seems. Doja was seen wearing the exact same outfit in an Instagram Live that same day, confirming her appearance.
As the rumor spread to Twitter and Reddit, other videos began to surface, seemingly confirming the claim that Doja Cat would strip on Tinychat. Many were disturbed by the idea of Doja Cat stripping for white supremacists, especially considering she has a song called "Cyber Sex."
May 21, 2020: At this point, people are still celebrating Doja Cat's first No. 1 song, "Say So," when Lana Del Rey name-checks her in a post on Instagram. "Now that Doja Cat, Ariana, Camila, Cardi B, Kehlani and Nicki Minaj and Beyoncé have had number ones with songs about being sexy, wearing no clothes, [having sex], cheating, etc — can I please go back to singing about being embodied, feeling beautiful by being in love even if the relationship is not perfect, or dancing for money — or whatever i want — without being crucified or saying that I'm glamorizing abuse???????"
Doja Cat is the only one of the women name-dropped to comment on the situation publicly, literally commenting "gang sunk that dunker" on the post. Nobody knew what it meant, but we were all so giddy at something interesting happening that it didn't matter. Until it did.
May 23, 2020: Welcome to the #DojaCatIsOverParty! Exclusively serving tea. Screenshots of the Lipstick Alley thread, now defunct, make it to Twitter along with reuploads of the May 16 Tinychat. And the stans go wild. Lana Del Rey fans are looking for something to do, black Twitter wants answers, and even her own fans have no explanation. It's not often a whole army is speechless. Videos of Tinychats, tweets referencing her hobby, and testimonials from people who also use the chatroom start flooding the timeline, of course, alongside memes. Fans are shook by her use of "sunk of that dunker," the fact that the Tinychats were so recent, and the reveal that she had just talked about it in Paper magazine. Internet drama has never aligned so perfectly.
Streamer AleyeHD uploads a video he recorded of Doja Cat on Tinychat in August to both Twitter and YouTube. "This video I recorded back in august of 2019," he said in a tweet. "I was just happy to see one of my favorite female artists on the site and then she was wildin." In the video, Doja Cat says "Suck my dick, n - - - - - ," appears to be intoxicated, groans, and rolls around, leading others on the chat to comment "She's gonna throw up" and "My lady Doja Cat, are you okay?" Shortly after, she gets up and puts her fingers in her mouth suggestively. The combination of offensive remarks and sexual gestures, along with previous rumors that she was stripping for white supremacists, led some of Twitter to believe that Doja Cat had a race-play kink.
May 24, 2020: Doja Cat fans have regrets. The next day, they trend #WeAreSorryDojaCat after processing. Their stance is that there isn't enough proof that Doja Cat was hanging out with/stripping for actual racists, just anecdotal evidence. And if she does have a race kink, they weren't ones to kink-shame. Mind you, Doja Cat hasn't said anything at this point — her stans are just anxious!
May 25, 2020: Another day, another celebrity apology. Doja Cat drops hers on Instagram, denying that she was ever involved in "racist conversations." "As for the old song that's resurfaced, it was in no way tied to anything outside of my own personal experience," she continued. "It was written in response to people who often used that term to hurt me. I made an attempt to flip its meaning, but recognize that it was a bad decision to use the term in my music." She ended it by thanking her fans and promising to do better.
Clearly, that wasn't gonna cut it, though. So, instead of trying to redo her apology again, Doja Cat hopped on Instagram Live to try to explain herself bullet point by bullet point. She clarifies that her offensive remarks came out of self-hate and says that "Dindu Nuffin" was in no way a response to Sandra Bland. She also claims that there wasn't very much she could do about racists in the chatroom, as she doesn't have moderator control. Finally, Doja Cat denies the race play rumor, born out of AleyeHD's video where she uses the N-word. "In this video, I'm being completely fucking blackout drunk and completely fucking dumb," she says. "This is where I'm saying "Shut the fuck up, you … ' and then I say, hard-R, the N-word. Now they thought and maybe some of you thought that I was saying, 'Call me the hard-R N-word.'" Doja doesn't provide the exact quotes, but she maintains "I am in no way into race play."
"If you're a true fan of me, if you're young … my behavior isn't something that always needs to be followed," she concluded. "I'm not perfect. I shouldn't be doing dumb shit," she said. "But also, I need to stand up for myself instead of making a video that's diplomatically and politically correct … I just don't want to be the person who fucking bullshits you. Cause I know that what makes me happy is that you guys are happy and you know what the fuck is real."