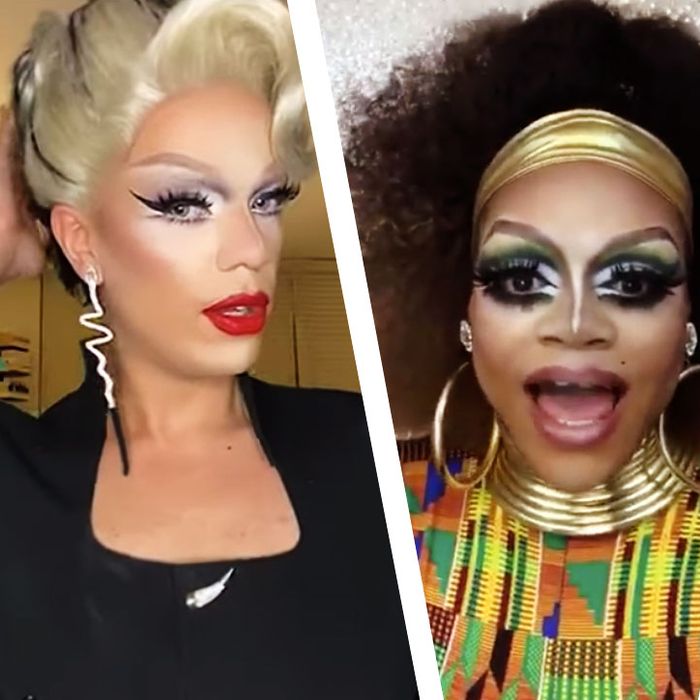 Nicky Doll, Heidi N. Closet, and Jan "Just Jan" Sport are among the season 12 RuGirls who have taken advantage of the at-your-fingertips accessibility of Instagram Live to connect with fans from isolation.
Photo-Illustration: Vulture and YouTube
"Of course the one time bitch gets on TV, we had to go through an epidemic," Widow Von'du says through gritted teeth before punctuating the complaint with a charismatic cackle. She's calling in from her apartment in Kansas City, Missouri, where she's been binging The Real Housewives of Atlanta, ordering takeout, and keeping her tequila close. "I'm doing all right," she says. "The walls are kind of closing in, but other than that."
Looking to the rest of the RuPaul's Drag Race season 12 cast, it's largely the same song and dance — and occasional Zoom lip sync. Last Friday's "at-home" reunion on VH1 had New York queens Jan and Jackie Cox video-calling from Hell's Kitchen, with Nicky Doll and Dahlia Sin (who got stuck on the East Coast after visiting from Los Angeles) also quarantining in the five boroughs. The rest dialed in from their respective homes around the country: Aiden Zhane, proudly holding down the "bedroom queen" title, from Acworth, Georgia; southern belle Heidi N Closet from Ramseur, North Carolina; Rock M. Sakura from her "old converted nunnery" in San Francisco; Crystal Methyd from Springfield, Missouri; Gigi Goode from L.A.; and Jaida Essence Hall from Milwaukee, Wisconsin. Brita Filter was the only queen who was forced out of her Manhattan home due to "really bad asthma" and "some other preexisting health conditions;" she'd been quarantining with her mother and stepdad in Cumberland Foreside, Maine. (Sherry Pie, per her removal from the series, did not partake in the reunion and will not be part of the May 29 finale.)
"It's been ten weeks, Jesus Christ," Brita says by phone in the lead-up to the May 22 reunion. "If you told me a year ago while we were filming that I would be staying at my parents' house watching the entire season, I definitely would not have believed you. But here we are."
Nearly all 13 Fridays of this season of Drag Race have been spent with the country stuck in an isolated standstill. While the February 28, March 6, and March 13 screenings allowed for the queens to get a taste of their RuGirl moment IRL, the country on the whole shut down just days later, and not much has changed since.
"It's crazy — literally everything happened so fast," Jaida recalls. While the Midwest queen and season 12 finalist made it to New York for the February press week and premiere, she then went home to celebrate week two with friends and family before flying to Florida for a viewing party, followed by L.A. for what was meant to be a full week of gigs. "I was basically [going to] be gone for the rest of the month of March — then everything happened. By Wednesday, I came back home, so I only actually saw two episodes away and everything else I had to watch here."
Speaking with other season 12 queens, that's the general air of discontent turned acceptance. Looking to the world-changing, career-confirming, and often globe-trotting experience that Drag Race allows to its annual slate of competing queens, they were told their time on the national stage would look about as opposite of quarantine as you can get.
"I definitely thought that I would be going around the world right now," says Heidi, whose own tour was set to take her as far as London. "This is not how I expected to be spending the first couple months of being a RuGirl."
"How weird for the biggest moment of your life in the public to all happen in the privacy of your own home," Jackie posits. "My partner and I had already come to terms with being apart for so long [due to my traveling], and now he's probably going cuckoo from all the drag that I have to do."
"I think that I went through all the emotions possible, because obviously I was planning to be touring the world and hugging every fan, one after the other. But sadly we had to jump back in our seat as quickly as possible," Nicky laments.
Drag Race over the years has for many fans become a weekly must-watch night of television, marked by gatherings at neighborhood gay bars with friends, grabbing a few drinks, and tipping your local queens. Season 11's Miss Congeniality (and Drag Race superfan) Nina West reflects on the reality series as being a cultural and social touchstone for LGBTQIA+ audiences the world over. "It's been an entry point for us to engage with one another, have a common conversation about something we were all enjoying, and a reason to go out to the bar and have a cocktail," she says. "What this cast is really missing out on is that communal experience of consuming this thing together with a live audience."
For added context, West admits that quarantine has been the first time she's stayed at her Columbus, Ohio, home with her two dogs for any extended time since her season began airing early last year. That's the lifestyle of a successful new RuGirl fresh off the latest run, and she bemoans the fact that this year "full of incredibly talented entertainers" won't get to have those memorable, sporting event-esque nights quite yet. On the flip side, right now is also a time for the new class of queens to rest up and recenter before what's sure to be a booked calendar like no other.
"It was really exhausting, to be honest," season five and All Stars 2 finalist Detox says of her experience with the series' grueling tour schedule. "There was a lot of just hitting the gay bar circuit and hitting it hard, working basically every night in a different city. It was exhausting, it was exciting, it was exhilarating, there was a lot of trade, there was a lot of debauchery, and so [this season is] definitely missing out on that … As somebody who not only is a fan of the show and a fan of these girls, but having gone through it and having so much fun that first year, for them not to be able to experience it has been really, really sad to see."
Nina adds, though, that in building their own remote experience and relationship with fans, season 12's girls have set themselves apart from any queens that have come before them.
"I think that this cast will forever be cherished and loved in a way that no other cast could ever hope to be," she says. "In this time period, these are the people who have helped [audiences] in their own way to get through this, and that's powerful. So they might be missing out on the tour schedule right now, but I think they will much more than make up for it when this is all said and done. These people are treasured in a very different way."
So perhaps even more now than before, Drag Race has been a way of dividing up the quarantined week, keeping some sense of normalcy, and still — virtually or otherwise — communing with friends over a shared love of drag. That's not lost on this season of competitors, and many described their experience as a double-edged sword. Yes, of course, the state of things is not how they envisioned their primetime debut, but they value the opportunity to provide entertainment to the masses during an especially difficult time.
Jan, ever a queen to throw things in perspective with a push of the Shade Button or a cheery reminder that she's living her dream on her favorite TV show, surmises that she can't let herself be upset for things outside her control.
"At this point, I just have to sit back. I can't change any of this," she says. "I could either be bitter about it and let myself be angry that I don't get the same experience that everybody else did in other seasons, or I can just accept what is happening right now and do my best to provide happiness and joy not only to myself, but to my fans." 
That's led to her hit YouTube series of music videos, Jan's Jukebox, featuring lip-sync songs like "Call Your Girlfriend" and "Let It Go," plus regular drag shows on Zoom and Twitch. Jan, Jaida, Widow, Nicky, and Jackie were among the many queens to recently partake in PEG's ongoing Digital Drag Fest. Add into the mix a rotation of online shows like Black Girl Magic from season 10 standout The Vixen; Digital Drag: An Online Drag Show from Biqtch Puddin', season two winner of the Boulet Brothers' Dragula; and Brandon Voss's Werq the World: Battle Royale and Live Stream events, which has been tapping Gigi to partake all season; and there's plenty of opportunities new, old, and reimagined for these queens to make the most of their moment, despite the state of the world.
That's not to mention the at-your-fingertips accessibility of Instagram Live. Anyone who follows a drag queen on the platform will already know that going live with one another to paint, gossip, and kiki with fans at all hours has become a regular practice for an at-home entertainer. Heidi, for one, has used the medium to connect with her thousands of self-proclaimed "closet cases," and hysterically recounts how she unsuccessfully played matchmaker to those jumping on the Live with her just last week. Jackie, naturally a fan of offbeat programs from yesteryear, likens the practice to "an old-fashioned TV show. It's one camera and me, and whatever I can think of, which is definitely a fun exercise in and of itself." Jaida, admitting that she has "not been the most amazing person with social media before this," knows that her fans are in a constant state of boredom and stress and gladly jumps on Instagram Live for hours of chitchat and "random" distraction: "We'll all just come in here and make it a party."
And while Jaida in particular will be putting these digital drag skills to the test on this Friday's Zoom-hosted, lip-sync-for-the-crown event alongside finalists Gigi and Crystal, these platforms, sadly, do not a drag queen make. A live audience is a performer's lifeblood, and all the interviewed contestants expressed a deep desire to get back onstage to interact with their fans in the flesh. But don't go camping outside your local watering holes just yet; even as New York toys with a mid-June Phase 1 reopening and states like North Carolina, Wisconsin, and Missouri are already starting to reopen restaurants and bars, the queens who have the option also emphasized they aren't eager to be first in line to perform.
"I really, really, really feel like it's more important for us to make sure that everything is safe," Jaida says, reflecting on the option to hit some of her Milwaukee haunts.
"A part of me wants to dive headfirst right back into everything, but the other half can't pretend like we didn't just shut down the country for a couple months," Widow adds.
Heidi, meanwhile, sums it up short, sweet, and characteristically self-aware: "That would be my luck: I would hop back out there and I would end up with corona."
Regardless of what the future holds and when it holds it, what's certain is that, in RuPaul's own estimate, season 12 was the debut showcase for some series-best queens. In other words, when the world is ready to open its doors and stages to them again, they'll be more than ready.
"I have faith," Detox concludes, "that once everything gets back to semi-normal, people will be more eager than ever to go out and support them." And to those queens, the fan-favorite Drag Race vet offers some knowing advice for when their time comes:
"Be kind. Be patient. Take care of yourself. Rest. It becomes very all-encompassing, the taking on of other people's energies, the lack of sleep, the lack of motivation, the lack of just time to yourself. But honestly, they've got nothing but time on their hands, so I'm sure that they're going to be really eager to get out there and feel that rush. So just breathe, and enjoy the moment."