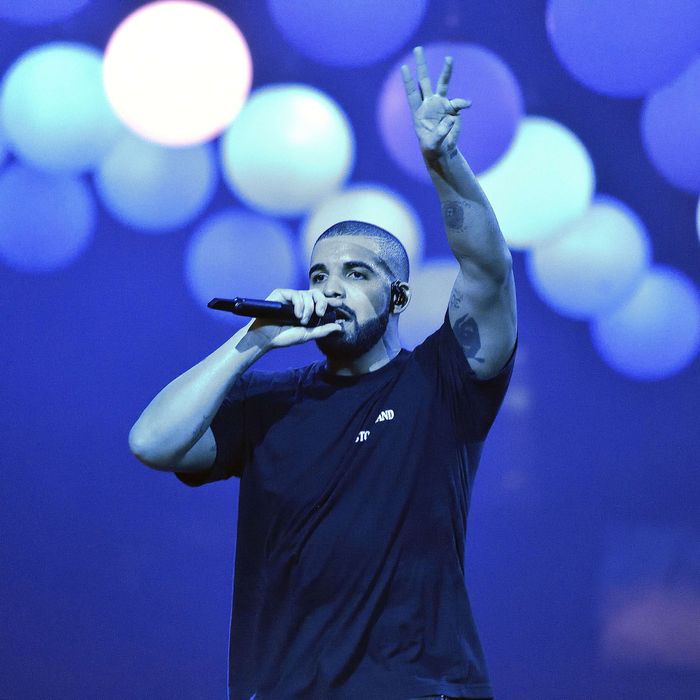 "How you goin' vegan but still beefin' with me again?"
Photo: Edmond Sadaka Edmond/Sipa/Shutterstock/Edmond Sadaka Edmond/Sipa/Shutte
King of corny lyrics, Drake, dropped a whole mixtape full of them Friday, securing his claim on the throne. Drake started out this quarantine with a son reveal and an Architectural Digest mansion tour. Now, he further requests your attention with Dark Lane Demo Tapes, a mixtape featuring recent releases "Toosie Slide," "Desires," and "Chicago Freestyle," among others. Frankly, in times as uncertain as these, it's good to know one thing will never change: Drake's goofy bars. Right now, we're not looking for Drake to weep about a woman he hurt or start beef from afar. All he needs is a little one-liner and a good beat. But that doesn't mean he's excused from a good clowning. Here are some of the funniest, most cliché, galaxy-brain bars from Drake's Dark Lane Demo Tapes.
"Deep Pockets"
"Inspired by a few, but my mind really drives itself like Tesla."
Wow, a glimpse inside a genius's mind.
"Chicago Freestyle" (feat. Giveon)
"Waiter brought the check for the meal / She said, 'Babe, I think there was a typo' / Nah, girl, I got it, that's light though / I could show you bigger things than that."
This interaction undoubtedly took place at the Cheesecake Factory.
"Toosie Slide"
"Petal off a rose like I love her not, maybe not."
Drake's lyricism really jumps out when he's rejecting women. You'll see.
"Desires"
"How you goin' vegan but still beefin' with me again?"
In "Desires," a song in which Drake can't comprehend why women would want anyone other than him, he hits them with not one but two corny bars. 3OH!3 already gave us "T-tell your boyfriend if he says he's got beef / That I'm a vegetarian and I ain't fucking scared of him," so thanks but no thanks, Drake.
"You believe in angles more than angels."
Instagram hotties, do not let this Drake bar deter you from your passion.
"Landed"
"Wrote this with a Cartier pen. Do I sound different? Yeah, yeah." 
No.
"And I bought that girl a shovel 'cause she gold-diggin', yeah."
At least he knows he gave them the tools. Every potential wife in the world knows there's a stash of Birkin bags waiting for her in Drake's closet. She deserves them — she works hard!
"Losses"
"Like I'm tryna show the waves, this is no cap."
Drake, please, no — we can't swim!
"I do it for the Grahams, not the 'Gram."
Astonishingly, this is the first time he's used this. Kudos for restraint.
"It was always you and I without the T-Y."
Leave it to Drake to quote a black female icon. We'll let it slide for Queen Latifah. Stream "U.N.I.T.Y."!