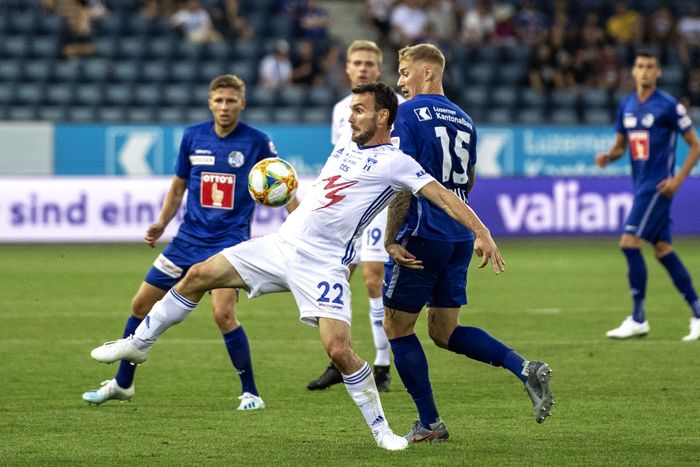 Semir Hadzibulic of Faroese club Klaksvíkar Ítróttarfelag battles for the ball during a UEFA Europa League qualification game.
Photo: URS FLUEELER/EPA-EFE/Shutterstock
One unfortunate side effect of the current global situation is that, at a time when the population is in dire need of unity and distraction, the very things that provide them — movies, concerts, theater — are no longer safe. It's no wonder why so many people have clung to the fig leaf of hope embodied by the return of professional sports: Even without fans in attendance, athletic competition would give us something new to talk about, something that's not the one overwhelming thing.
And if that's true for real sports, it's doubly true for fantasy sports, which allow players to devote untold amounts of mental energy to fundamentally unknowable questions like "Will Marlon Mack have more rushing yards than Le'Veon Bell" or "Will Pep Guardiola play Riyad Mahrez this week?" Ordinarily this is not quite a good thing, but in these uncertain times, running your brain on that kind of hamster wheel is far preferable to putting it through any of the others.
In the absence of such stimulation, I've attempted to cobble together the same kind of high from virtual substitutes. None has quite worked. A few friends and I attempted the slow-moving, 24-hour strategy game Neptune's Pride, only to discover the lack of any "off" period had us all waking up with racing hearts at 4 a.m. Before that, I created a fantasy team for a simulation of the 2001-'02 season of the English Premier League that's run on an old video game. I'm pleased to see that even in a computer David Beckham's having a good year, but sims don't hit the same. I need the real thing.
Fortunately, the cavalry is coming. Sports leagues in countries with better public-health responses to the coronavirus have either begun to play again, as in the case of Taiwanese baseball, or, like the German Bundesliga, are expected to soon. And in the best news I've received since February, this weekend the Faroe Islands, a remote archipelago located halfway between Scotland and Iceland, will begin the new season of their top soccer league after a two-month delay. With the dearth of other sporting events on the calendar, Norwegian broadcaster TV2 has picked up the rights to the Faroe Islands Premier League, and, sensing perhaps that some fans might find it an enjoyable diversion, they also launched a fantasy-football league for it at the same time. I signed up immediately; you can do so here. (There is the small hurdle of the website being entirely in Norwegian. However, it's nothing a few trips to Google Translate can't handle.)
I can't remember the last time I had something to look forward to as much as this: Believe me when I say I am positively jumping at the opportunity to become deeply invested in the sporting achievements of a bunch of random soccer players in the Faroe Islands. If you are ready and willing to travel on this journey with me, read on.
What to Know About the Faroe Islands
A brief survey of Faroe Islands basics, if you need it. Culturally, they're Nordic, having been settled by Vikings in the early Middle Ages (though people may have been living there before). Politically, they're part of Denmark, but with a large degree of autonomy. Their population is small, only 50,000 people — like New Zealand, there are more sheep than men — which does funky things to their per-capita statistics. Much of what I know about the islands I learned from a 2018 New Yorker story on their food scene (lots of fermented lamb), which highlighted both their extreme isolation and the rugged beauty of their landscapes. That story awoke in me a desire to visit some day, but as that doesn't seem to be in the cards for a very long while, living vicariously through their 22-year-old athletes will have to do.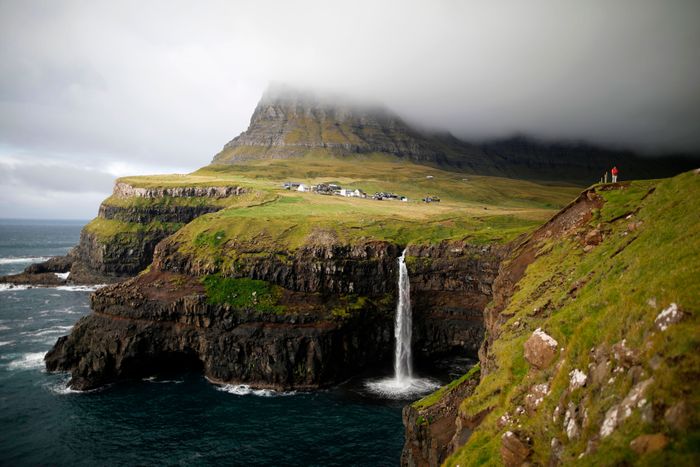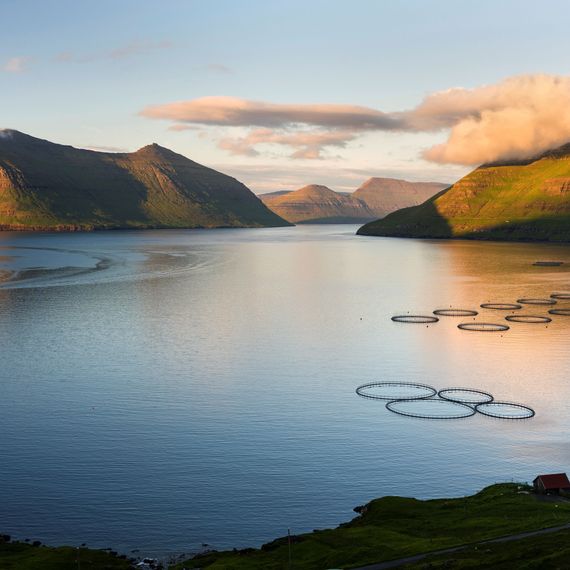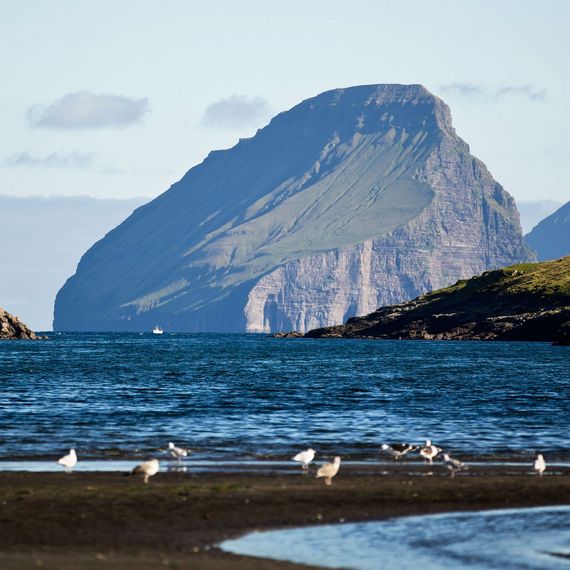 Despite their remove from the rest of the world, the Faroe Islands got hit with coronavirus, too. But the nation has largely been able to nip the virus in the bud, thanks in part to geography, yes, but also to a rapid and successful testing regimen. (They built their own, and by February were able to handle 600 tests a day.) At the moment, the islands have only two active cases and zero deaths, making live sports a far safer proposition there than almost anywhere else on the globe. And so Saturday brings the delayed opening of the islands' Premier League, which has been around since 1942, and is played in stadiums that look like nowhere else.
The official name for the league is Betri deildin. ("Betri" is the sponsor, a Faroese bank.) It's a semi-professional league, which means that most players have other jobs on the side. There are only ten teams, and every team plays each other thrice. Just like in other soccer leagues, the bad teams get relegated, and the good teams get rewarded with spots in European competitions, though since the league ranks near the bottom of UEFA's competition index, the Faroese clubs are always seeded incredibly low. But they sometimes do get to compete against the famous clubs, which means that you occasionally get headlines like the one about Scottish soccer fans missing a match after their plane couldn't land on the islands' only airport.
The Teams
Here is a brief guide to the 10 teams in the Betri deildin and their English football equivalents. Havnar Bóltfelag, or HB for short, is the traditional powerhouse, with an astonishing 23 league titles and 25 more runner-up finishes. I'm picturing them as the Manchester United of the Faroe Islands, a comparison aided by their red shirts. They play in the capital, Tórshavn, as do cross-town rivals B36 Tórshavn, a formerly hard-luck squad who've turned their fortunes around, making them a slightly-less-imposing Man City. Defending champions Klaksvíkar Ítróttarfelag (KI) are a historically successful club who are enjoying another run of glory after a long title drought; think of them as Liverpool. Víkingur Gøta, a less-pedigreed team that pulled off back-to-back titles in 2016 and 2017 and have an amazing logo to boot, appear to be the Leicester City of the league. NSÍ Runavík have one of the game's top goal-scorers (Klæmint Olsen), and sometimes make it into European competition, but never quite finish at the top of the table — clearly, they are Spurs. Tvøroyrar Bóltfelag, or TB, are an Everton or Aston Villa: the oldest team in the league, but they haven't won in ages.
For the teams expected to finish in the bottom half of the table, a jersey-color mnemonic may help. Skála were recently promoted, have a solid defense, and wear orange, forcing obvious comparisons to Wolves. Ítróttarfelag Fuglafjarðar (IF) have a terrible defense, wear red and white, and narrowly escaped relegation, inspiring memories of Southampton. Also going back and forth between the top two leagues are Argja Bóltfelag (AB), whose claret-and-blue color scheme suggests either West Ham or Burnley, take your pick.
And then there's EB/Streymur, which makes you remember that this is very much not the Barclays Premier League. The team was formed in 1993 out of a merger of two lower-division clubs, and won the league in 2008. A section of its Wikipedia page pays tribute to the late Gunnar Zachariasen, who was one of the squad's best young players before his heartbreaking death in a 2014 container-ship accident — a reminder that, unlike the world-famous millionaires one picks up in regular fantasy sports, the semi-pro players on the Faroes are regular people with regular lives.
The Squad I Picked
Having absorbed as much information about professional football on the Faroe Islands as I could in one afternoon, I set about attempting to create my team. Conventional fantasy EPL wisdom says to invest heavily in midfielders and forwards, and avoid wasting too much money on defense. Was this also true in Betri deildin? It was time to do some research. Turns out the top teams in the Faroes usually score at around the same rate as good Premier League teams, but they let in goals just a tick more. If anything, the right plan was to pay even less attention to defense.
This might surprise you, but there is not a ton of media coverage of the players in the Betri deildin — who comes up small in clutch moments, who can get it done on a rainy night in Suðuroy. However, lists of the top goal scorers from each season are readily available online, which quickly drew me to NSI's Olsen, the league's all-time leading scorer, who at 29 should still be in his prime. Within the first minute of his 2016 highlight reel, I'd seen him head in his own blocked shot, then nutmeg the keeper. He's a no-brainer, and the rest of the fantasy world agrees: 76 percent of all players have him on their team.
Three more big names felt worth the hefty investment. KI midfielder Jóannes Bjartalíð and HB forward Adrian Justinussen finished second and third in scoring last season, and at 23 and 21, respectively, both could be even better this year. Vikingur's Gunnar Vatnhamar scored seven times last season, and appears to be an attacking defender in the Trent Alexander-Arnold mold.*
*I originally thought I'd picked up Sølvi Vatnhamar, a 34-year-old midfielder who also plays for Vikingur. Turns out they are brothers!
It was right about then that I hit upon another way to figure out who the best players in the Faroe Islands were: Check out the men's national team. The Faroes are a football-mad nation, and though they have never made it into a major tournament, when the national team do win — most famously against Greece in qualifiers for Euro 2016 — it's a magnificent underdog triumph. About half the team plays professionally outside the islands; midfielder René Shaki Joensen was one of them, but he's recently come back to HB after stints in Iceland and Denmark. I added him and another national team member, Árni Frederiksberg, who's been a consistent goal threat both as Olsen's teammate at NSI and now out from under his shadow at B36, thus making him, in my mind, the Scottie Pippen of the Faroe Islands Premier League.
Finally, it was time to get the best defense a bare minimum of resources would allow. KI let in a mere 19 goals in 27 matches last season, so they appear to be the league's most potent stoppers; I nabbed goalie Kristian Joensen, but the rest of his teammates were priced too high for my budget. Instead, I picked up cheaper options from teams that looked to have credible back lines, like NSI's Jákup Jakobsen and Skála's Hjalti Strömsten. As a hedge against the fact that I have no idea what I'm doing, all of my defenders are from different clubs.
(For what I can only assume are reasons of expediency, not every player in the Betri deildin is available in the fantasy game. The most notable omission is Darius Lewis, a 20-year-old from Florida who signed with KI over playing NCAA soccer, in order to accomplish his dream of turning pro. A second possible explanation for Lewis's absence: There is a nonzero chance he might be stuck in the U.S. His Instagram is inconclusive.)
So, that's my team. (For a name, I went with "Tame Imskala.") At the moment, I know barely anything about any of these players, but I'm looking forward to finding out which ones I will fall in love with (Vatnhamar, I'm looking at you), and just as importantly, which names will soon fill me with a strange regret — as if with just a bit more planning, I could have foreseen that they would suck. (I won't call anyone out, but there's one guy up there I'm already itching to drop.) I plan on following along all season, but there's still one tiny hurdle: I haven't found how to watch the games yet. If you figure out a way to get Faroe Islands soccer in America, please, for the love of God, let me know.