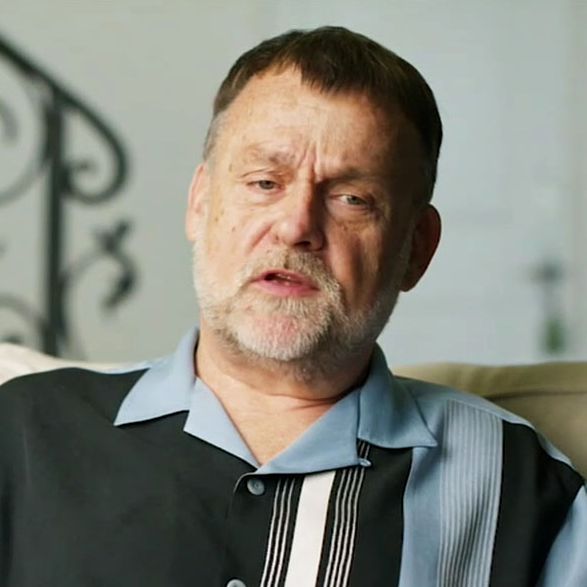 The Last Dance is packed with basketball legends, Hall of Fame coaches, two former U.S. presidents, and of course Michael Jordan himself. But on Sunday night, the ESPN docuseries introduced a new, surprise talking head: A guy who calls himself Michael Jordan's "personal assistant and best friend." Wait, what?
His name is George Koehler, he's a white man in his late 50s, and for three-plus decades he's quietly been a part of Jordan's orbit. "Personal assistant and best friend" makes it sound like he's one of those people who gets paid to be a celebrity's buddy, but his exact role has been tough to pin down over the years, so it's a decent description for his unlikely role.
In a story by Bob Verdi of the Chicago Tribune nearly 30 years ago, Koehler joked about how even he wasn't quite sure what his job title was. "Michael's told people I'm his best friend in Chicago, which would be an honor, of course," Koehler told the Tribune in June 1992. "Otherwise, you can refer to me as Michael's personal assistant. Or just think of me as his gofer. Doesn't bother me."
A 1991 story in The Times of Northwest Indiana identifies even more job titles and duties for Koehler: "chauffeur, body guard, advisor, companion at promotional and public appearances, confidant, Ping-Pong partner and personal assistant, among a dozen other functions." At the time, he didn't even get a regular salary from Jordan, telling the Times he only had a handshake deal with him. "I get taken care of," he told the paper's Mitchell Krugel.
Real Jordan-heads know Koehler's actual origin story, which was recounted in those two articles. When Michael Jordan was drafted by the Chicago Bulls in 1984, Koehler had just started a limousine company. A client no-showed at the airport just as Jordan was walking out of the terminal. Koehler was a basketball fan and recognized the third-overall pick in that year's draft. He walked up to him and immediately called him by the wrong name: Larry. (Koehler played basketball in high school with a guy named Larry Jordan; coincidentally, Michael Jordan's older brother is named Larry.) Despite the bad start, they struck up a conversation. Jordan hopped in his car. Koehler drove Jordan for $25 and got a $25 tip.
It was the start of a long friendship and personal assistantship. About two weeks after the meeting at the airport, Koehler got a call from Jordan, as he recounted to ESPN Chicago a few years back. "I heard, 'Georgie, my boy,'" Koehler told ESPN. "I'm going, 'Who's this?' and he says, 'It's M.J.' I said, 'I don't know any M.J.' And he says, 'Yes, you do.' And I'm like, 'I'm not going to argue, I don't know who this is.' And he's like, 'Dumb [expletive delete], it's Michael Jordan.' I could hear him grinning."
Koehler wasn't bothered getting mocked by one of the league's most notorious trash talkers and wound up driving Jordan's parents to a game. Pretty soon, his small limo company only really had one big client: the soon-to-be most famous basketball player in history. He eventually became not just his driver but — apparently — his best friend!
Koehler is a member of Jordan's inner circle, which newspapers always describe with terms like "carefully honed" (as that Chicago Tribune article does). He doesn't talk much; in 1993, he was no-commenting reporters on Jordan's first retirement. Longtime Sports Illustrated writer Jack McCallum, who wrote a book on the 1992 Olympic Dream Team, recently gave Koehler another title: "Most Constant Presence Around Jordan Who Rarely Says A Damn Thing." He also called him Jordan's driver, not his best friend. Rude!
Though Koehler doesn't talk to the press much, he has told some stories about what it's like being Jordan's best friend. He told the Times he was once crushed when 1,500 fans rushed a float during a parade. And he told Terry Pluto of the Akron Beacon Journal in 1988 that Jordan orders a quarter-pounder with cheese, a large order of fries, and an orange drink at McDonald's.
"I'll place the order and then I'll pay for it at the window," he told the paper. "When the girl brings the food, Michael will take it. Inevitably, she'll yell, 'My god, that's Michael Jordan!' Then people will rush to the window and we'll drive off."
That's right: Michael Jordan and his best friend liked to play little pranks on McDonald's workers.