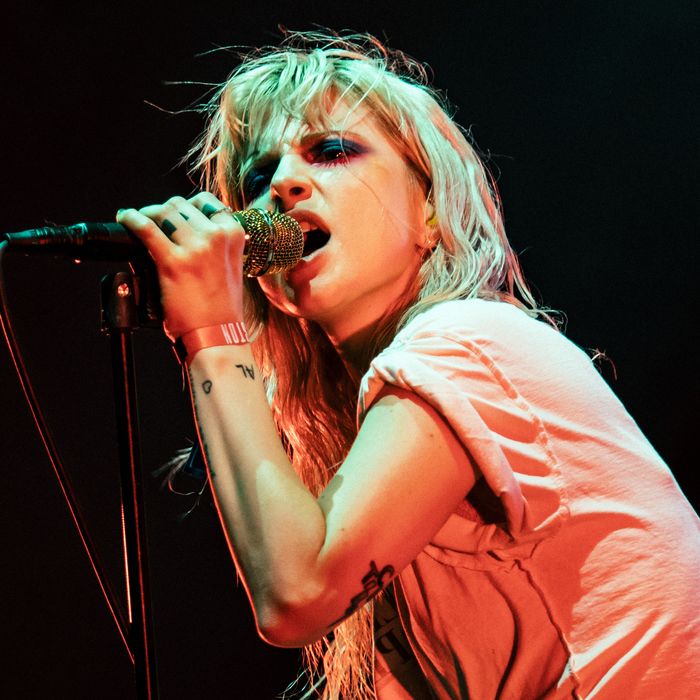 This might be her first solo album, but it's hardly her first time branching out on her own.
Photo: Natasha Moustache/Getty Images
When Hayley Williams began making music, she insisted on being part of a band, fighting Atlantic after the label wanted to sign her solo. "There was a heated conversation with a team of people in which I said I would be just as happy to play these songs in Taylor's basement for the rest of my life," the Paramore leader recently told Vulture in a career-spanning conversation. "It was a very empowered moment." After being reluctant to perform on her own, she eventually released her first solo single, "Simmer," in January, giving Paramore a much-needed break. While Petals for Armor, out May 8, will be Williams's debut solo album, it won't be the first music under her name — she's selectively worked with rock bands and the odd rapper or DJ alike over the past decade or so. Ahead of the new album, here's how she got here.
2007: "The Church Channel" with Say Anything
Say Anything's third album, In Defense of the Genre, made its point by featuring a murderers' row of emo and pop-punk singers. Williams now had lines to sing on "The Church Channel," rather than the background harmonies of her few previous features, staking her place in the canon alongside giants like Chris Carrabba and Gerard Way. With no shortage of tempo changes, it's a grand emo "Bohemian Rhapsody" in half the time.
2008: "Fallen" with Death in the Park
True Paramore fans will know Death in the Park from leader Andy Jackson's appearance in the video for "That's What You Get." Jackson met Paramore on Warped Tour 2007 (R.I.P.), which he played with his band Hot Rod Circuit, and convinced Williams — who was pop-punk royalty by that point — to duet on his side project's first single. Doesn't it just sound like a hot summer afternoon in the late '00s?
2010: "Airplanes" with B.o.B.
Paramore had a few top 40 hits under their belt before Williams hopped on "Airplanes," but that song would become her biggest, peaking at No. 2. Williams always had a big enough voice for rock, meaning she could bring more power and verve to a rap chorus than some of the other stars contributing anonymous or stunt features around the time, like Wynter on Flo Rida's "Sugar" or Rivers Cuomo on B.o.B's followup, "Magic." And new fans could discover Paramore for the first time, pushing pristine single "The Only Exception" onto the charts the week after "Airplanes" peaked.
2011: "Rainbow Connection" with Weezer for Muppets: The Green Album
What if I told you two emo giants made a cover of "Rainbow Connection" that rocks too hard to make you cry? That's what happened when Weezer and Williams came together for The Green Album — not the Weezer one, that is, but a Disney-produced Muppets tribute project. Even as Weezer's guitars start churning, Williams's evocative voice makes sure the feeling still doesn't get lost in the song.
2013: "Stay the Night" with Zedd
Williams's interest in electronic sounds, which feature prominently on her darker Petals for Armor aesthetic, might trace back to her Zedd collaboration. "Stay the Night," along with previous single "Clarity" (with the English singer Foxes), helped establish Zedd as a pop-EDM producer at the level of Calvin Harris and Avicii. But Williams gets more than enough space to shine on the track — which, unlike "Airplanes," she also wrote — performing it like a powerful piano ballad that just happened to get a beat drop laid over it.
2015: "Vicious Love" with New Found Glory
Williams recorded "Vicious Love" with pop-punk band New Found Glory in 2014, just months before she became engaged to lead guitarist Chad Gilbert. "I went through with the marriage because I had a lot of shame about mistakes I'd made. I got into that relationship prematurely," Williams told Vulture. Gilbert hadn't yet divorced Eisley singer Sherrie DuPree when Williams began dating him. Williams later called off their engagement for a period before marrying Gilbert in February 2016, and eventually divorcing in July 2017. "We fight as hard as we love," they sing on the chorus of this New Found Glory single.
2016: "Bury It" with Chvrches
Chvrches doubled down on the ASMR-like synths on Every Open Eye, their followup to breakthrough debut The Bones of What You Believe, which makes the Williams-featuring remix of "Bury It" all the more interesting. It came from an impromptu live performance during a Chvrches show in Nashville, but the recording is a pairing tailor-made for alternative radio success. Williams's and Chvrches singer Lauren Mayberry's voices just make sense together: They're both confident singers who have no trouble holding their own against loud synths or guitars.
2017: "Nineteen" for The Con X: Covers
Tegan and Sara opened for Paramore's summer 2010 tour after their back-to-back breakthrough albums The Con and Sainthood. "I guess I'm selfish enough to bring out a band I love just so I can hear them all the time," Williams said in an interview at the time. She once again honored the band by contributing a cover to their 10th-anniversary release of The Con. While Tegan and Sara's lo-fi, guitar-heavy recording of "Nineteen" wouldn't sound off on a Paramore album, Williams's muted cover — held down by her voice and a shimmering synthesizer — falls more in line with mid-'10s Tegan and Sara.
2019: "Uncomfortably Numb" with American Football
You can draw the clearest line from this American Football collaboration to Williams's solo debut "Simmer," released just under a year apart. "Uncomfortably Numb," with a title that recalls Pink Floyd, is more gray and haunting than anything Williams had ever done. Even if it's still not quite as aggressive as "Simmer" (it's a bit calmer, maybe along the lines of later single "Roses/Lotus/Violet/Iris"), it still told fans that they hadn't seen all of Williams's tricks yet.