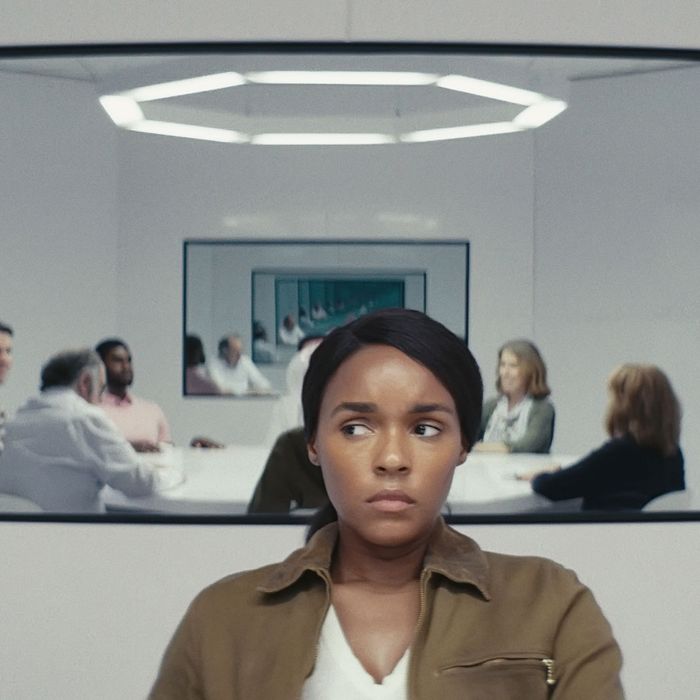 Janelle Monáe, searching for answers in
Homecoming
.
Photo: Amazon Prime
Janelle Monáe does not know who she is. She also doesn't know where she is or how she got there.
These are the first things that become apparent in season two of Homecoming, which casts Monáe as a woman who wakes up in a rowboat in the middle of a lake with her memory wiped. Eventually, an ID in her pocket will remind her that her name is Jackie and that she served in the military. As the seven episodes of the season progress, it will also become clear that she has a connection to the Geist Group, the corporation that operates the Homecoming facility that gives this series, and the podcast that inspired it, its name.
This efficient, suspenseful second season of the Amazon thriller, which drops Friday, shares some DNA with the first season while also diverging from it in significant ways. Julia Roberts, who starred in season one as social worker Heidi Bergman, does not appear in the latest iteration, though she remains an executive producer. Sam Esmail, who directed all of the first season, is no longer behind the camera, though he, too, is still an executive producer. Micah Bloomberg and Eli Horowitz, creators of both the Gimlet Media podcast and the series, are still the showrunners and co-writers of multiple episodes, but the second season of the TV version is nothing like the second season of the podcast. Some of the characters from season one, most notably Audrey Temple (Hong Chau) and Walter Cruz (Stephan James), are active presences in this continuing narrative, while others — Jackie, Geist CEO Leonard Geist (Chris Cooper), and Department of Defense official Francine Bunda (Joan Cusack) — are introduced for the first time.
The most crucial difference between the two Homecomings, though, is the way they function as thrillers. The first was a conspiracy thriller down to its marrow, both in its visual aesthetic, which borrowed heavily from '70s films of the genre, and in its revelation of a corporate and government cover-up regarding the treatment of the soldiers at the Homecoming facility, sent there ostensibly to help them reacclimate to civilian life. By season two, we already know what the conspiracy is. (Spoiler alert: The vets were being given excessive amounts of medication, manufactured by Geist, that destroys their memories.) Part two, then, is less a conspiracy thriller and more of a psychological one, the main mystery being who is Jackie, what happened to her, and how is she linked to the events and people from season one? It's less The Conversation or Three Days of the Condor and more Memento, but with fewer tattoos.
Season two is more straightforward than season one, but also not as dense or provocative. The world explored in the Sam Esmail volume of the series was so rich and mysterious that you had to go back to rewatch certain scenes to make sure you caught the significance of every word and each detail captured in the frame. As directed by Kyle Patrick Alvarez, whose previous TV credits include 13 Reasons Why and Netflix's Tales of the City, Homecoming still pulls from a similar bag of filmmaking tricks. Split screens are frequently used. Overhead shots and spiral staircases make plenty of appearances. Every episode, save for the finale, keeps running as the credits begin to roll, as was the case in season one. On more than one occasion, Jackie speed-walks down long hallways that seemingly go on forever. Alvarez's sensibility is not as blatantly steeped in the work of Brian De Palma or Alan J. Pakula, but he understands how to maintain a palpable sense of tension. This second season may not be as ambitious as the first, but it is very satisfying as a bingeable work of suspense. Seven episodes may seem like a random number, but it's exactly the number needed to tell the story being told, and I appreciate the commitment to keeping it lean, especially in this age of hashtag–Releasing Snyder Cuts.
I hesitate to share too many details about the plot because (a) doing the detective work in this series is one of its primary pleasures and (b) it's very possible someone at Amazon will suspend my Prime account if I do. I can say that Jackie's journey will eventually lead her to Audrey, and that flashbacks shed some light on Audrey's rise to the higher echelons of the Geist Group. Walter also is still grappling with the aftereffects of his time at Homecoming and more actively seeking information about what happened to him while he was there. Of all the story lines, Walter's is the one that gets the shortest emotional shrift, especially given how central it was to the previous season.
While Leonard Geist was alluded to before, he hadn't appeared on-camera until now. As portrayed by Cooper, who inhabits the guy onscreen as if he's been living Geist's life for decades, he's an idiosyncratic recluse who prefers to fiddle around on his farm and cook up multigrain mush rather than actively run the company. He has a conscience and is not seduced by money, which makes one wonder why he ever wanted to run such a massive company in the first place. He's a fascinating character, and when he reams out two employees who will look familiar to viewers of season one, it's a kick to watch him.
It's a kick to watch all of these actors, really. Monáe, who usually plays supporting roles, handles the lead with total confidence. At first, she has to play confused and semi-panicked, but other sides of Jackie come out that allow Monáe to capitalize on what has always been her best asset as a performer, both in film and music: her unflappable swagger. Chau is also at her best when the ordinarily insecure Audrey lets her inner boss bitch out to play, while Cusack, who shows up a few episodes in, adds a welcome hyperactive energy as the ambitious Bunda. As soon as Cusack showed up, I wrote in my notes: "Does anyone gesture better than Joan Cusack?" The question was rhetorical, but the correct answer is no.
Homecoming season two ends not with a period or exclamation, but a semicolon. It concludes in a way that could work as a series finale, while still dangling a faint possibility that there could be more story to tell. By the last episode, all the basic questions about Jackie have been answered, but what we're meant to take away from the experience of watching is a bit murkier. There is one broader theme that, after some reflection, pops out, and it's this: The ability to deceive, even more than money, may be the most valuable currency a person has. That's true even of Homecoming itself, which deftly hides the truth every step of the way, for as long as it can.