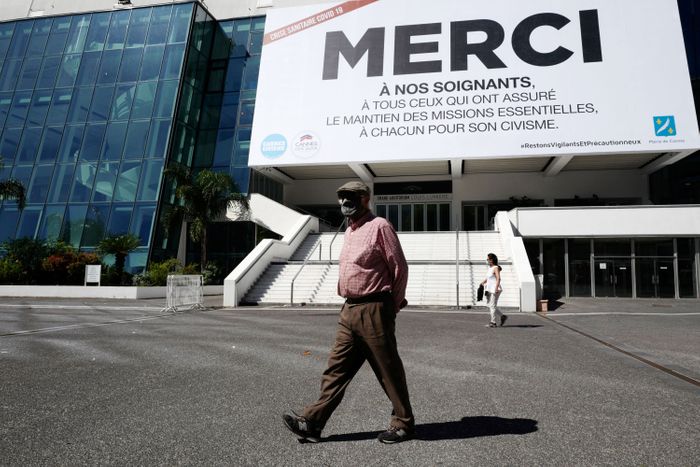 A man walks in front of a giant poster reading "Thank you to our medical staff" in front of the Palais des Festivals in Cannes.
Photo: Valery Hache/AFP via Getty Images
It is hard to think of an event less suited to the age of coronavirus than a film festival — thousands of strangers from all over the globe coming together to sit in packed screening rooms for a few hours and, if they're lucky, mingle at an after-party where they'll have a chance to share hors d'oeuvre with an Oscar winner. As the film industry spends its third month of lockdown, memories of festivals past are inspiring a nostalgic tinge in many: As Google Calendar and TimeHop have made painfully clear, May is the month that Cannes would have taken place. Now the red stairs, elegant gowns, and swanky parties are no more. In a postapocalyptic touch, the Boulevard de Croisette is being patrolled not by paparazzi but by a feral boar:
Hope springs eternal that festivals will occur again at some point. As Parasite's Best Picture–winning campaign proved, nothing creates buzz for a movie like a successful fest premiere, and for Oscar-watchers, the late-summer trio of Venice, Telluride, and Toronto separates the season's wheat from the chaff, the Roma from the Life Itself. There are supply-side incentives preventing this year's slate from being canceled outright, too: Many festivals provide the revenue that funds their parent operations the rest of the year. Finally, many in the industry have clung to the return of festivals as a symbolic step on the road to normal, a sign that movies are finally back.
There are numerous hurdles to getting there, besides the obvious question of safety. As Noah Cowan notes on IndieWire, the physical presence of celebrities is often the secret ingredient behind many festivals staying in the black; would an appearance over Zoom hold the same cache? For festivals that have built their brand on glamorous exclusivity, simply providing screening links for people to watch at home may be an uncomfortable experience in demystification. And while the FOMO a film festival brings out in those who aren't there is a key part of their appeal, that vibe may hit differently in the age of quarantine: Amid a global pandemic, could anyone post from Venice without feeling like an asshole?
So how are each of the major festivals planning for life in the corona era? As anyone trying to organize one will tell you, nothing is concrete and the facts change every day. But here is provisional look at where things stand at the end of May.
This post will be updated as more information becomes available for each festival.
Cannes Film Festival
With its mid-May fete imperiled by the coronavirus, Cannes initially hoped that a simple delay would suffice: first to late June, then, after the French government extended its lockdown into July, indefinitely. But on the eve of what had been its scheduled opening, the festival bowed to circumstances, confirming to Variety that there would be no physical edition of Cannes this year. "A 'festival' is a collective party, a spectacle that brings together an audience in a given location, in this case on the Croisette, in the presence of thousands of people. Everyone understands that that's impossible this year," Cannes director Thierry Frémaux told Screen Daily a few days earlier. While other spring festivals like Tribeca and SXSW compromised by going virtual, Cannes considered such an option antithetical to the spirit of the event. "Cannes could only have taken place as it normally does with the stars, the public, the press and the professionals," Frémaux said. "The festival should always show its best face."
Instead, in early June, festival organizers will announce a selection of films that would have been included in this year's official lineup, with the aim of taking them into festivals later in the year with "Cannes 2020" branding. Per Variety, this will include movies like Wes Anderson's The French Dispatch, Gia Coppola's Mainstream, Naomi Kawase's Comes Morning, Francois Ozon's Ete 85, Thomas Vinterberg's Another Round, and Apichatpong Weerasethakul's Memoria. Other films have decided to take their chances to submit for Cannes 2021 instead, among them Leos Carax's Annette and Paul Verhoeven's Benedetta. Then there are films like Spike Lee's Vietnam War drama Da 5 Bloods, which would have played out of competition and will instead go straight to Netflix on June 12. (A move probably made easier by the academy's decision to allow streaming-only films to compete at next year's Oscars.) Incidentally, that will be the last Netflix film to be associated with a film festival this year: According to IndieWire, the streamer will not be sending any of its Oscar hopefuls to Venice, Telluride, Toronto, or New York.
Meanwhile, the Marché du Film, an industry sales convention that takes place alongside the festival and typically features the schlockiest movies imaginable, is happening entirely online.
Venice International Film Festival
With Italy having been hit hard by the pandemic, the question of how to go ahead with the world's oldest film festival has been particularly fraught. Unlike Cannes, Venice projected confidence early: In late April, the Venice Biennale, which organizes the festival, told Italian media that they were proceeding with the traditional early-September date as planned, with the expectation that the event would be scaled down and take place in "six or seven circumscribed movie theaters."
Their optimism may have proved premature. In early May, Variety reported that artistic director Alberto Barbera sent out a survey to a select group of industry figures attempting to determine their comfort level around attending the 77th installment of the festival. "We know that it would be simply impossible to plan a festival without knowing if you all are willing to use the Festival to give a new start and a strong sign for keeping cinema alive, even in these difficult times," Barbera wrote to the survey's recipients. He noted that organizers expected "a number of limitations and security measures" around this year's festival, including "a reduction of the number of screened films, [and] a similar decrease of attendance from press, industry and audience."
While Venice has ruled out the prospect of a digital-only experience, in April, Biennale president Roberto Cicutto floated the possibility of an online option for international press. Barbera's letter offered more information on this front, confirming the festival was indeed exploring the idea of presenting a "virtual screening room" for accredited attendees unable to make it to the Lido. The letter also asked recipients whether they would find it "useful" to have events like Q&As and panel discussions take place digitally and if they thought they'd be able to get talent to show up.
While Cannes's Frémaux often mentioned that Venice could be the launching pad for the "Cannes 2020" label, the Italians had publicly taken a more skeptical tone, and according to Variety a partnership between the two festivals appears no longer to be in the cards. However, Venice's competition slate is expected to include multiple films that dropped out of Cannes, including Nanni Moretti's Tre Piani and Maïwenn's DNA.
Telluride Film Festival
Telluride is a more intimate festival than the others; instead of a major city, it takes place in a small resort town in Colorado over Labor Day weekend. This undoubtedly presents its own set of challenges, but the festival, which famously does not announce its slate ahead of time, hasn't made any announcements regarding this year's edition. However, organizers tell Vulture they are proceeding as if the festival will happen. Otherwise, the only news out of Telluride came in mid-April, when the fest proposed extending its schedule by an extra day, which would help reduce crowding by spreading out the events. According to the Telluride Daily Planet, the proposal was unanimously approved by the town council, which was meeting over Zoom.
Toronto International Film Festival
TIFF has a reputation for being the most accessible of the major festivals, and it appears to have the fewest reservations about going digital this year. "We're using the DNA of what works with the festival and applying it with the DNA of what's been working with our digital experiences to see how much we can deliver onsite and online," artistic director Cameron Bailey told the hometown Globe and Mail in early April. Still, Bailey added, he hoped TIFF 2020 would still be a "largely in-person experience." Festival organizers have been consistent about the fact that TIFF will not be postponed, though a spokesperson told Deadline in April that the festival may no longer start and end on the exact dates that were previously announced (September 10-20).
Toronto also seems more willing to think out loud about the form that a post-coronavirus festival might take. "We're going to look at doing some kind of social distancing," executive director Joana Vicente told Variety. "Maybe it's not six feet [of separation], but maybe there's a seat in between." Like Venice, TIFF is also expected to present a smaller lineup this time around, though given the festival typically programs over 200 films each year, that would still be a gargantuan slate.
No matter how it happens, this year's festival is expected to see the belated premiere of The French Dispatch, and possibly Sofia Coppola's On the Rocks, too. But with much riding on what Canadian health authorities will deem safe, TIFF 2020 remains in flux. Bailey tells Variety, "By the middle of June, say, we'll be able to make a call [as to] which way we are leaning. But we will deliver a festival this year."
New York Film Festival
NYFF takes place in late September, which gives organizers extra time to prepare but could also place the festival in the middle of the dreaded "second wave" of infections. In recent years, New York has moved away from world premieres, choosing instead to present the best of the films that debuted elsewhere, but if travel restrictions remain in place through the summer, NYFF's good fortune to take place in the city where much of the industry and media already lives could make it the first place American viewers get to actually see the year's best films.
New York City has also seen more coronavirus cases than anywhere else in the U.S., and residents' fears over large gatherings are unlikely to dissipate by autumn. In a statement, the festival's parent organization, Film at Lincoln Center, announced it would be deciding the format of this year's NYFF over the summer, balancing "its commitment and responsibility to films and filmmakers while ensuring that the safety and well-being of our audiences and guests remain our utmost priority."
Organizers are determined to put on a brave face. "It may be quieter in some ways … but constraints often inspire creativity, and New Yorkers are resilient," festival director Eugene Hernandez told THR. "Sure, there may be fewer throngs of press and people at some screenings. It may be more intimate, but we will find new ways to continue to support the art. We will adapt."