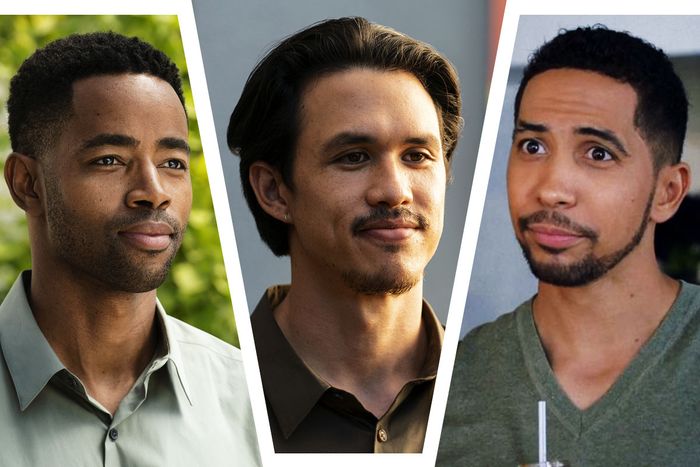 Who is the best? And who is the worst?
Photo: Courtesy of HBO
The best part of Insecure is talking about Insecure — fussing over it, yelling at it, tweeting about it. Issa Rae's HBO series brings together late-20-somethings who seem like people you know but keep at a distance because they move too messily. Issa and Molly's relationship anchors the series, but their dealings with (and misgivings about) the men that orbit them make for some of the series's strongest drama. There's Nathan. There's Andrew. There's Lawrence. But who's the best dude on Insecure, and who's the worst?
The criteria: How is this man as a co-worker, boyfriend, sibling, or friend? How often did he ghost, cheat, or flake? The rules: The man in question must appear in two or more episodes of Insecure. (Unfortunately, that leaves out the revolving door of guys Issa went out with in the immediate aftermath of Lawrence, the guy Molly dated who thought two glasses of Malbec earned him a night of passion, and the 20-something Kelli met in Malibu who looked "just like Jill Scott.") So here is the definitive ranking of every man to appear on Insecure.
27. Dro
I hate this too tall, too tight-shirt-wearing man. I hate him! (Important to note that ranked higher than him are Molly's two incompetent colleagues and a fictional antebellum slave owner.) He teased Molly with the trappings of a real relationship: comforting her after learning about her dad's infidelity, bubble baths, dates, a Los Angeles day party — my God. When Molly repeatedly expressed confusion over the terms of their relationship and said that she was enjoying their time together a little too much, he gaslighted her as if he hadn't been leading her to higher expectations. And he's too tall.
26. Scott Foley on Due North
He was a slave owner. So.
25. Vice-Principal Gaines
I know that the vice-principal of We Got Y'all's partner school wants to do what's best for the underserved black students at his school, but turning away Latino students from PSAT tutoring is not right!
24. Ken
Issa's white We Got Y'all co-worker is the kind of white colleague to whisper surreptitiously when he says Baldwin Hills is known as the "black Beverly Hills." For whom, Ken? For what? He was the leader of the "secret white meetings" and the "secret white emails." He expects Issa to understand that he represents the gay community in their We Got Y'all meetings and she represents the black one.
23. Daniel
Oh, Daniel, Issa's "What if?" guy. He was the fantasy that snapped her out of her relationship with Lawrence. Issa hadn't felt appreciated or desired for years, but a perfectly timed "What's up?" from Daniel was enough to rekindle a friendship that was always a little something more. Too bad Daniel's flirty texts and lingering glances masked his selfishness: He only wanted a relationship with Issa on his terms, when he was ready, when he didn't have anything else going on. He shows up to her work events and office unannounced, only to manipulate her attention. Sometimes she can live with him as a friend, sometimes as more than a friend, sometimes he'll flirt with other girls in front of her, or not care if she's in the next room hearing them have sex. In or out of their unstable relationship, Daniel likes to keep Issa in his life, but at a distance.
22. Lawrence
We had to make it here eventually. Everything with Lawrence — loving him, hating him, cheating on him, making up with him, trying to be friends with him, resenting him for sleeping on her couch — is the second most important relationship of Issa's 20s. Insecure's first episode had Issa making plans to break up with her down-and-out boyfriend; four years later, she's still trying to figure out how to keep him in her life but not at its center. Let's establish that they had a terrible, no good, very bad relationship, one that was toxic for them both. Issa was supportive (for four years! When he had no job and no ambitions and no plans and no initiative to be a good partner!) until she couldn't give him any more emotional labor. Lawrence was lazy and selfish and proud until he lashed out. But where does that leave him?
Not great! He has the veneer of a nice guy because he dresses with intention and seems thoughtful. He improves with every relationship Insecure finds him in — things with Condola were markedly better than things with Issa, albeit with much lower stakes — but still he doesn't actually listen to women or consider their needs. He is a frustrated, jealous friend even when he's successful. All he did was get a job and a nicer clothes. Tasha was right about him in season two: "You a fuck nigga who thinks he's a good dude."
21. Jidenna
Jidenna — his character has a name, but truly, why does it matter here? — dated Molly for a few episodes in season one. Compared to the revolving door of hoteps and fuck buddies she'd been out with, Jidenna seemed like a breath of fresh air. Their romance fizzles when she brings him to a co-worker's engagement party and he introduces himself as her boyfriend. This was a bad, misleading thing to do, but Jidenna's heart was (sort of) in the right place: Molly was jumping to way too many conclusions before she even slept next to this man with a scarf on, after only a few dates! "I thought you needed a win," he told her. "We barely even know each other, and you're talking about me leaving clothes at your spot, making plans six months in advance." The message was delivered loud and clear and very clumsily, but Jidenna was being more honest with Molly than a lot of men on this list.
20. Mr. Robinson
All Issa's tenant does is not curb his dog and then lie about having one. I appreciate the flex, but this is bad behavior!
19. Nathan
Of all of Insecure's men, Nathan is probably not there when you call, and he definitely won't even be on time. But he's the only ex-bae in Issa's life who is at least trying to be better. Nathan started out promising enough when he stepped into her Party Lyft and defended Issa's honor — or her car's no-smoking policy — when an unruly passenger tried to light up. After a few dates and a very Before trilogy walk around Leimert Park, he ghosted her. Bad!
18. Neighbor Bae
When Issa needed to get laid without a lot of effort, Neighbor Bae was conveniently just downstairs. (He was also, she later learned, stealing her Wi-Fi.) He wasn't exactly straight up with her about the fact that he was sleeping with other people — once she came over and he was entertaining another woman — but they'd never explicitly defined the terms of their friendship.
17. Taurean
Molly's co-worker at her second law firm always finds a way to have a funky attitude about something.
16. Chad
Chad believes in a law of averages, where all the women who were selective in their 20s lower their standards by their 30s, an economy that benefits his clownery. He's a "Where my hug at?" type, more than happy to flirt with every woman within a five-mile radius. (Even with Lawrence sleeping on his couch, Chad batted his eyelashes at Issa!) And yet! Chad is pure chaotic neutral. He will tolerate his friends' messiness only to a point. He's the friend that will laugh alongside you when you're making the biggest mistakes of your life, but if you ask him for real talk, he'll give you tough love. Chad is good, but not perfect. Chad is messy, but not toxic. Half the things he says are idiotic (women, he says, don't need male friends because "that's extra dick around for no reason"), and half the things he says are profound ("Whatever happened to Bradley Cooper?"). That's why he's here, near the very middle.
15 and 14. Molly's brothers
Neither of Molly's brothers — Jerome and Curtis — have anything major going for them. They're not as ambitious as she is, but they do seem much happier. Good for them!
13. Molly's dad
Yes, he cheated on Molly's mom 20 years ago. But thank God for growth! He has been a loving and supportive husband and father ever since.
12. That guy Kelli dated who fingered her under the table at that restaurant
[Redacted because my parents read this website.]
11. Spyder
The local L.A. rapper only has a short arc when Daniel wants to produce for him, but he does appreciate that Viola Davis is hot and that This Is Us is not very good. My standards are low, but this is acceptable.
10. Vince Staples
At the beginning of this list, I established some ground rules. I know that. I said I would only rank men who appeared in at least two episodes, but here comes Vince Staples, who only appeared in one episode. When you rank every single man on Insecure, you can follow your own rules! Vince Staples is talented and hot and charitable, and he doesn't fault a woman for getting nosebleeds when she is nervous. My type!
9. Lionel
It hurts my heart to rank a list of men without Sterling K. Brown catapulting to the top. Molly went on one date with Lionel in season two before she invited him to her parents' vow renewal — nuts! — and he was perfect on paper. Lionel went to Penn, he had a job he was passionate about but didn't monopolize all of his time, he had a five-year plan for his life that included marriage and kids, he wasn't intimidated by Molly's professional ambitions, and he was Sterling K. fucking Brown. Molly didn't go for him because she was starting to fall for Dro — table one for Miss Stake! — but Lionel wasn't actually that engaging.
8. TSA Bae
He doesn't lie, he doesn't cheat, he's good in bed, and he's available on call.
7. Derek
Derek was the only friend to be upfront with Lawrence about how he contributed to the fizzling out of his relationship with Issa. He's also (mostly) outgrown his weirdo, outdated ideas about masculine roles. When we first meet him, he and Tiffany believe in "he is the man and I am the woman." By Issa's block party, fatherhood has made him change his perspective slightly, but how many times do we need to have this conversation? A daughter does not a moral compass make?
6. Justin
Allow me to reintroduce you to Insecure's Mr. Perfect. Justin teaches at the school hosting Issa's first We Got Y'all class, and goes out of his way to casually flirt with Molly — remembering details she shared during an unseen career day — at the first season's Baldwin Hills fundraiser. Justin is charitable, thoughtful, and totally didn't freak out when Issa had a class of middle schoolers singing "Broken Pussy." I liked this man! I wish he would come back.
5. Ahmal
I am biased because Ahmal is my ideal type of person: hilarious, demanding, stylish, mean. He trades jabs with Kelli in every scene, and he cares about Issa, but refuses to be dragged into caring for her — she's an adult! Ahmal is the king of tough love, but for the right reasons. And he appreciates a well-timed Khia needle drop.
4. Quentin
Molly's Chicago-based co-worker was a nice guy, his preacher's body be damned! He was the only man in her life (until Andrew) who was willing to take it slow, and he gave her legitimately good career advice. Granted, Molly is definitely not interested in him and needs to keep him safely in the friend zone. But everyone deserves a Quentin! I want a Quentin.
3. Andrew
The best thing about Andrew is his inscrutability, the way he actually engages with Molly and doesn't let her rush their relationship or not own her drama. They first met at Coachella, and their romance had a rocky start: dates cut short by her oversensitivity and reluctance to unpack what went wrong in her previous situationships. But Andrew is present in the relationship, even when he refuses to bend to Molly's oftentimes unreasonable whims or will. What's not working in Andrew's favor is that he's a little too guarded, even if he's supportive. Who really cares if he makes backup plans for when Molly's job causes her to flake? He's a keeper.
2. Jered
I never understood what Jered's flaws were, in Molly's eyes. He didn't go to college (literally who cares), he works at Enterprise (but he has a job, and never expected her to pay for their dates), he's hooked up with a guy (girl … grow up!), and he doesn't really have art on his walls (let she who has framed all her posters cast the first stone). So what? Jered is loyal, in spite of Molly's foolishness. He gives her chance after chance because he wants to build a relationship with her — one that is ultimately more than Molly is willing to handle. And then, when he realizes that, he is emotionally mature enough to know that he deserves better than her. Somewhere in Los Angeles, Jered is driving through a Popeyes drive-through because his girlfriend, Amber, had a craving, and I love that for him.
1. Thug Yoda
I feel like one of those TMZ pop-up headlines: 'Memba Him?!' "Thug Yoda" — real name: Miles — was the self-described "lover not a fighter" who lived in the Dunes complex near Issa and Lawrence's first apartment. He's also a Blood that does not use the letter C, but that doesn't stop him from doling out unwanted but desperately needed advice during the rockiest times in Issa and Lawrence's breakup. Thug Yoda has no flaws: He is accountable, a good father, a random-but-positive influence as a friend.