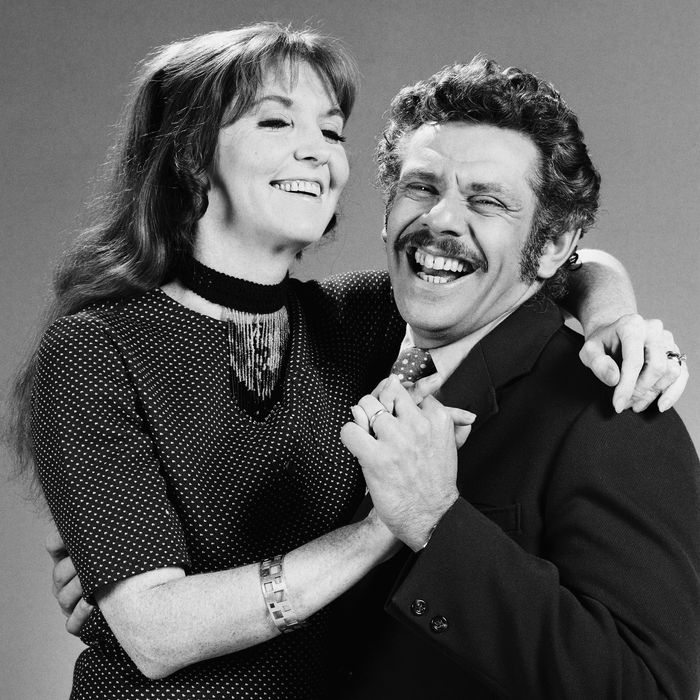 Stiller and Meara together in 1970.
Photo: NBC/NBCU Photo Bank/NBCUniversal via
Jerry Stiller has passed away at the age of 92. Today he is probably best known for his work as Frank Costanza on Seinfeld, Arthur Spooner on King of Queens, or perhaps Maury Ballstein in the Zoolander films, but his comedic career goes back into the 1950s. The comedy team of Stiller & Meara was famous across the nation, appearing on all of the major variety shows of the day. Anne Meara — Stiller's comedy partner, wife, and mother of his children, Ben and Amy Stiller — died in 2015 at age 85. Together, they produced decades' worth of comedy that paved the way for Stiller's sitcom renaissance.
Meara and Stiller met in 1953 at a talent agency where Anne was looking for a partner for a vaudeville act. She found precisely that in Stiller and more, and she married him a year later.
Stiller and Meara were near fixtures on The Ed Sullivan Show, perhaps the most important variety show of the time, often making appearances mere months apart. The clip above comes from June 14, 1964, their fifth appearance on the show and an excellent example of the basic structure of the routines they would perform in nightclubs and, eventually, on records. This routine features a couple who are not on the same page concerning where their relationship is going: Meara wants to break up, while Stiller just named her the beneficiary of a life-insurance policy. Stiller's deadpan is perfect throughout as the stakes heighten and he continues to stand his ground.
The pair would go on to appear on The Ed Sullivan Show a total of 16 times from 1963–1970, and surprisingly few of these performances have made their way to the internet, though you can listen to them describe their first appearance or read a handful of recaps of some of their classic appearances on the show in this tribute to Meara from 2015.
Along with Sullivan, the other hot show broadcasting from New York City in the late 1960s was, of course, The Tonight Show Starring Johnny Carson. Stiller and Meara made the occasional guest appearance with Johnny as well, but perhaps not so prescient as the above performance about a couple who is meeting for the first time after being matched by a computer. Meara sets up the bit, and the duo gets their first laugh just by revealing their characters' names: Hershey Horowitz and Mary Elizabeth Doyle. The new couple is immediately taken aback by the connotations of one another's names, but still insist to themselves that the computer must know what it's doing in a sketch that skewers online dating half a century before it took off.
Stiller & Meara made the occasional appearance outside of the variety show as well. Here they are on What's My Line? as mystery guests in 1968. While they're still "performing" as it were, they aren't in character as they try to give the blindfolded contestants enough clues to guess their identities. Of course, they're famous enough that they're identified in just over a minute, but they spend the rest of this sweet, somewhat candid appearance chatting about their already long careers (Stiller says they started about six and a half years ago, but "someday we hope to own our own coffeehouse"), and they even make a brief mention of their "little boy Benjy."
The Carol Burnett Show offered Stiller & Meara an opportunity to try something a little different. They still performed comedy in their classic duo style, such as this piece on Richard Nixon visiting China, but the pair often appeared in sketches alongside the regular cast members of the show. In the segment above, Burnett and Harvey Korman play a pair of upper-crust snobs meeting Meara and Stiller, the low-class parents of their son's bride-to-be. The duo-based character performances of their early days work seamlessly in this full-sketch setting, and it's impossible to not see shades of Frank Costanza as Stiller shouts at paintings across the ritzy living room.
By the late 1970s, the prime-time variety show was on its last legs, leaving late night as the best way to get on the air, so Stiller & Meara found an innovative new way to perform their short, snappy bits on late-night TV. Take 5 With Stiller & Meara was a syndicated show, produced in 1977–78, that aired in several markets but was distinctive for its length: As the title indicates, each episode was only five minutes long. In the Washington, D.C., area it aired after Saturday Night Live, and in Chicago it appeared often right before the station signed off for the evening. The above video appears to be the only existing clip from this period of their work available online (it doesn't even appear on IMDb!) but gives us a glimpse of what it looks like when the duo has full control and a little bit of a budget for production design, with Stiller in a full jester's outfit for one segment, and a living-room set for another.
As time went on, the pair performed as a duo less and less, but the act certainly didn't get rusty. Here they are in 1994 appearing on Larry King Live, where Larry sets up another relationship bit for them to explore as Stiller's character reveals that he is in love with Meara's sister. Perhaps a live call-in show with no audience is a strange place for character-based nightclub material, but even 30 years after their television debuts, Stiller & Meara do an amazing job of jumping right back into character.
Long after Seinfeld and King of Queens had gone off the air, the duo continued producing comedy together until the very end. In 2010 they launched the now-defunct StillerandMeara.com, where they produced brand-new topical comedy shorts dealing with The Jersey Shore and Facebook, which sadly seem to have vanished from the internet. Meara and Stiller never stopped making the world laugh, and thankfully, they've produced so much material over the years, those laughs will continue long beyond their passing.