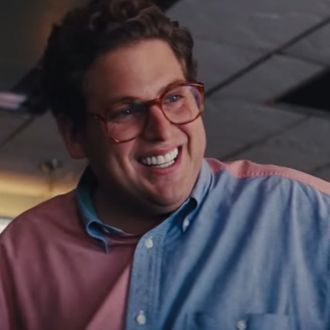 Jonah Hill in 2013's
The Wolf of Wall Street.
Photo: Paramount Pictures
You might have put your money on Samuel L. Jackson or Al Pacino, maybe even Danny McBride, but if you bet Jonah Hill would top them all on the list of professional cursers, you reportedly just won big. According to Variety, Buzz Bingo put their money where their filthy mouth is and analyzed the use of foul language in 3,500 feature screenplays. Turns out, Jonah Hill is the swearing-est actor overall, with huge thanks to 2013's explicative-laced The Wolf of Wall Street.
Following in Hill's dirty footsteps are his Wolf costar Leonardo DiCaprio, Samuel L. Jackson, Adam Sandler, Al Pacino, Denzel Washington, Billy Bob Thornton, Seth Rogen, Bradley Cooper, and Danny McBride. Martin Scorsese's The Wolf of Wall Street is also the movie that features the most curse words, containing 715 expletives overall, with Uncut Gems, Casino, Jay and Silent Bob Strike Back, and Fury rounding out the top five. Gary Oldman's 1997 directorial debut Nil by Mouth receives the special honor of having the highest curse-to-dialogue ratio, with 41.3 out of every 1,000 words spoken in the film being swear words.
Over on Instagram, Hill recently celebrated his achievement. "So many people to thank. @martinscorsese thanks for pushing me over the edge," the actor joked. "And of course the great @samuelljackson. Humbled."