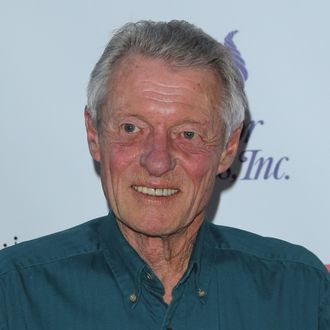 Photo: Paul Archuleta/FilmMagic
Actor Ken Osmond, best known as Leave It to Beaver's comedically weaselly Eddie Haskell, has died at the age of 76. "He was an incredibly kind and wonderful father," his son said told The Hollywood Reporter on Monday. "He had his family gathered around him when he passed. He was loved and will be very missed." Osmond's cause of death has not been released.
The actor was 14 in 1957 when he was cast as the two-faced tormentor to Jerry Mathers's Theodore "Beaver" Cleaver. The role was initially written as a one-off part, but Osmond eventually costarred in 96 episodes, in addition to appearances on shows like The Munsters and Petticoat Junction. After the series ended in 1963, the actor largely segued out of acting and served for 18 years as an officer with the Los Angeles Police Department. In 1983, he returned to reprise his role as a now-grown Eddie Haskell in 1983's The New Leave It to Beaver sequel series, initially titled Still the Beaver, which featured the adult Cleaver boys with families of their own. The show ran until 1989.
"I will greatly miss my lifelong friend Ken Osmond who I have known for over 63 years," Jerry Mathers tweeted Monday in response to news of his costar's death. "I have always said that he was the best actor on our show because in real life his personality was so opposite of the character that he so briliantly portrayed. RIP dear friend."