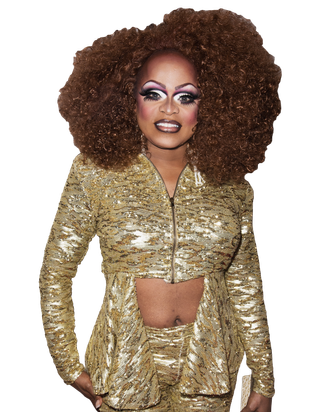 Photo: Tara Ziemba/Getty Images
As fans mourned rock and roll innovator Little Richard after he died on May 9, Kennedy Davenport's impersonation of the star on RuPaul's Drag Race began to recirculate on social media, alongside flashy live performances and hilariously blunt TV appearances by Little Richard himself. For young queer fans who grew up after Little Richard's peak, Kennedy's "Snatch Game" impersonation — as loud, sexed-up, and obsessively groomed as the real Little Richard — became indelibly tied to the music icon.
Impersonating the first male celebrity for Snatch Game netted Kennedy a much-needed second win in her season (she eventually finished fourth, and became runner-up of All Stars 3), not to mention started a trend that's led to Snatch Game impersonations of men from Paul Lynde to Donald Trump. Now, Kennedy is preparing to perform her character once again for the Digital Drag Fest, planned before Little Richard's death, on May 21 at 8 p.m. ET on StageIt. Vulture caught up with Kennedy to talk about how the performance almost didn't happen, why Little Richard is such an inspiration, and what it's like to introduce him to new fans.
Before you did the Snatch Game, before you were on Drag Race, can you tell me how you first heard about Little Richard?
I just knew about him coming up as a child. My family listened to that era of music, so I grew up knowing about him.
Where did you get the idea to do Little Richard for Snatch Game?
It was a last-minute thing. My original plan was to do Hattie Mae from one of Tyler Perry's sitcoms [Love Thy Neighbor]. Literally the night before I left, I said, "Let me put this coat in this bag, and if push comes to shove, I'll just do Little Richard." I didn't think nothing of it at all. I really wasn't planning on doing Little Richard, he was definitely a last resort.
Was he a character that you had done before?
No, not at all.
I was rewatching that episode, and when you mentioned you wanted to do him, everyone started to doubt it and was like, "It's Snatch Game, it's Drag Race, why are you doing a man?" After all that, what made you decide to go forward and do it?
Ru said something to me that they did not put in the scene. I really don't remember, but it was somewhere along the lines of, "I've never seen it done before." She was more in favor of me doing Little Richard than Sweet Brown.
Sweet Brown was your other Snatch Game option, right? She was everywhere around then, from what I remember.
Right, but I knew that Little Richard had more material than Sweet Brown, as far as something that I can play off of. People don't understand that Snatch Game is improv, so any character that you choose, you have to make sure that they have enough material. I could've made her funny, but it was easier for me to play around with Little Richard. He had more character.
How did you prepare?
Snatch Game is nothing to rehearse. If you have a character that you are sold on, you can study them while you're at home, but I didn't have that. I just had a picture of him. I just had to wing it. His most memorable moment for me was when he was on the show Martin, and that's where I just took it.
Of course, Snatch Game is about making RuPaul laugh. What do you think it is about Little Richard that made him so funny?
I don't think it's a matter of thinking that a person is funny, it's making the person funny. I never saw [Little Richard] as funny. I saw him as a person that was real, and that was very honest, and brutally honest sometimes. But he was never a comedian.
When you started to see that you had RuPaul laughing and Tamar Braxton laughing and all that, how did that feel?
I'm gonna be honest, I wasn't even paying them any attention. I didn't even know anybody was laughing. That's the hardest part, because you don't have a studio audience that's laughing. You don't have anything to show a sign that you are like killing it. You may see them laughing, but shit, that might be for the camera! You don't know if you're really being funny or not. [Laughs.] So I didn't know that my jokes landed until I saw the final edit.
You were the first to perform a man on Snatch Game. Now that's something that happens in almost every season. What do you think about that?
Personally, I feel good about it. I mean, it would be nice to get a little bit more recognition that I was the first. And that I opened up a door for other famous people to be recognized. 'Cause a lot of people just thought it was these strict rules.
After Little Richard's passing, your performance got a lot of recognition again. How did it feel to know that when so many young people think about Little Richard, they think about your impersonation?
I think it's iconic. It's a moment, you know? It makes me feel good that I could play such an awesome character and it [got] recognized. He was a great person. A great musician, and he helped a lot of people along the way.
How does he inspire you as a performer?
He helped me to stay authentically me. He didn't change for nobody, and he was very out there. Regardless of who he was and how he lived his life, he was happy with it, and you could tell.
I was thinking a lot about the line that you said on the episode, that he's been in drag his whole life. That's just who he is.
Right. I tell people to this day that drag is not about getting up, putting on makeup, and looking like a woman. Drag is an eternal feeling. It's a freedom of expression.
You're going to be performing the character again for the Digital Drag Fest next weekend, right?
Yes, they asked me to do it again. I was so skeptical of doing it because, here I am by myself and don't even know if I'm being funny or not, and that'd be the worst feeling. [Laughs.] But I ended up saying yes, and this was way before he passed, so it's fate.
Do you think his death is going to change the way that you perform?
No, I don't think that it's gonna change at all. What I'm gonna do is celebrate him and make him funny. I hope people don't get offended. It doesn't have any bearing on him passing — I'm hoping that people can laugh with me and share a moment with me.
Just like the first time.
Exactly. I even laughed at my own self. You know, improvisation, you don't be remembering what you say.
So when you were watching the show back, you were laughing at it?
Yes, ma'am, I was! The moment with me and Ginger [as Adele], where she was singing the high note, and I said, "Wrong note, sugar," I didn't know I said that at all!
Is there anything else you want to say about Little Richard?
This should definitely be a wake-up call to the younger generation of fans of RuPaul's Drag Race. It should be a learning experience for everyone. When you have characters that you've never heard of before, go look them up and see who they are and what type of impact they've made on the world. Maybe then you can have a different kind of inspiration to keep moving forward in the world.
I think a lot of people are bringing up your performance because it introduced some Drag Race fans to Little Richard.
People have hit me up in my inbox to say just that. "I didn't know who he was until you introduced us to him on Drag Race."
How does it make you feel to know that?
It makes me feel good, because he was a pioneer in music. He was an important key to rock and roll. It's always about educating people and introducing them to different walks of life.