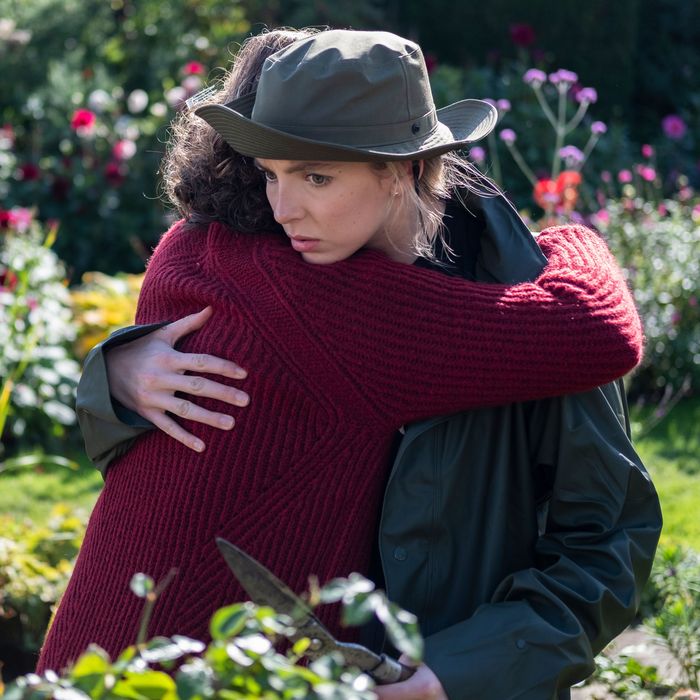 Photo: Laura Radford/BBCAmerica
This week's episode of Killing Eve, "Still Got It," is a bit of a puzzle box. Instead of the usual approach of demarcating shifts in narrative by announcing the location in bold font, the episode is split into chapters focusing on a single character's journey. These intersecting paths create a web of intrigue that first focuses its gaze on Niko, of all people. He's found a simple, new life for himself in Poland — greeting the morning sun; delivering items to an old woman who cherishes his presence, noting, "This is where you belong"; watching the game over beers with friends; ignoring Eve's pleading texts. It was an opening I immediately found grating, as Niko is the last character I care about. But by the end of the episode, these moments hold greater weight, as they become the closing moments of a life Niko lost control over the moment Eve and Villanelle crossed paths.
The puzzle box conceit of the episode — with moments coming full circle and characters crossing paths in ways that are imbued with added meaning due to the range of perspectives — didn't always work for me. Some moments felt forced rather than an elegant coincidence. But there's an intriguing thread of desire running the course of the episode, growing more knotted as it goes along. There's a distinct feeling, when Niko grimaces at his phone seeing Eve's texts, that their marriage is doomed. Their desires seem opposed. He seemingly wants to sever her from his life. (How else to take him being discharged from the mental-health facility without telling Eve he was running to Poland?) But what does Eve want? Does she really want Niko back in her life, or is that a way to escape the true desires she refuses to name? But this is just one of the many problems in Eve's life at the moment.
After getting the pointed teddy bear message from Villanelle in her new apartment, Eve resigns herself to sleeping on the couch in the Bitter Pill offices. It isn't a good look as Eve brushes her teeth and smells her own funk while checking on messages from Niko. In one moment, Eve catches sight of her own reflection, teasing out the edges of the bruise just above her eye, a remnant of her encounter with Villanelle. Eve is undoubtedly at a low point in her life, ingratiating herself into the Bitter Pill office. After all, where else does she have to go? — something Jamie himself says before offering her his place to crash at.
To make all this even more frustratingly sad, it's Eve's birthday. But Eve tries to focus on other things, clearly. She focuses on solving Kenny's murder, drawing a connection between Villanelle's recent kill and Dasha's in the early 1980s. It's at least something to go on, as with Charles Kruger dead they've returned to "square one," as Bear put it. But you can only run for so long. The scene shifts, emotionally, when Eve signs for a package from a confectionary. It's a birthday cake in the form of a double-decker bus, a gift from Villanelle she chucks off the side of the building.
I'll be honest, I'm not fully invested in the characters at Bitter Pill, but I enjoyed the rapport between Jamie and Eve trading their horror stories. "I was unfaithful to my husband. I put him in so much danger, he ended up in a hospital with PTSD," Eve admits, and the revelations come tumbling from there, with Jamie ending that line of conversation when he admits that his best friend died on the drugs he gave him. A more important moment comes later. Deep in the evening, Eve looks at a teddy bear strewn in the bedroom she's failing to fall asleep in and asks aloud, "What do you want from me?" It's clearly pointed at Villanelle. But the better question is, what does Eve want from Villanelle? It's a question I don't think Eve is able to answer honestly yet. Eve doesn't get to ponder this line of questions for long, as she receives a text from Niko of the sun-dappled picture he took in the beginning of the episode. It's these texts from Niko that send Eve rushing headlong toward Poland.
Konstantin's segment of this episode dips into a number of locations, bringing up a host of questions. He slips out of London to visit his daughter, Irina, in Russia. Their meeting quickly sours, with Irina pointing out Konstantin is only in business for himself. He meets with Charles Kruger's widow, Bertha (Rebecca Saire), learning an important bit of information: Charles sent her a rushed email just before his death about knowing who had stole the millions missing from the account and imploring her to send a file attached to the email to an account she didn't recognize. Konstantin encourages her to stay somewhere safe and to send the file to him, before he finds himself in Barcelona sneaking up on Villanelle. This segment glows with meaning upon seeing what happens next and what plan Konstantin sets in motion involving Villanelle.
Villanelle baking while dancing around her apartment in a pink robe, licking frosting from the spatula, is basically how I've been looking while social distancing since March. "So, not over me," she says looking in the mirror, a message made with Eve in mind. Villanelle has always been a character ruled by desire. That is what makes her so electrifying. She follows her desire wherever it takes her. But of course the world she lives in requires rules and order, which she occasionally and gleefully bucks against. "You have to play by the rules," Dasha begs her. "I'm just trying to save you from yourself."
Villanelle is openly annoyed by Dasha until her handler reveals what she's been waiting for: They want to talk with her. It's set up as if Villanelle is moving up the ranks of the Twelve as she so desires. But is it really that easy? That quick? In return, Villanelle must stay put, using her time to spend her money instead of languishing her thoughts on Eve, whom Dasha clearly knows Villanelle visited in London.
It's while shopping that Konstantin sneaks up on her. He doesn't notice what transfixed her enough to not feel his creeping presence: a quotidian tableau of a mother helping a daughter choose clothes. This moment hits even harder thinking of where the writers put Villanelle at the end of the episode: back home in Russia, off to reunite with her family.
In a cable car far above the city, Villanelle jumps up and down, grating on Konstantin's frayed nerves. She knows exactly how to annoy him and relishes it. They trade pleasantries, including Konstantin mentioning how Villanelle destroyed Eve's marriage. "The moustache is gone?" Villanelle asks, her face brightening with wide-eyed delight. Konstantin has other things on his mind than the dynamics of the torrid relationship between Eve and Villanelle. He wants to make a deal. He provides Villanelle with pictures of her family that the camera never makes us privy to, which cause her to start hiccuping. He says he'll track them down if she does a job for him, nice and efficiently. "You want it nice or you want it efficient?" she asks, a cool look crossing her face.
In Lyon, it comes into view what Konstantin has done, and is willing to do, when it is revealed that he's assigned Villanelle to kill Charles Kruger's poor widow, which she does with a garden hose after starting up a playful rapport with the woman. Villanelle may not want to face this fact, but her actions have ripple effects, something Dasha is all too aware of.
Dasha is just trying to enjoy her day. Swimming laps that she punctuates at the end with a cigarette. Unfortunately, she's interrupted by a higher-up of the Twelve who firmly tells her she needs to rein in Villanelle and that she can kiss her dreams of returning to Russia goodbye if she doesn't get it together. "Skittish is not acceptable," the woman pointedly remarks before asking Dasha to drive a wedge between Eve and Villanelle in whatever way possible. Apparently, the Twelve don't want Eve dead because that would cause other problems. So, Dasha gets to work. She tracks down Niko, posing as a kindly old lady and friend of the woman whose home he delivers bread to. Of course, that old woman we saw earlier is dead and her remains are being eaten by her pigs.
At the bar we originally saw Niko at in the beginning of the episode, Dasha swipes his phone and sends Eve the sweet messages that bring her to Poland. As Eve approaches Niko, excitement marking her face as much as confusion and discomfort marks his, Dasha rushes toward him, stabbing him in the neck with a rake. Blood spurts against the barn door. Eve collapses to the ground, eyes wet with tears, face marred by shock and anguish.
Niko has always been in an odd position as the stumbling block for Villanelle and Eve ever getting together in the way the show teases. But killing him off is a dramatic turn I didn't see coming. What does Dasha expect will happen? That Eve will be so consumed by grief she'll forsake her bond to Villanelle? That she'll mistakenly blame Villanelle for his death? What's more intriguing to me isn't the material shifts of the plot but Eve's own emotional life. Who does she become with Niko gone? How will this grief remake her?
On the Dressing Room Floor
• One segment I didn't discuss in the body of my recap concerns Carolyn. She has a tense meeting with Paul and asks for her office back. But more importantly, she spots Konstantin in London on the phone, asking "Is it done?" Carolyn of course doesn't know he was on the phone with Villanelle about killing Bertha, but it seems to have piqued her interest nonetheless. This is a moment that felt a bit forced as a coincidence.
• I am curious what others make of Geraldine. I find her brushing just against the edge of being pathetic when she collapses on the floor, crying to Carolyn about her refusal to show emotion in a way she understands. "Let me in," Geraldine pleads.