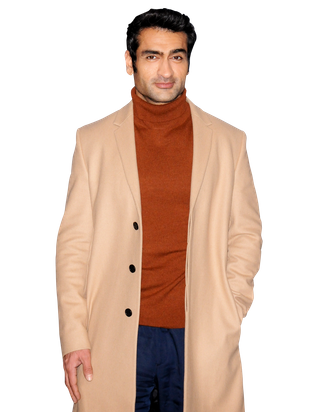 Photo: Efren Landaos/Echoes Wire/Barcroft Media via Getty Images
Kumail Nanjiani has gone from Silicon Valley nerd to Academy Award–nominated writer and soon, he'll be adopting the title of superhero. But first, he's taking after one of his personal heroes, Hugh Grant, and starring in a rom-com. In his new movie, The Lovebirds, Nanjiani plays one-half of a couple one dinner party away from splitting up for good. (Insecure's Issa Rae plays the other half.) But before they can get there — to the dinner party or Splitsville — they're ricocheted into a murder-mystery plot that just keeps unravelling. No matter where they go, their arguments follow, from a barn where Nanjiani's Jibran gets kicked by a horse to a ritualistic orgy Rae's Leilani insists is fun, spontaneous sex. But they never stop caring for each other … or making fun of each other. It's an amusing, early summer flick that couldn't have come at a worse time for "enjoying" "oneself." The film was delayed over a month after theater closures forced Paramount Pictures to pull its April 3 release. "Honestly, when that stuff was happening, the fact that Lovebirds was not gonna be in theaters was the least of my worries," Nanjiani told Vulture. Just a week later, Netflix swooped in to save the day, giving it a May 22 premiere date on the streaming service. We talked to Kumail Nanjiani about finally becoming a rom-com star, how it's happening under some pretty cataclysmic circumstances, and let him go on about how incredible his wife, writer Emily V. Gordon, is.
What's it like being the dashing male lead of a studio rom-com?
[Laughs.] I don't think of it like that, you know, I just got excited to work with Issa and to work with Mike again. And I thought that when I read the script, there was cool stuff that I've never seen in a movie before. So I was just — I was excited that they thought that I could play this part. Obviously, it's taken many years to get to this point. After years and years of auditioning and fighting to get even tiny parts, to be able to be the lead of a studio romantic comedy is very exciting.
It's so fun that this movie reunites you with Michael Showalter, who also directed The Big Sick. Who texted whom?
I texted him. That is true. I think what Mike really brought to The Big Sick was … he's very good at comedy as well as drama, and that's very, very rare. I thought in The Big Sick, as well as the movie he did just before it, Hello, My Name Is Doris, he did the balance so well. To me, working with Issa, the script, the success of it really hinged on the emotional spine of the movie as a couple in their journey with each other — how they see each other, how they see themselves in this relationship. I felt like no matter how funny the movie was, it would be a failure if the emotional relationship at the center of it didn't work. That's why I thought Mike would be the right guy for this.
Instead of the action aspect of the film starting at the beginning of Jibran and Leilani's relationship, it really kicks off when they feel like they're at the end. What was it like embodying those mixed emotions?
This is a movie that jumps past all the good stuff. So, we show us meeting each other and jumps over the honeymoon phase right into the rut, the seven-year itch, or whatever you want to call it. I thought that that was a lot more interesting than just doing a movie about two people falling in love. This is a movie about two people who have fallen in love and some part of them are still perhaps in love, but maybe not. Maybe it's the end of the end of the relationship. The idea of portraying part of a couple who were having the same arguments over and over, I thought that was really interesting. Where you don't even see the other person anymore, you just expect the patterns that they've been sort of embodying in your head for all those years.
What was it like developing that rapport with Issa?
I mean, it was such a joy, such a gift. We've met, but I didn't really know her before we got to work together. Issa's so smart, she's so funny, and she's so good with portraying relationships. On Insecure, you can see that not just with romantic ones, but platonic ones as well. We really talked about our own relationships. Ones that worked, ones that didn't, ones where we did the right thing, ones where we did the wrong things, and we really got to know each other through that. We really wanted to feel the history between these two people. We really wanted it to feel like these two people had gotten to know each other and that they had a shorthand with each other. Even if they weren't exactly getting along. They always knew where the other person was. They always knew what the other person was talking about.
There's a sweet moment where Leilani persuades Jibran to sing along to "Firework" by Katy Perry. Did you already know the lyrics? Or did you have to memorize them?
It's one of those things where you realize you know a lot more of the lyrics [than you thought you did]. I didn't have that song in my phone until we decided to have that be the song that we put in the movie. But then you start listening to it and you're like, "Oh, yeah, somehow I know most of the song."
Settle Jibran and Leilani's debate: Is a preplanned orgy still spontaneous sex?
No, if it's preplanned. I mean, you have to like schedule it in and stuff. So, no, I don't think there's any such thing as an orgy that's unplanned. I think you have to show up, everybody has to be there together, everybody has to be showered. I've never been in an orgy — I'm just guessing — but I imagine that there has to be preplanning that goes into it.
The film was initially meant to premiere at SXSW and have a theatrical release. What was your reaction to that whole shakeup?
Obviously, I love movie theaters, love going to movie theaters. I was very excited that Lovebirds was going to be in theaters but once this big, tragic thing started happening, even to this day, there has not been one moment where I've been like, "Oh my God, it would have been nice to be in theaters," as much as I love theaters. But having said that, thrilled that we get to be on Netflix, that many people will get to see it because it's a smaller movie and all these behemoths are getting moved off the schedule. There's no way we were gonna get another release date over the next year. Who knows when theaters are going to open, anyway? So, I'm very, very grateful that Netflix decided to buy the movie and that people get to see it from the safety of their homes.
In the meantime, you're hosting a quarantine podcast, Staying In, with your wife and co-writer. What made you want to respond in that way?
I think in a thing like this, you just feel so powerless. There's so little you can do and we felt like, well, if we could do a podcast and raise money for charity, that'll make us feel like we are at least doing something. Emily has a condition that has forced us to quarantine ourselves in the past, never, never for a period of time this long, but we've had to sort of come up with strategies to get through that. So, we felt like we had some advice to give there. Emily's a trained therapist. So, she realized that she really had a lot to say about the subject that could be useful to people. And honestly, it just sort of forced us to talk about this openly and directly with each other every week and it helps me process through the period.
Is having a partner who's trained in therapy just the ultimate quarantine hack?
Yeah, get ready for whenever the next one happens.
One of the big fights in the movie is that they can't decide whether or not they would be able to win The Amazing Race. Do you think you and Emily would be able to?
I think because of Emily we might be able to. She's just so good at organizing and having lists and she's so good at like, cracking problems and fixing things. We've been through a lot of unpredictable stuff together. So, I think The Amazing Race is something that we could be good at going through together. That said, I have zero desire to do it. [Laughs.]
Lastly, the world must know, how are you keeping up your Marvel body while in quarantine?
So, I bought some dumbbells and an adjustable bench right before the quarantine happened because I was so keyed into everything that was going on. I was so obsessive about it. Now it's hard to get that stuff, but I ordered it two weeks before and I've been working out and it's really been actually a saving grace. It makes me feel normal and I do it every day and it's really something I look forward to.