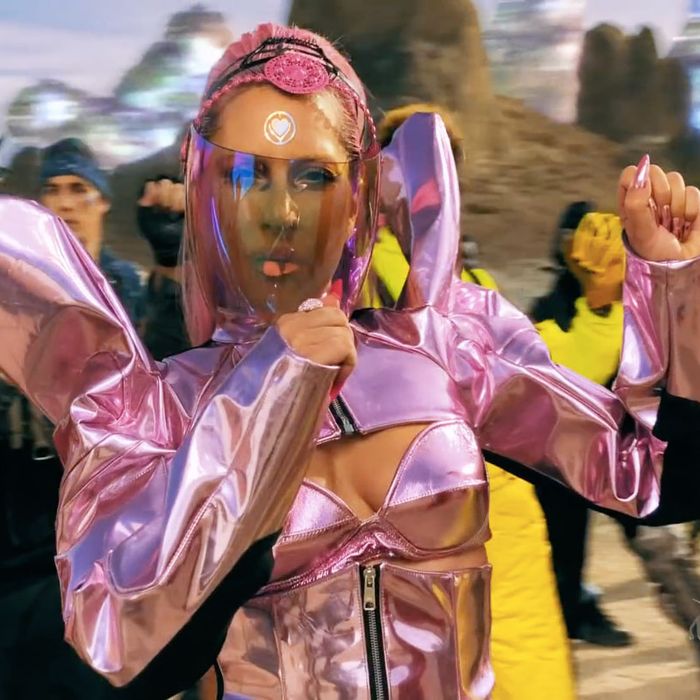 This would never happen on
Chromatica
.
Photo: YouTube
Like Nick Jonas's middle tooth or Kim Kardashian's fear of dancing, music leaks are what the universe gave to musicians to keep them from being too powerful. Lady Gaga's new album, Chromatica, must be whole-destroyingly good because it has faced a maelstrom of leaks, mishaps, and plain ol' drama leading up to its release this week. We should've known from the moment Gaga tweeted that she's "pregnant" with the album that things were only going to get weirder. A whole pandemic, an ex-girlfriend, and even Target came out of the woodwork and threatened to derail Chromatica's moment. A dance album set on a fictional world is exactly the escape we could use right now. To recap, here's a timeline of LG6's chaotic journey, which also kind of doubles as a quarantine calendar, for those of us who have lost track of time.
March 12, 2019: Lady Gaga confirms that her sixth album is officially on the way with a sarcastic tweet. "Rumors I'm pregnant?" she wrote. "Yeah, I'm pregnant with #LG6." Congratulations, it's a chart-topper!
October 1, 2019: Lady Gaga dedicates LG6 to the pengest ting this side of the Atlantic, Adele. "I'm calling my next album ADELE," she tweeted one afternoon. With the glaring clarity of time, we know now that Gaga considers this album to be hugely emotional, despite the dance beats. She told Zane Lowe on Apple Music's New Music Daily radio show that she was "miserable, sad, depressed," and "cried constantly" while making Chromatica. If Gaga's getting emo, we'd bet there were many long nights weeping to 25.
January 18, 2020: What was I doing on this day? What were you doing? After a snippet of Lady Gaga's then-rumored first single, "Stupid Love," leaked online (later leaking in full), the title went viral on Twitter. But Little Monsters … would … never!
January 22, 2020: The jig is up! Gaga tweets very specific stock photos of a young girl in a black ski mask dancing to music and looking suspicious, with the caption "can y'all stop." She knows that's exactly what you looked like dancing to "Stupid Love" in your room a few nights ago and, for that, she's gonna make you wait.
February 2, 2020: Page Six reveals that Gaga has been dating entrepreneur Michael Polansky, who runs Facebook co-founder Sean Parker's Institute for Cancer Immunotherapy. (He and Gaga were first spotted together over New Year's; Polansky is Lady Gaga's first confirmed relationship after she ended her engagement with talent agent Christian Carino.) An investor and tech entrepreneur who went to Harvard, Polansky doesn't seem like the type to devote his all to the dance floor, but if he's making Gaga happy, then he's an important part of Chromatica history still.
February 25, 2020: Mother can't stay mad at her Little Monsters. She announces that her first single, "Stupid Love," — heard of it? — is coming out in three days. Can you believe that at this point we didn't even know it was called Chromatica? Time is so funny.
February 27, 2020: Michael Polansky's ex rolls in like her life is a Taylor Swift music video. Senior staff editor for the New York Times opinion pages, Lindsey Crouse, writes an op-ed detailing what it was like to find out her former boyfriend of seven years was now dating pop mega-sensation Lady Gaga. (First, it was confounding, then she channeled her ex's new girlfriend by leaning into her ambition and, of course, her fashion.) This bite-size piece of gossip bounced around the internet, but ultimately, who among us wouldn't tell the world a pop star has their sloppy seconds?
February 28, 2020: Gaga can't hear any ex-girlfriends over the sound of her new single "Stupid Love," finally out over a month after its leak. In an interview with Zane Lowe, Gaga was surprisingly chill about it. "These records got passed around to so many different people," she told New Music Daily with Zane Lowe on Apple Music, in an interview shared shortly after the song's release. "There were so many different iterations of these songs because we all wanted it to be perfect and literally nobody cared who put their fingerprints on it, as long as it was the dopest thing that we could give to the world and that it was meaningful, authentic, and completely me," she said.
March 2, 2020: Ladies and gentlemen, welcome to the stage Miss Chromatica! Lady Gaga reveals that her sixth album, titled Chromatica, will drop on April 10.
March 24, 2020: Haha, you thought. Lady Gaga is forced to delay Chromatica indefinitely due to the then-growing coronavirus. She also regrets to postpone her Enigma residency in Las Vegas and reveals that she was planning a surprise set at this year's now-postponed Coachella. Is it possible to miss something you never really had?
April 10: Chromatica doesn't come out.
April 18, 2020: Lady Gaga appears on the One World Together at Home television event, which she curated in partnership with Global Citizen, raising over $35 million for the World Health Organization.
April 22: Uh, does one of Lady Gaga's exes work at Target or something? The deluxe edition tracklist and cover art for Chromatica was wrongfully uploaded to the album's preorder listing, revealing major collaborations with Elton John, Ariana Grande, and Blackpink. Later that day, Gaga confirmed the Target tracklist with her own post.
May 15, 2020: Unnamed hackers allegedly steal and leak 2.4 gigabytes of Gaga's files from law firm Grubman Shire Meiselas & Sacks. According to Rolling Stone, it was mostly legal paperwork, including reimbursements to artists Jeff Koons. What else does the woman have left to hack?
May 22, 2020: The collaboration of a lifetime drops. When the clock struck midnight, Lady Gaga's song with Ariana Grande, "Rain on Me" hit the internet (no leaks this time) and every baddie in the world magically received a 12-inch ponytail, six-inch heels, and waterproof mascara. That afternoon, the two drop the song's video: Returning to Chromatica — where neon latex and graphic liner are extremely in — the two stars swap hairstyles, hit their steps, and unite two pop megastandoms with a sweet embrace after a rough week. You love to see it.
May 24, 2020: Without revealing their sources, pop stan Twitter accounts share another potential Chromatica spoiler days ahead of release: that internet-breaking Blackpink collaboration is allegedly titled "Sour Candy" and, get this, might sample the 2000s Nelly Furtado classic "Maneater," produced by Timbaland. Hopefully, we'll get to wait until Friday to find out if this rumor is as true as every other one before it. How many more leaks can one album spring?
May 26, 2020: Producer BURNS denies the rumor that the Blackpink collab samples Nelly Furtado's "Maneater," simply tweeting "No haha" to a curious fan. It's not that we needed Lady Gaga, Blackpink, and Nelly Furtado to come together and transport us away from our current hellscape but … it would've been nice. Can the leaks chill now? Thanks.
May 28, 2020: "Sour Candy" leaks overnight and Blinks are not having it! While some can't resist, others straight-up tag Universal Music Group on Twitter, begging them to copyright strike the leaks. But with lessons learned from "Stupid Love," "Sour Candy" officially drops hours later at 7:00 a.m. ET. It's never too early for dessert.
May 29, 2020: Final boarding call for all flights to Chromatica!