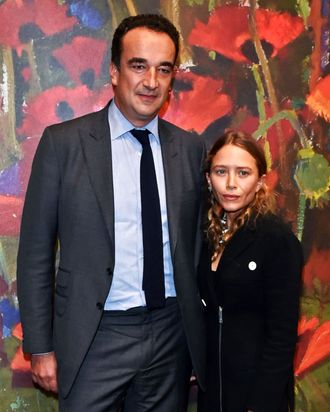 Photo: Andrew H Walker/WWD/Shutterstock
Pack your bowls of cigarettes and go! TMZ is reporting that Mary-Kate Olsen is divorcing her husband of nearly five years, Pierre Olivier Sarkozy. Per TMZ: "Mary-Kate says her attorneys got an email from her husband Pierre Olivier Sarkozy's attorneys this week giving her a May 18 deadline to get her stuff out of their NYC apartment. She claims Pierre is trying to force her out, because he terminated their lease without her knowledge." Due to social-distancing guidelines enforced by the city's government, however, MK says she can't meet Monday's deadline to vacate. The emergency divorce filing will protect the property. Olsen initially signed a petition for divorce on April 17, but nonemergency divorce filings were not being accepted due to coronavirus shutdowns. Olsen and Sarkozy began dating in 2012. Puff, puff, pass me that pen!
Update, Thursday, May 14, at 9:35 a.m.: The cosmic forces are realigned: Mary-Kate and Ashley Olsen are back by each other's sides. Though the fate of Mary-Kate's New York apartment is still undecided, an E! News source says that she (black caftans presumably in tow) has fled the city to be with Ashley and a group of friends amid her "heated" divorce from Pierre Olivier Sarkozy. According to the divorce filing, Sarkozy hasn't responded to her requests for more time to move. "It's gotten very ugly between them," a source told E! News, adding that MK's "done with constant drama." Hopefully a sister smoke break can heal a broken heart.
Update, Thursday, May 14, at 8:30 p.m.: Well, it turns out Mary-Kate Olsen will not be receiving the quarantine divorce that she so desires. On Thursday, Manhattan Supreme Court Justice Michael Katz denied Olsen's emergency petition to begin divorce proceedings against Pierre Olivier Sarkozy. According to E! News, a spokesperson for New York courts, Lucian Chalfen, confirmed that the divorce is a no-go, stating that only "essential, emergency" filings are being accepted due to the global pandemic. "The original filing was rejected by the New York County Clerk because they did not follow the essential matter procedure," Chalfen told E! News. "They refiled under the essential matter procedure and the matter was referred to the ex-party State Supreme Court Judge. He just decided that it is not an essential matter so they can't file anything at this point." So, hold off on that bowl of cigarettes you were gonna smoke to celebrate Mary-Kate's divorce because it's not happening anytime soon.
Update, May 25 2020: Mary-Kate Olsen officially filed for divorce from Pierre Olivier Sarkozy on Monday, the first day city courts courts started accepting new non-emergency matrimonial cases after coronavirus prompted major shutdowns in New York State's legal system. The divorce is listed as "contested." Attorney Michael Stutman, past president of the American Academy of Matrimonial Lawyers, New York, explained to Vulture that "contested" divorces mean "the parties have not come to an agreement on any of the major issues in the case," such as distribution of money. Stutman was speaking generally, not about the specifics of this case.