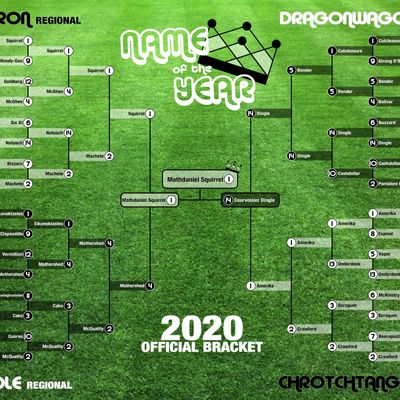 Illustration: Dennis Clark
Name of the Year is a bona fide internet tradition, so when the NOTY High Committee asked Vulture to host the final rounds of the 2020 tournament, we just had to say yes. Today, they crown a new champion.
In club soccer, few achievements are more glorious than the domestic double. Winning a league title and a cup competition in the same season requires chasing two honors at once. Star players are fatigued and injured. Rosters are stretched thin. Youngsters are pressed into service. But should the stars align, the club will provide memories to last a lifetime.
In the midst of the pandemic, Manchester City fans can retire to their flats and relive last year's 6–0 thrashing of Watford in the FA Cup final, which secured the Mancunian outfit's first-ever double. Borussia Dortmund–faithful can travel back to 2012, when a victory over hated rivals Bayern Munich won the DFB-Pokal and brought the double to the Ruhr Valley. Perhaps somewhere, some supporter of AIK is getting hygge in their Stockholm home, recalling the club's 2009 capture of both the Allsvenskan and Svenska Cupen.
English youth football coach Shamus Beaglehole does not appear to have ever won a major trophy on the pitch. But in 2014, he scooped up a different kind of double. He bested 63 other spectacularly named individuals to capture the popular vote in the Name of the Year Tournament. And then we on the NOTY High Committee chose him as our winner, too, making Shamus Beaglehole one of only four names to earn the NOTY double. His rarified company: Vanilla Dong (2007), Taco B.M. Monster (2011), and this year's resounding champion, Mathdaniel Squirrel.
Squirrel first made headlines in January 2019 after his arrest in connection with two carjackings in East Topeka, Kansas. He came to our attention a few months later when, after reading about Squirrel's guilty plea, an astute reader nominated him for the 2020 field. The committee made Mathdaniel Squirrel the No. 1 overall seed. As we noted this week, it's a name that has it all — the portmanteau smushing of either "mathematics" or "Matthew" and "Daniel" on the front end plus a squirrel on the back. It is thoughtful, creative, and downright absurd, all at once.
Squirrel started his tournament run with easy win over soccer ref Kermit Quisenberry. Then he rock 'n' rolled past librarian Hannah Moody-Goo, demystified wide receiver Mystikal McGhee, and hacked through Dr. Reason Machete, who is a mathematician. In the Final Four, Squirrel just said no to onetime college quarterback Kokain Mothershed. His opponent in our championship final was another ex-footballer, Courvoisier Dingle, who rose from a lowly No. 14 seed. It wasn't close. Squirrel's blowout victory cemented him as the people's choice. Mothershed finished third, and Brooklyn librarian Beanbag Amerika — who told us that while he wanted to win, Squirrel was his favorite name in the field — took fourth.
But what about the High Committee? Our results often tell a different story. Last year, the popular vote went to State Department employee Pope Thrower. Our little electoral college chose former Miss Houston Jizyah Shorts. There have been other notable split decisions: Jimbob Ghostkeeper/Salami Blessing in 2018, Boats Botes/Kobe Buffalomeat in 2017, Spaceman Africa/Destiny Frankenstein in 2009. This year, there was no dissent. Squirrel ran away with our voting, too, capturing seven of 13 first-place votes. Beanbag Amerika placed second, college football coach Mickey Mental finished third, and Kokain Mothershed was fourth. Dingle tied for fifth with Curaçaoan soccer player Jimbertson Vapor.
The result may not satisfy everyone — especially the #DingleDudes in our Twitter mentions — but there is no denying the outcome. Highbrow and lowbrow, rhythmic and exaggerated, biblical and rodential: Mathdaniel Squirrel is everyone's champion.
If you spot a potential winning name for 2021, send it our way. And follow us on Twitter.