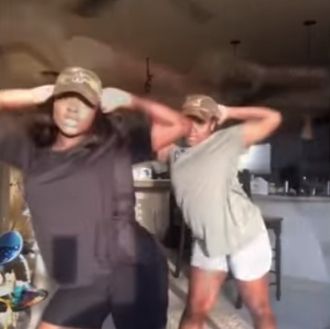 Hips tik tok when I scheme.
Photo: YouTube
All this time indoors has turned the Billboard charts into anybody's game: Drake's breaking records, the Weeknd's staying at the top, Kid Cudi got his first No. 1 song, DaBaby and YoungBoy Never Broke Again both handily got their second No. 1 albums, and this new guy named Bob Dylan even got a No. 1 with a 17-minute song. Amid all this, Megan Thee Stallion sees a way to the top too. After a Beyoncé-featuring remix rocketed her song "Savage" to No. 4 (already her highest chart position yet), she's doubling down with another remix — this time, a clubbier cut featuring Diplo's Major Lazer. Because even though we can't go to clubs right now, Megan knows her fans can still dance. She's compiled the best TikToks from Beyoncé's remix on her YouTube channel, after both it and the original "Savage" became TikTok hits.
Maybe it'll be enough to knock Travis Scott and Kid Cudi off No. 1, but Meg has some competition from a neighbor in the top ten: Doja Cat, who also released a remix of her TikTok hit "Say So" with Nicki Minaj last week. Doja Cat fell one spot from No. 5 to 6 after the remix, and now she's trying to bounce back with a new live-from-quarantine performance of "Say So." Not that any of this is new: Just last year, Lil Nas X kept his record-breaking run at No. 1 alive thanks to countless remixes of "Old Town Road", while Billie Eilish tried — and eventually succeeded — to topple him with a "Bad Guy" remix of her own. Megan and Doja might have a bit more competition, with The Weeknd and Drake also in spitting distance of returning to No. 1. Good luck to all parties in the upcoming chart wars.