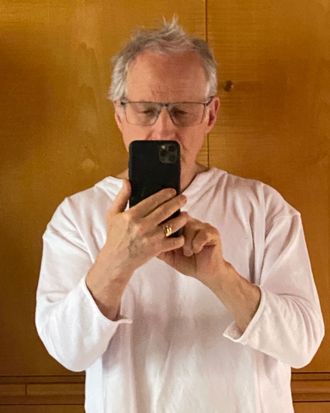 In March, the director left Japan mid-shoot. Now in quarantine in L.A., he's Zooming with grandchildren, marveling at Trump's sociopathy, and reconnecting with Hollywood.
Photo: Courtesy of Michael Mann
I had shot about a third of the Tokyo Vice pilot in Tokyo when we stopped production and everybody returned to the states around March 18–19. It was a shock to return to LAX, because probably 70 percent of the people on the street in Tokyo were wearing masks. Restaurants had taken maybe a 10 percent hit, but that sense of containment — not so much in terms of physical proximity but in terms of hygiene — was much more organized. At LAX, nobody had gloves, nobody had masks — nobody at immigration, or customs, or the Coffee Bean. It was crazy. Whereas at Narita Airport, there wasn't anybody without a mask; they took the precautions seriously. Japan on March 19 looked like Los Angeles does today.
At home, I've been editing remotely some of the scenes we shot, in this strange world of Evercast, which is the remote editing system that everybody's been working on. It's myself and, initially, an editor in Tokyo, and then myself and an editor here. It's a fascinating, fascinating project, and Tokyo is spectacular; I still have an apartment there, so hopefully we'll resume sometime. Working with Ansel Elgort has been fantastic, and I think everybody's excited about the show. I routinely talk to a lot of other filmmakers — like Guillermo del Toro, or David O. Russell, or Alejandro [González Iñárritu] in Mexico City — about when we can start shooting again, what's going on. Everybody's getting in touch with people they haven't talked to for a while, or people they talk to frequently. I know what Daniel Day Lewis is doing in Connecticut.
I go out early in the morning, and we make runs to the grocery store. The mood seems wary. There's slightly more traffic than there was a week ago. I haven't been home this much during the day and night for a long time. It's pretty great that my wife and I get to spend a lot of time together. She's an artist. She spends her time in the studio painting, or sewing masks and baby clothes. We've been together for a long time, and I think it's in crises like this that the nature of a marriage manifests itself — in the outcome of an enforced period of time inside the house together. Our family gets together on Zoom. We've got three grandchildren. My daughter Ami was shooting a two-hour pilot in Spain. She got out on the last plane, and she self-quarantined. She's fine. Her husband, who's a political scientist, and my granddaughter were with us in Japan in February. Another daughter and another granddaughter are home. Another daughter and grandson, whose name is Jack Mann McKinley — Jack Mann is my father's name — are home. So, a lot of kid pictures get circulated on Zoom.
There's been a lot of consuming of media, and staying up very late. I sense that the inventory of current programming is going to get depleted. I've been reading a lot of books, particularly [John] le Carre. I read After Dark by [Haruki] Murakami. The Ballad of a Small Player by Larry Osborne. In a Lonely Place by Dorothy Hughes. A bio on Miles Davis. I also started getting serious about going back and looking at some great films, like That Obscure Object of Desire and The Phantom of Liberty by [Luis] Buñuel, and Hiroshima Mon Amour, by [Alain] Resnais. And Asphalt Jungle by John Huston and Out of the Past by Jacques Tourneur. When was the last time you saw Asphalt Jungle? I have seen it about three times. It's fantastic. It doesn't [get the respect today that it should]. It did at the time. It did pretty well in awards, but that's because John Huston was well connected socially, so people were aware of it. But it's a brilliant, brilliant film. Those performances are staggering: Sam Jaffe, Sterling Hayden, they're all great.
Also watched the insanely great episode five of season three of Amy Sherman Palladino's The Marvelous Mrs. Maisel, with the spectacular Cuban night musical club sequence — one of the best in cinema. I watched Fauda, and all of My Brilliant Friend, the best series on TV, down to the background color of the end credits and Max Richter's score. I also binged Jason Bateman and Andrew Bernstein's Ozark.
The news is unwatchable. Totally unwatchable. But you're sucked into it anyway. The self-serving sociopathy of Trump is in such stunning display. There's a complete disregard for the fate of the working class, lower-middle-class people living in circumstances of close proximity, who are looking at dwindling supplies of food, dwindling opportunities for medical care, dwindling opportunities for employment. There's not the least concern for any of their well-being from Trump and his entire administration, who would just throw them on the fire if it meant a small increase in poll numbers for his prospects in November. What's stunning is the transparency of that, the lack of any pretense. He'll say anything at all — "People should get UV light inside of them," and "maybe take IV Lysol" — if it gets the stock market rising. Historically, you look at 1930s Germany and wonder how public institutions and people can behave in that manner, and you need someone like Hannah Arendt to do meaningful analysis. And yet here we are in the middle of it, living through a different version of the same thing.
My hope is that the underlying anger is so extreme and underestimated that the amount of people who come out to vote for Biden, or basically to vote against Trump, is a tidal wave. That there is an underestimation of the amount of anger out there. We saw a hint of it in Wisconsin. So I'm cautiously optimistic. Trump was never very effective as an executive of any endeavor. When he got elected, I thought that the silver lining in a really bad situation was that he's a terrible executive — a wily conman, but a terrible executive — and that he may not be that good at actually being a politician. But he's clever and smart at how he manipulates the instruments right at his fingertips. The large swath of people leaving government — an entire infrastructure in all kinds of departments, all over Washington — is something that people I know in government (most of whom are Republicans) were alarmed by two years ago. Now, we're seeing the consequences of that, with the sheer failure of organizational competence because of understaffing. So, it's a real bizarre time.
I think that there is no playbook for what's coming next. No matter how things go back together, life is not going to be the same. When was the last time the entire globe was living spontaneously? Where everybody was conscious of the circumstances affecting everybody on the planet, more or less at the same time? The answer is never. The closest you get is 1968, with the massive upheavals going on — whether they were in Prague, or Mexico City, Chicago at the Democratic Convention, Paris in May and June, London on October 27 outside the U.S. Embassy — because of global politics, the youth revolution, the anti-war movement. There was a sense of unified awareness. The difference right now is that it's all happening in real time. It's like a science-fiction movie, you know, where there's a threat to the Planet Vega! You get to Planet Vega, and everybody there is all tuned in to the same channel simultaneously. Well, that's us now; we're all on the same channel simultaneously. Everybody all over the planet, whether they're in Mozambique or Thailand or Taiwan or Detroit, is dealing with the same thing simultaneously and they're doing it all in real time and everything is totally interconnected. That's never happened before.