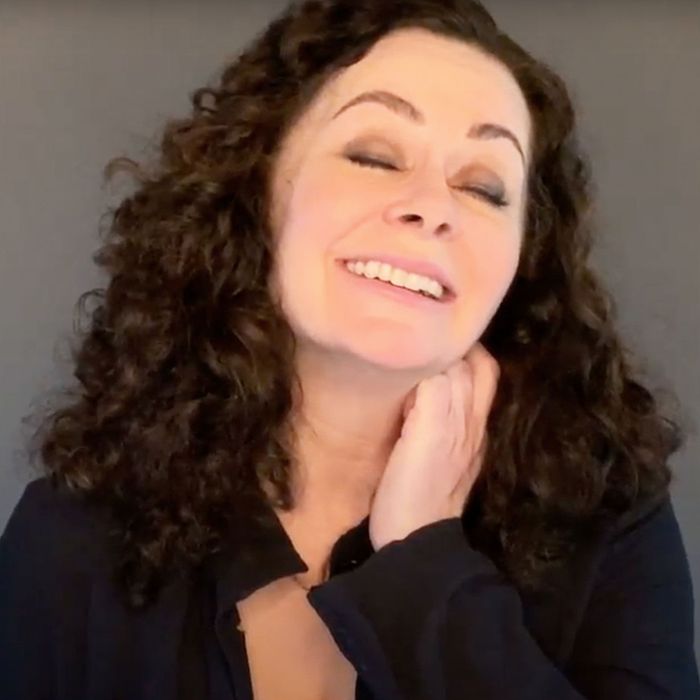 Geraldine Hughes in the Irish Rep's streaming
Molly Sweeney.
Photo: Courtesy of Irish Repertory Theatre
The healthiest digital performances of the past couple of months have been, unsurprisingly, the ones that were first born under normal rehearsal circumstances: Michael Urie reviving Buyer & Cellar, for instance, or the actors in Richard Nelson's online Apple Family sequel What Do We Need To Talk About?, who have been performing together for nearly a decade. We're still in the season's twilight—poised between the full daylight of in-person theater, which ended in mid-March, and whatever dark months are ahead. Chances to see work lit by the pre-shut-down sun are becoming increasingly rare, though. Depending on when ensembles can work together again, the Irish Repertory's revival of Molly Sweeney might be one of the last such live hybrids—developed in person but delivered as onscreen performances—that we see for a while.
You can buy free "tickets" on the Irish Rep website—they play through the 16th—and if you attend one of the livestreams, you'll see something not too aesthetically distant from the static, painterly triptych Brian Friel wrote for the stage. Friel's 1994 talking-heads play translates particularly well to the screen: He wrote it as three interwoven monologues, and characters never speak to each other, nor do they, really, ever connect. Molly (Geraldine Hughes), a blind woman from Donegal, tells us about the cataract surgery that changed her life; her husband Frank (Ciarán O'Reilly) talks about his pushy hopes for her recovery and his own roving, unsatisfied eye; the ambitious surgeon Mr. Rice (Paul O'Brien) tells us that he, in the way of doctors in tragedies, is the one who sees too late. The online production shows us each actor in her own apartment, of course, but there's real care behind the DIY cinematography. In her screen, Hughes stands in a soft-focus midshot, looking beautiful and a little gauzy, just right for a woman whose experience of life blurs. O'Reilly's YouTube window, on the other hand, is sharp-focused and unforgiving. He keeps lunging blearily into frame, which makes us suspect that Frank might also—perhaps when Molly most needs him—lunge away.
Charlotte Moore's production of Molly Sweeney first played at the Rep in 2011, when it was much beloved, and O'Reilly and Hughes are reprising their roles. This long history with the play confers a wonderful solidity—here are actors in confident midstride; they've had their time to play before an audience, to hone their characters in front of rooms full of people. Friel's text itself is a masterpiece: It describes our faculties in a way that makes them seem new and strange, even as we use them. Friel was inspired by Oliver Sacks's To See and Not See, which tracked the experiences of a blind man who regained partial sight after an operation, so the play is full of both Sacks's keen observations about the "construction" of a new sense (and the associated destruction of other structures) and Friel's gorgeous, rueful humanism.
The online play isn't simply a reminder of a good night at the theater. Moore and her cast have developed such a fine and gripping digital production that they have started pushing at the edges of what's properly "theater" and what's theoretically "virtual." Maybe it's because the actors worked on it for so long onstage that you can still sense the volume of a dark room all around them; maybe it's because Friel was already nine-tenths of the way to writing a radio play, so the play both formally and thematically has placed sound over sight. I admit, I often looked away—it's a battle for me to stare fixedly at a screen for hours at a time—but despite that, the play didn't let me go. Occasionally, it even pulled the leash of my attention painfully tight. In one stunning moment, for instance, Molly tells us about the night before her surgery, when she goes wild at a celebration, dancing blind around her house in a sort of tarantella of rage and exultation and farewell. I happened to be looking away as Hughes began describing the dance, and I froze in place to listen. I was afraid to look back—I am sure I didn't breathe.
Even if you miss the few screenings available, you should first give some money to the Irish Rep, and then buy a copy of the play. It would be a good first reading for a quarantine syllabus, I think, primarily because it's a lesson in noticing. Seeing and understanding are its battling forces: One does not necessarily lead to the other. The men, for instance, are sure that Molly doesn't have anything to lose in losing her blindness, since it's a product of disease and damage. But Molly knows her environment best when it consists only of darkness, touch, sound, pressure. It made me think about our own suddenly narrowed worlds, where our usual stimulations have been cut off without warning. I'm not saying I don't yearn to come out of this awful period every moment of every day. But Molly at least persuaded me to notice the gifts of the current darkness—to try to assemble a world out of these new sounds and pressures, and to find understanding in them.