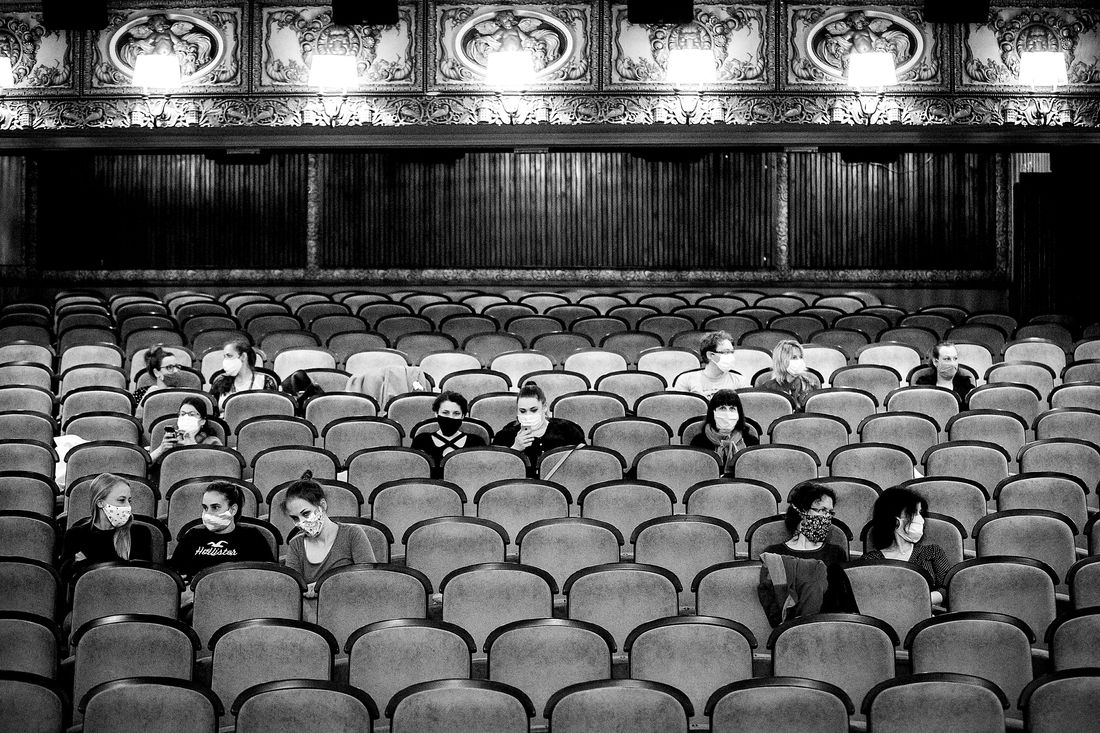 Going to the movies in Prague on May 11.
Photo: Gabriel Kuchta/Getty Images
In the autumn of 1918, as the second wave of the deadly influenza epidemic that had been rampaging across the world reached the U.S., people started staying away from movie theaters. Soon, as more people got sick, local authorities would order them shuttered. In many cases, theater owners would assent to the closure with what one Boston trade organization at the time called "cheerful compliance." Within a few weeks, though, as the epidemic's urgency waned, owners began to get restive. They were losing money and wanted to get back to selling tickets. A few managers were arrested for defying shutdown orders. Gradually, compromises began to emerge: Sometimes theaters were able to get by with alternate-row seating or by making masks available for patrons.
As it turns out, that long ago epidemic changed the movie industry forever. Countless independent theaters across the country, lacking the financial wherewithal to survive the many months of uncertainty, went under. Many were bought out by producer Adolph Zukor, the head of Famous Players-Lasky Corporations, which would eventually become Paramount Pictures. Zukor's efforts would result in the first vertically integrated movie studio, which could produce, distribute, and exhibit its films in its own theaters — thus effectively creating the American studio system. As historian William J. Mann recently put it, in an interview with Deadline.com: "This is when Hollywood is created, this is when all of the structures that would define the American film industry were put into place." Over the next couple of decades, as the fear wrought by the epidemic waned, moviegoing roared back, especially with the coming of sound in 1927, and Hollywood entered its so-called "Golden Age."
Of course, nobody sheltering in place in 1918 had the option of sitting at home and streaming on the sofa. Movie houses were the only place to see movies, and movies were still pretty new and among the few entertainment options available to people. ("I didn't half way begin to realize what it would mean to have no movies — until we had none," wrote one columnist; he tried to remember what he used to do for fun before movies came along, and "couldn't think of a thing but pitching horseshoes.") Today, even before the coronavirus pandemic closed the cinemas, big changes were under way in the industry. The traditional procession of movies through a sacrosanct "theatrical window" — when you have to get off the sofa and go to the multiplex and buy a ticket to see it — has been under pressure from the rise of vertically integrated streaming giants trying to rush their films onto new platforms. In the wake of this pandemic, are movie theaters, having long since lost their essential place in our culture, going to become relics of the past?
Probably not. People are desperate to get out of the house, get their kids out of the house, and get back to normal. "When this lifts, none of us are ever going to want to be anywhere close to our couch or our TV ever again," predicts Richard Rushfield, who runs the popular film-industry newsletter The Ankler. "Our couch is going to have associations for us of this awful time." One recent survey found that almost three out of four Americans said they missed going to movie theaters — which is significantly higher than the percentage of Americans who regularly went in the before times. New York Times film critic Manohla Dargis spoke for many of us when she wrote, "When at last we can go out again and be with one another, I hope that we flood cinemas, watching every single movie, from the most rarefied art film to the silliest Hollywood offering."
Of course, some people never stopped going: Even though the vast majority of the country's 300-plus drive-ins had to close because of the pandemic, those that remained open saw a surge in attendance (and several weeks ago, we were treated to the surreal news that the entire weekend box-office report came from one drive-in in Ocala, Florida, which was still open.)
But just because you have a combination of nostalgia and cabin fever doesn't mean you will go back if you are convinced it's risky. On March 23, still early in America's shutdown, some saw hope in the news that around 500 Chinese movie theaters, tens of thousands of which had closed in January, were cautiously opening again. A few days later, however, all those theaters were forced to shut down again, likely due to fears of a second wave of infections. Around this time, rumors flew that AMC Entertainment, owner of America's largest theater chain, was considering bankruptcy; the company even furloughed its own CEO as shutdowns exacerbated preexisting debt issues.
And so, it might soon be too late to easily fire up the popcorn poppers and turn down the lights and expect everything to return to normal, like so much of the economy on pause. Even the best-managed cinema can't survive not selling tickets for much longer. "We were fortunate that we had some cash reserves, and we're always trying to prepare for the worst," says Brock Bagby, vice-president of B&B Theatres, which has been in his family for nearly a century and now operates more than 400 screens across the Midwest and the South. "But you can't prepare to be closed for 90 days. No business prepares for that. Even with a hurricane, we're closed for two or three days, a week max. We're running out of cash quickly, as I'm sure everyone else is." He says that the company has been "talking to every bank and every landlord, every top vendor, working diligently to try to make a deal so that we can defer or figure out a payment plan so that we can survive this. We're trying to be good partners, but there may come a point where we say, 'Here's the keys if you want them,' because we don't have a choice."
When the reopening orders do come — and thanks to political and economic pressures, if not always expert public-health advice, they are coming — will too many people be too skittish to fill the seats? Will social-distancing regulations render it impossible to make money with partly filled theaters? What if there's a second wave and a second lockdown? "Movie theaters are one thing; what happens to this country if we are shut down and can't live our public lives for six months?" says Patrick Corcoran, vice-president of the National Association of Theater Owners. "I've got a good imagination, but it's not that good. I honestly can't tell you what happens."
The percentage of Americans who go to the cinema on a regular basis has been generally declining since the 1940s. That roughly coincides with the rise of television as a mass medium. Next came cable, then home video, then streaming. Yet theaters adapted, offering choices with multiplexes and better picture, sound, 3-D, Imax, and stadium seating, usually at ever-higher prices. In recent years, many went into full-service food and drinks — the Alamo and Nitehawk model. Others refitted with recliners. Some did both. As going to the movies has become more of a special event, the film industry has responded by making more expensive, special-event-worthy movies. The result? Theaters remain an $18 billion industry that is used to attracting more than 20 million people weekly in the U.S. and Canada.
That was before this pandemic. Windowless rooms full of strangers, some of whom might be sick and not know it, expelling viral droplets for two hours, their hands on grimy armrests, might never seem the same again. And those theaters that are also restaurants and bars have additional challenges from a public-health perspective. And the ones that rely on underpaid, unskilled workers might have trouble convincing patrons that the auditoriums are being cleaned and disinfected properly.
Dr. Thomas Russo, professor and chief of infectious disease at the Jacobs School of Medicine and Biomedical Sciences at the University at Buffalo, suggests that theaters see the experience of their customers as a series of distinct stages that will have to be carefully managed: "First, for people getting into the theater, there needs to be appropriate spacing," he says, in a way similar to how grocery stores have been operating during the pandemic. "Two, everyone should wear masks — people who are selling the tickets and the people going into the theater. Three, no food or drinks, because to eat or drink, you have to take off your mask. Then, in the theater, you'll want to separate people with the maximum distance, with staggered seating. Then, when they exit the theater, you want them to leave in some sort of orderly fashion so it's not a herd that clusters at the exit."
And assuring us of our safety may well come at a cost. Consider: A small handful of screens in Texas did open in early May with reduced prices, seating at 25 percent capacity, plexiglass guards, and masked greeters peppering customers with questions about their health. The CEO of Santikos Entertainment, a chain that reopened three of its theaters, admitted that the company wasn't really making any money off this endeavor; it was just giving people a place to go. The Austin-based Alamo Drafthouse did not reopen, but it has reportedly surveyed some of its customers about what kinds of new policies they might want. Among the options offered as a choice in the survey: a "no coughing or sneezing" policy, which doesn't seem particularly easy to enforce.
This could be another example of the new normal. In South Korea, a country that didn't take nearly the drastic lockdown measures the U.S. did (mainly because it was able to do widespread testing and isolating early on, which we certainly did not), movie-theater attendance has started to crawl back. Many theaters in the country are now operating with staggered seating, masks, temperature checks, technological developments such as AI voice recognition that lets you buy tickets and concessions with zero human contact, and even, as Screen Daily described it, "self-driving robots … to give screening schedule info and escort customers to restrooms."
Recently, Australia's movie-theater operators suggested that their cinemas may open in July, with Christopher Nolan's Tenet as, potentially, the one big blockbuster that compels audiences to return. And seen as a pure math problem, the numbers aren't as distressing as they might at first seem: As The Hollywood Reporter recently noted, "It wasn't unusual for 50 percent of seats at U.S. theaters to remain empty on the weekends without dampening business overall." During weekdays, that number is closer to 75 percent. In other words, with staggered showtimes and staggered seating, movie theaters could potentially make the kinds of numbers they're used to.
Still, that may prove difficult if population centers like Los Angeles and New York continue under stay-at-home orders. Even in the states that are already slowly reopening, theater owners have been careful. The vast majority of the cinemas in places like Georgia and Texas are closed. The National Association of Theatre Owners has been clear about following the advice of public-health officials. "They shouldn't be opening up the movie theaters until there truly is a tremendous decrease in COVID in the area and all other parts of society are really opened up as well," says Dr. Aaron Glatt, chair of medicine at Mount Sinai South Nassau and the spokesperson for the Infectious Diseases Society of America.
"Studios are not going to release movies until they believe they're going to get the most bang for their buck," says Brandt Gully, the owner of the Springs Cinema & Taphouse in Atlanta, who also works as a financial adviser to other theaters across the country. (Gully waited several weeks after Georgia's reopening in late April to reopen his doors. His theater recently began operating under strict social-distancing guidelines, with reduced capacity, "buffer seats" between parties in auditoriums, as well as employee screenings and a variety of other sanitary measures.) Distributors will also want to make sure that it's completely safe: "They can't have a massive release that they have so much invested in and then the second wave of a pandemic hits a couple of days later," says Gully. "They'll really want to wait until the smoke has officially cleared."
Until then, the entire economic model of the movie business, and its system of contractual relations, is up in the air. Big movies like Black Widow, Candyman, and No Time to Die were delayed until the fall, but what if there is no fall? The pandemic has intensified the ongoing war between theatrical exhibition and streaming or video on demand. Recently, Universal (owned by the cable company Comcast) announced that Trolls World Tour, the rare major-studio film that didn't postpone its release, would go straight to on demand. Universal hadn't consulted with theaters, and a fight soon flared between the studio and the exhibitors, with AMC vowing not to show any Universal films when theaters open back up. The studio has touted the release as a huge success: Trolls World Tour made $95 million on demand in its first three weeks, and because Universal keeps a lot more of that money (since it doesn't have to share it with theaters), the profit reportedly surpassed what the original Trolls made during its domestic theatrical run. That doesn't necessarily mean Universal will make more money off this movie, however, since its ancillary markets are now exhausted and a sudden resurgence of interest in Trolls World Tour to drive another round of on-demand rentals seems unlikely. Disney and Warner Bros. have followed suit with two of their own major releases — Artemis Fowl, which will go straight to Disney+, and Scoob!, which premiered on demand in mid-May.
Perhaps these decisions say more about how those studios see the likely box office for such movies than they do about the state of the theatrical industry; as always, a straight-to-video release makes it easier to bury your flops. Disney and Warner's biggest bets — such as Mulan and Wonder Woman 1984 — have been moved to later dates to open in theaters. That's because megablockbusters, the kinds of movies studios spend hundreds of millions of dollars making and marketing, need theatrical releases to break even. "At the end of the day, you can go back and look at streaming and DVD sales, including hotels and TBS, TNT, all of that, and when you add all that up, they've always made money in the theater, more profit," says Bagby of B&B Theatres.
The theatrical-release window has been shrinking in recent years, but theater owners are determined to preserve it. They have a strong ally in many filmmakers, who want their work seen in the best and most remunerative possible conditions. But if that auditorium can now only be 25 or even 50 percent full, and if those people are all wearing masks, and they all pass a tense, TSA-style interrogation to even get into the building, and they're all afraid to sneeze or cough, or, for that matter, laugh or cry … well, needless to say, that doesn't sound like an ideal, relaxing viewing experience at all, no matter how much many of us are hankering to return to movie theaters and how sick we are of our couches.
Historically speaking, this is nothing new for movie theaters. "The movie theater has always been in such a precarious position between vice and virtue, and between health and disease," says Jocelyn Szczepaniak-Gillece, a professor of film history at the University of Wisconsin-Milwaukee and the author of The Optical Vacuum. In the 1910s, when air conditioning was introduced in movie houses, it was promoted as a health tonic, as a way of "covering up an underlying fear of a space of public intimacy as a vector of disease. It's really the movie-theater owners trying to tell the attendees, 'Don't worry, you'll be safe here.' "
In some weird way, this is all a part of the movie theater's mystery. Live theater thrives on the unpredictability and impermanence of what's happening onstage; the performers operate in an aura of both power and vulnerability. In movie theaters, that sense of vulnerability is transferred to the audience. That is some of the source of cinema's wonder, and it's also the source of, historically, some of its fear. Such fears, Szczepaniak-Gillece notes, are "consistent throughout the history of moviegoing, whether it's Will we be safe from marauding immigrants?, Will women get raped in the movie theater?, Will children see something they shouldn't see?, or, later, Will we fucking get shot?"
"Any predictions that consumers make today, during the crisis, about their behavior when the crisis ends need to be interpreted with caution," says Ravi Dhar, a professor of psychology, marketing, and management at Yale University, noting what he calls the "intent-behavior gap." It's understandable, he says, for people "to say that they will be more likely to go out as being locked in increases the desire. However, the actual behavior depends not on what they feel and think today but what they will feel and think at a future time, when the crisis ends."
And it seems increasingly clear that there isn't going to be a Victory Over Coronavirus Day, after which we will all empty into the streets, hugging strangers and crowding into mosh pits and movie theaters to joyously fling popcorn around and watch something that isn't Tiger King. The end of this thing — if indeed an end ever comes — will be messy, and protracted, and uncertain. And that will be a death sentence for any business that isn't prepared for the long haul or is unable to adapt.
Which brings us back to Adolph Zukor and all those struggling theaters he bought up. That era of vertical integration that Zukor inaugurated lasted until 1948, when the major studios were forced to give up their theaters in a landmark Supreme Court antitrust ruling. Throughout the late 1950s and '60s, the studio system gradually declined, besieged by independent films, foreign films, and alternative modes of distribution. (For film buffs, this turned out to be mostly a good thing. For the studios, not so much. For Old Hollywood, it was the end, no matter how many hippies Leonardo DiCaprio and Brad Pitt killed in Quentin Tarantino's dreams.)
In recent years, however, there have been steps taken to make such vertical integration possible again. The Trump Justice Department has made it clear that they think the so-called "Paramount decrees" are outdated and should be terminated. Netflix leased a movie theater just last year. Rumors spread recently that Amazon was considering buying the beleaguered AMC chain. It's not hard to imagine a world where these massive companies and others scoop up theaters and redefine the exhibition landscape, obliterating release windows and basically using cinemas as giant advertisements for their higher-profile releases. Or maybe they'll see a collapsing industry and bypass it altogether.
Either way, it will likely be a long road back for many of America's movie theaters, and there's a good chance that the exhibition landscape — involving everything from release windows, to the types of movies that can afford to come out in cinemas, to what defines "a hit" — will look very different on the other side of the pandemic. And the experience itself may well be different, too, even after the days of social distancing are over. Lynda Obst, the producer of films like Interstellar, Sleepless in Seattle, and The Fisher King, puts it this way: "I'm not a public-health official by a long stretch, but I know that we feel better going into places that seem to be self-caring when caring for us. I mean, the fact that theaters are in the dark makes them scarier, right? So I think people will have to enter the theater when they're bright, and the place has to look superclean. They're going to need to be white, and sanitary, and fun-looking, and upbeat."
And if cinemas do wind up going away, we will have lost more than just the chance to see Bad Boys for Life on a big screen. "There is something that happens when a bunch of people go sit in a dark room together and watch something. It means that we're kind of thinking together at the same time. It means that we're experiencing something together," says Szczepaniak-Gillece. "Moviegoing is a valuable social practice and something that can teach us about empathy and kindness to one another by immersing us in somebody else's perspective for a couple of hours. When being in public together becomes impossible, the other things that become impossible include working together and reaching across borders to experience something together."
*This article appears in the May 25, 2020, issue of New York Magazine. Subscribe Now!