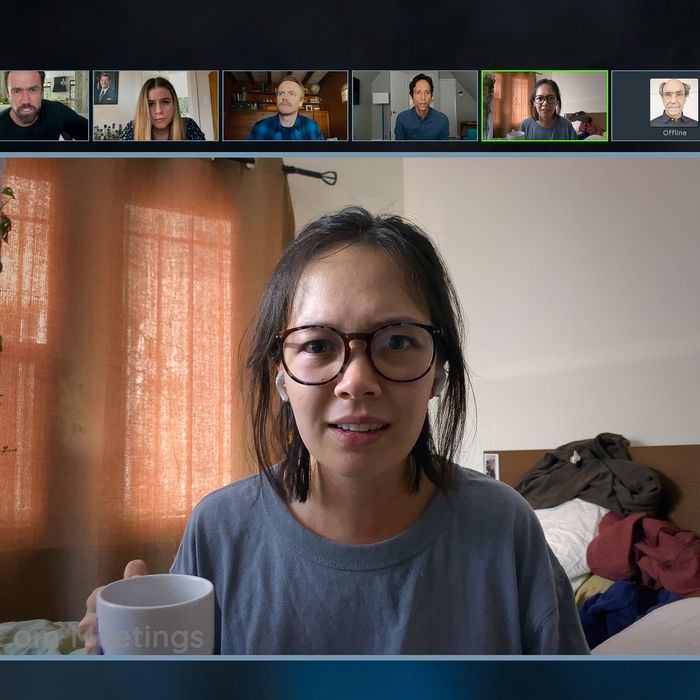 In the midst of a pandemic, with everyone separated for their own good, life continues online, whether that's in remote video meetings, playing video games, or in remote video meetings about playing video games. The characters in Apple TV+'s workplace comedy Mythic Quest: Raven's Banquet are spending most of their time in quarantine in just those kinds of meetings, which occupy most of the show's special remotely filmed episode, released last Friday. In the episode, the Mythic Quest team struggle to manage their massive multiplayer online role-playing game at a distance, while also going through their own personal crises. "We wanted to tell a story that was authentic to the experiences that people are going through right now," creator and star Rob McElhenney told Vulture over the phone. "And also, we didn't want to do 30 minutes of Zoom jokes."
The idea
Mythic Quest was in production on its second season when the world shut down, and as McElhenney explains it, the initial idea to do a quarantine episode was "just to get people back to work." "Most people in the industry are working-class craftspeople who are living month to month, if not paycheck to paycheck," he said "Shutting down for an indefinite amount of time, when there are options out there for us, did not seem ethically appropriate."
McElhenney met with co-creator Megan Ganz and executive producer and co-star David Hornsby over Zoom, and they decided they would try to shoot something in quarantine, but only if they could do it without lowering their standards. "We wanted make sure we didn't have to apologize for the quality," McElhenney said, both in terms of coming up with story lines that felt both funny and emotionally honest enough to be "respectful" to the suffering that people are going through, and in terms of the actual audio and video quality. "We want people to look back to this on the platform in five years and think that they made this in the studio," he said. They also worked quickly: "From the time we conceived of it till delivery was three weeks."
The tech
If you're making a show for Apple TV+, there's the added benefit of getting all the Apple tech you want. On a conference call with "the people in Cupertino," McElhenney said, he suggested that each member of the cast would need three iPhones each to film their scenes. They'd shoot with one phone, then sterilize it and put it in a secure area outside their apartment or home, where it'd be picked up by a courier, brought to an editor, sterilized again, uploaded to Avid editing software, and then sent back to the actor. By cycling through cameras continuously, while also editing the episode together, the work could be done much faster. "I said, 'If it's possible to get 40 iPhones and 20 sets of AirPods, could you have them to us by the end of the week?'" McElhenney said. "There was a rep on the phone, and she said she'd already tracked them down, and would have them sent to my house by 5 o'clock."
Once they had the hardware on hand, the Mythic Quest team had the actors install prosumer-grade filming apps on the phones, including FilmicPro (the video software recommended by Mythic Quest cinematographer Mike Berlucchi) and MOTIV (for audio recording), and sent them all external Shure mics. They consulted remotely with the actors over FaceTime or Zoom to location scout within their own houses. "We would walk around the house and figure out where's the best place to set the cameras, where's the best place for sound, and what's the best time of day, because we're using natural light," McElhenney said.
How do you film a video call?
Instead of filming each piece of the episode's video-chat scenes separately, the Mythic Quest team had everyone on each call at the same time, with crew members standing by to do their jobs remotely. "Any actor that was in the scene was on the Zoom call, and then we would have the rest of the crew — 40 or so at any given time — also on the call," he said. Each actor would record their video with the camera facing themselves on their phone, while McElhenney would call shots over the group call. "They would set up the phone over their laptop's camera, so they can't see anything, they're just looking into a lens," he said. "But I'm able to see them, I can communicate with them through my AirPods, and we're all able to hear each other."
The hair and makeup, wardrobe, and set-decorating teams also offered suggestions to the actors on what they could use from their homes, and would consult remotely on how to re-create each character's look. "We wanted to mitigate against sending anything to and from people's houses as much as we could," McElhenney explained. "Luckily enough, it's not Game of Thrones, we all dress somewhat similarly to our characters."
In some cases, the cast already had perfect settings in their own homes. McElhenney's house, with a hot tub and home gym, doubles as the spacious compound where his egotistical Mythic Quest creator Ian is complaining about losing his mind. "I see people on Twitter on Instagram, some of whom I know, complaining about how to clean their toilet for the first time in ten years, or make themselves a tuna fish sandwich," he said. "There's a certain level of tone-deafness that we're all collectively seeing. My character would have absolutely zero regard or understanding of what people are going through."
Once each individual piece of a video chat was filmed, Mythic Quest's visual effects supervisor Chris Stewart worked to tie everything together as it appears onscreen. "He built most of the graphics that you see from his house, with the support of the production staff," McElhenney said.
Throughout a lot of the episode, Charlotte Nicdao's character Poppy is spiraling in isolation, giving herself more and more work to do so she ignores her own loneliness, up until the dramatic moment when Ian decides to leave his compound and come to her rescue. McElhenney and Nicdao didn't have any in-person contact themselves — "When she hugs that person and slobbers all over him with her tears and mucus, that's not me. That is Bayden, Charlotte's husband, with a little help from special effects" — but McElhenney felt that it was important to have Ian be there in person for Poppy in that moment, even if it's risky to do so. To him, it tied back to the idea of wanting to dig deeper into the mental states of what people have gone through in quarantine than other TV episodes have done so far.
"We really wrestled with, 'Are we being as socially responsible as we should be?'" McElhenney said. "We're saying that physical health is of paramount important, but that it should not supercede mental health. If you have somebody who is in distress and despair and is alone, and you actually feel the same way, and you can bring someone back from the brink of a breakdown or worse, then we should be taking those opportunities to do so."
How do you simulate community at a distance?
On the lighter side of togetherness, the episode ends with the Mythic Quest team making an elaborate Rube Goldberg machine that runs across their whole Zoom chat. "We liked the idea of thematically presenting the story of people having to work together for a common goal, and if there's just one missing link in that chain, it screws it up for everybody," McElhenney said. The hard part was actually making it happen: The production team had to build each individual piece of the Rube Goldberg machine, shoot test videos so the actors could see how their piece worked, then sterilize the pieces and send them to the actors, who would then sterilize them again, set up them up, and film them in progress remotely "10, 20, or 30 times."
The Rube Goldberg sequence hits its climax when F. Murray Abraham's character, a cranky sci-fi novelist named C.W. Longbottom, joins the Zoom call at the very last second, after spending most of the episode either accidentally muting himself or turning off his webcam. Abraham happened to have a collection of books he'd bought at an estate sale that belonged to Marlon Brando, which he ended up using for his portion of the machine.
"I've seen that sequence 15,000 times, and I still get excited when [F. Murray Abraham's character] C.W. pops up. It's the characters, but it's also the crew of people that I'd worked with that gave each other everything to get it done," McElhenney said. "It was by far the hardest production I've ever been a part of. But I will say it's the episode of television of which I'm most proud, of any show I've ever done."
Is there more Zoom TV in the future?
Given the uncertain future of, well, everything regarding to the pandemic, Hollywood's lockdown could extend for a while. Does McElhenney see a future full of remote episodes like this one? "It absolutely sparked a lot of ideas in terms of how we can keep certain aspects of the town working. I am trying to figure that out," he said. "In terms of returning to normal studio shooting, that shouldn't be in the hands of television writers and actors. That should be in the hands of medical professionals. I'm listening to the scientists. I respect the scientists. When we get the okay, we can start talking about what those protocols are. In the meantime, I think we're just spinning our wheels and just coming up with plans that ultimately are going to be dictated by the disease itself."
What about making another Mythic Quest remote episode, or something like it? "If we knew that it was just going to be a month or two, I think we could wait," he said. "But if we really are talking about a scenario where we can't get back onto the stages for six more months, then I think we have to figure out a way to do it. There's enough creativity in this town, and people who have the ability to execute the things that we need."