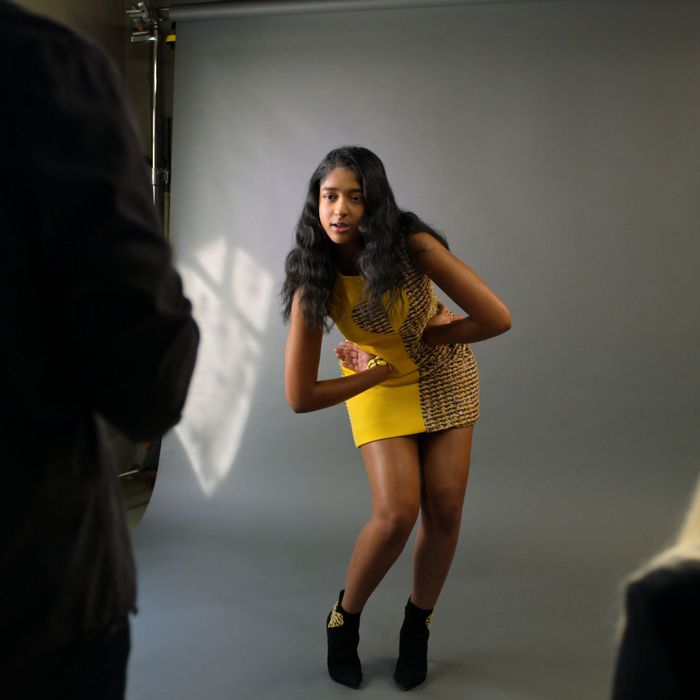 I'll admit I didn't really see Devi's love life unfolding the way it does in this episode. Ben's episode really makes it feel like we're gearing up for a Ben/Devi rivals turned romance story, and while it's not entirely off the table, it's shot down for now. It speaks to the efficacy of placing us in Ben's perspective that it seemed like something that might happen, because I think Ben really did think it would. But Devi rejects him not once but twice. And at the end of the episode, she finally gets her long-awaited kiss with Paxton, another thing that genuinely surprised me. Never Have I Ever doesn't always subvert expectations, but the times it does stand out. It messes with rom-com tropes instead of merely replicating them.
We pick up with Devi's choice to help Paxton instead of helping Eleanor. In her mind, she can do both, but it's clear where her priorities lie. She's still hyperfocused on Paxton, but he's not even the one who needs her help; his sister Becca does. She's applying to fashion school and needs a last-minute model to show off her collection. So Devi steps in, and while it's nice to help someone out, it is absolutely not an emergency situation. She should be with her friends instead of having an America's Next Top Model moment. (Devi's love of pop culture is a fun and consistent part of her personality.)
She should be with her friends because Eleanor is completely unraveling. Ramona Young brings a lot of humor to the role of Eleanor, especially in her most theater-kid moments, like when Eleanor announces that she has done her last impression and then proceeds to do another impression. Eleanor dramatically decides to leave drama behind, which is funny and fitting. She swaps out her colorful clothing for plain, beige clothes. She quits the play.
And then she and Fab decide to take a friendship break from Devi. It has all the emotional stakes and tension of a romantic breakup, altering Devi's life right away. She does what she does best: suppresses her real feelings. In therapy, Dr. Ryan tries hard to get Devi to admit that she is scared of losing her friends, connecting it back to the loss of her father (Dr. Ryan is a rare TV therapist who is actually pretty good). But it backfires. Devi lashes out at Dr. Ryan and says she doesn't want to see her anymore. Devi keeps pushing people out of her life. Soon, she might not have anyone.
Devi does have a breakthrough in her relationship with Kamala when she walks in on her cousin making out with Steve. Kamala isn't the perfect good girl Devi thought she was (and resented her for being). She has a secret, and things are coming to a head for Kamala since Prashant will soon be visiting. Like Young, Richa Moorjani also brings a lot of specific humor to her character. Her timing is particularly good. "It's more of a line with a dot if you're really going to graph it," Kamala says when Devi accuses her of being in a love triangle. Nerd jokes!
Devi seizes the opportunity to blackmail her cousin into letting her go to Ben's birthday party. Unsurprisingly, Ben's birthday is a sad affair. His parents abandon him for it and feebly offer to stay instead of going to the Caribbean with 2 Chainz, but Ben lets them go and accepts his dad's offer of $1,000 of petty cash. They're the ones who pressure him to have a party, and he does, partially so he can impress Devi after he gets jealous of Paxton showing the photo-shoot pictures of her in class. In his big, fancy house, Ben ends up surrounded by people who don't even like him that much and only seems to connect with Devi. But she isn't on the same page, and it makes for a much more interesting story that she turns him down.
A lot of the conflict on Never Have I Ever has been pressure-cooking for a while now, especially this detailed and fraught buildup to an explosion of the central friendships. Devi has been treating her friends badly for a while now, and when she tries to stop Fab from drinking punch that Trent stuck his balls in, she might be technically trying to do the right thing, but it still blows up in her face. She ruins Fab's suit, and it's the last straw. Fab's sick of being sucked into her drama. She's sick of Devi being selfish. The scene has a Booksmart-climax friendship-fight vibe to it. Fab's outburst is intense, emotional, and convincing, and all the pieces of the buildup fit together. She gets so swept up in calling out Devi that she even inadvertently outs herself to the whole class, which leads to a very sweet scene between her and Eve, who calls her brave and says that she came out by getting stoned and tweeting "me gay now."
Rather than remorse, Devi meets the accusations against her with, you guessed it, anger. Devi's two main emotions are anger and denial, and they go hand in hand. She'd rather make things more difficult for herself than just admit that she's wrong. She only really cares about one thing: Paxton. Because Paxton remains outside of the orbit of her father's death. He doesn't remind her of it. He is a pure escape. Longing for Paxton doesn't require any real emotional intimacy or honesty. Maintaining relationships is hard, and Devi would rather pretend that she doesn't care about her friends than try to mend the hurt.
And the very end of the episode makes it clear exactly why that might be. Devi gets her big movie kiss with Paxton, and he's even the one to initiate it. But she comes home to the ghost of her father, flashing back to his death. The jarring final scene does a few things at once. It's yet another reminder that Devi has little control over how her mind processes trauma; these flashbacks always burst in uninvited no matter how much she tries to suppress them. Paxton might be an escape for her, but it's a Band-Aid solution. And the Band-Aid gets ripped off after their kiss. Hyperfixation won't stop her brain from letting these memories in — no matter how hard she tries.
We also get a snippet that we haven't seen before in this set of flashbacks: Devi telling her father that she hates him. Up until this point, all of the flashbacks to Mohan from Devi's point of view have been sweet. They were close. They had a good relationship. But no relationship is perfect, and this flashback lets in some of the mess. Devi clearly fought with her dad before he died and feels guilty about it, yet another reason to suppress what she's really feeling. This also helps contextualize why she's pushing her friends away. Devi doesn't want to do the hard work that meaningful relationships require. She's too afraid of that vulnerability.