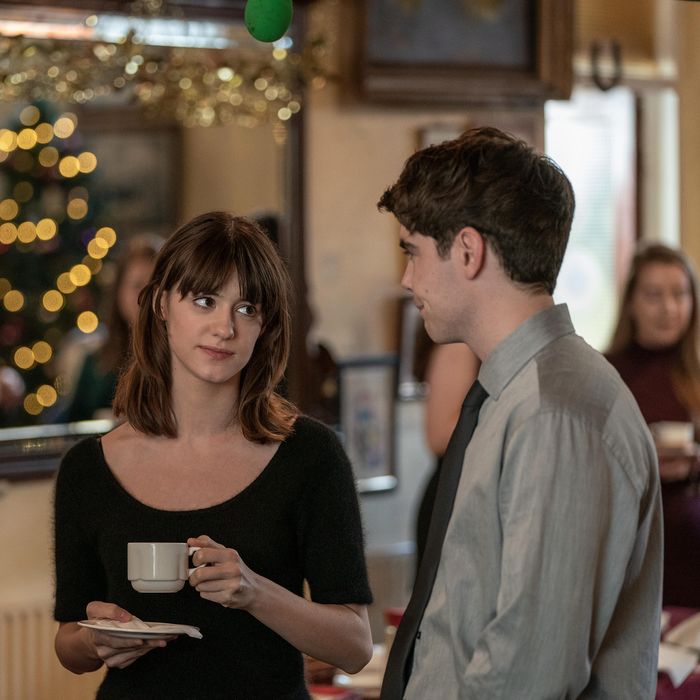 In another interesting deviation from the book, Connell is not just going to therapy but is actually getting something out of therapy. I, for one, think this is great! Everyone on this show should be in therapy. Niall, the allotted one (1) decent human being in Connell's friend network (Marianne's is Joanna), suggested it, when two months out from a massive trauma Connell was still not sleeping or feeling well.
Rob, Connell's friend from high school who never left their hometown, killed himself on New Year's Eve. Though Connell was home for the holidays, it doesn't seem like the two got together, and at midnight Connell was kissing Helen, who walked home later in this soft pink hat to further establish her brand as Not Marianne.
Over the course of the episode, in the spare but warm office of this therapist, Connell starts to peel back the layers of his misery. Though this bout of deep pain and sorrow was set off by Rob's death, Connell admits that he has not been happy, really, since leaving home and getting to Trinity; that he is lonelier than ever and yearns for this time and place in his life to which he knows he can never return; that he thought college would make everything better and bring him around "like-minded people" but instead he has met almost no one he can talk to or even really like. (I do wonder, what ever happened to those friends Niall had over, the first night Connell started socializing? Marianne ran in an insufferable rich-kid crowd that was never going to accept Connell as one of their own, but they aren't the only students at Trinity. But I guess to Connell the orbit around Marianne is the only one worth occupying.)
Connell brings Helen home for the funeral, not really because he wants to, which becomes extremely apparent from the jump. He doesn't introduce her to anyone. He doesn't refer to her as his "girlfriend." As they walk into church I must note I am finding the score in this episode kind of excessive. Don't know that we really need this level of dramatic sad piano to get the vibe. It's a funeral for a 21-year-old; pretty sure we know it's tragic.
When Connell sees Marianne he blurts out her name and drops Helen's arm like he wishes she didn't exist. They wrap themselves in a deep, closed-eyes hug that almost makes my arms ache. (COVID life, week six: I miss people so much!!) I know this is inappropriate but I laughed a little bit when Helen went over to tap Connell out of the hug and then, like, barnacle herself to his arm with her entire body.
That night, trapped in Connell's twin bed, Helen asks why Connell behaved like he didn't want her to be there. And I mean, I see her totally valid points but also … maybe the night of his friend's funeral is not the time? "If you didn't want me to come, you shouldn't have asked me," she says, to which he replies, "I'm sorry I asked you then." Ooof, I'm sure that's just the answer she was looking for. This is an interesting fight because they are both right, but also Connell is being willfully obtuse about her obviously legitimate concerns regarding his "friendship" with Marianne. This is the place their fights always go. Of course it is. Helen wants to know why Connell is "weird" around Marianne, but Connell insists that is his "normal" personality, which would suggest he is his weird, untrue self around Helen. I'm sure they'll both be getting a grand night's sleep hating each other in that twin bed.
In the weeks that follow, Connell sits by himself in class. Sounds swirl and screech in his brain. Helen breaks up with him. Which is fair! Again with the timing, but all her points are valid and Connell can't even muster the strength to fight her on it, or get out of bed to look her in the eye while she graciously frees him from a relationship his heart was never really in.
Over Skype, Marianne says she is sorry to hear they broke up. OKAY. Connell needs to sleep so Marianne tells him to just bring the laptop to bed and she'll watch him sleep on Skype. Yup, just a super appropriate friendship with boundaries! Connell does not know how to describe Marianne to his therapist but he does infuse the words "we went to school together" with that intense power of "we dug coal together." THIS is when we finally learn Marianne is only away for a year, which is information I could've used an episode and a half ago, but here we are.
Pretty much all my stars for this episode's review go to Paul Mescal's performance as Connell has a breakdown explaining to his therapist — and really says out loud to anyone for the first time — how disappointed he is in how his life is turning out. Sobbing, he says he came to Trinity "thinking I could have a different life. But I hate it here. And I can never go back because those friendships are gone and Rob is gone and I can't see him again. I can't get that life back."
Connell walks out and it does seem a little brighter outside, no? He is taking some deep breaths and telling Marianne on Skype about how he went to therapy. She is supportive and admits to petty rage at the performative grief of their classmates who are writing messages on Rob's Facebook wall. Hearing about this makes Connell smile for the first and only time this episode.
Want to stream Normal People? You can sign up for Hulu Live here, or as part of a Disney+ bundle here. (If you subscribe to a service through our links, Vulture may earn an affiliate commission.)