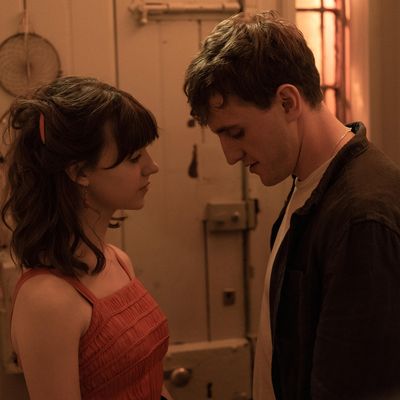 We have reached what I think is the toughest point in our story, made somewhat tougher by this episode's insistence on bopping about in time and not making it entirely clear when we are moving forward or backward or what. I think your ability to stay invested in Marianne and Connell's relationship — and, by extension, the back half of the series — depends on how you feel about this one scene, in which Connell and Marianne accidentally break up with each other.
What Connell wants is to be Marianne's boyfriend and to stay with her for the summer, seeing as he can't pay rent while the restaurant is closed. What Marianne wants is to be Connell's girlfriend and for him to stay here for the summer. But what Connell says is that he won't be at Trinity for the summer and Niall is subletting his room, and what Marianne says is, "So you're going home then," which Connell takes as an order rather than a misguided assumption, so he in turn takes this massive leap to, "I guess you'll be wanting to see other people," and she says, "I guess so." And here we are: two miserable people who want to be together who just … aren't … for no real reason.
So: Does this check out because Connell and Marianne are very young, insecure people fumbling their way through life? Is it totally plausible that two teenagers would botch their nascent relationship in this way? (It reminds me of this great review of Normal People the book, which called Sally Rooney "the laureate of interpersonal miscommunication.") Or is this an extremely frustrating non-conversation between two people who are in love with each other and are somehow incapable of articulating extremely basic wants and needs? I mean, they're young, but they're not THAT young.
I think part of what makes this more frustrating than it should be is that, as Marianne and Connell fail to communicate clearly with each other, this show fails to communicate clearly with us. Consider: We don't really know how far away their hometown is from Trinity. We know, though, that it's a bus or car ride away, not a flight. We know that Marianne and Connell both have made the trip for weekend visits. So on the outside, it's gotta be, what, three hours? Mayyybe four, if we're allowing for traffic? And this separation is just for the summer? So why do we have to go straight to the nuclear option, even IF we are going to accept this idea of Connell not bunking with Marianne for the summer? Couldn't they just see each other on weekends for the ~9 weeks between the end of the spring semester and the start of fall? WHY DO THESE CHILDREN MAKE EVERYTHING SO HARD FOR THEMSELVES AND BY EXTENSION FOR ME, THE RECAPPER TASKED WITH MAKING SENSE OF THEIR NONSENSE?
So Connell goes home, and that teacher who was always inappropriately flirting with him runs into him at a club, makes out with him, grabs his dick through his pants — it's all very sad and unsettling. Marianne does laundry and daydreams on the grass and just hears Connell's voice talking about "seeing other people" on a loop in her lonesome brain. No one is having fun. I scream GET ON A BUS AND JUST FUCKIN' SEE EACH OTHER but no one can hear me, here in my social-isolation chamber, far from these hapless youths.
Marianne is home for her dad's anniversary mass when she runs into Connell in the grocery store. He's mad she didn't text him that she was going to be in town. Again, all of this is infuriating and also a little funny because "see other people" doesn't mean "stop seeing each other," so I feel like at least Connell could've left that conversation thinking they were still supposed to be hooking up, just not exclusively? But anyway, Marianne is now seeing Jamie, that annoying friend of hers with boy-band hair who always has his hand on her knee and tells her what kind of wine she wants. Connell says he's not seeing anyone. Everything she says to him is clipped and cold, but she insists, when asked, that she does want to be friends. Even though she told him not to come, Connell shows up to mass.
Skipping ahead to September, Marianne is still sad (hair = low bun) when she meets Connell for coffee. They have to take this exam that will apparently dictate their entire future. Lotta high-stakes test-taking in this part of the world, I see. Ugh, she's Jamie's girlfriend now, which is a real drag for all of us. Sort of apropos of nothing, she launches into this dissertation about how she and Connell had sex as "equals" whereas Jamie is "into pain, like inflicting it. Turns out he's a bit of a sadist." Marianne is like the girl who comes back from study abroad with an accent. Clearly she just wants to get a rise out of Connell just so she can call him a prude. Connell wants specifics, and she reports that he slaps her and uses a belt. Connell says it "sounds fucking horrible." Not to kink-shame fair Marianne, but it's hard to tell if she really disagrees with Connell or if her M.O. is just to try to be happy by making men around her happy, even/especially at the expense of her own happiness. ("I'd have done anything you wanted me to," she tells Connell, which of course we already knew.) The glimpse we see of her and Jamie having sex — his hand yanking on her (low!) bun and her face in this tight grimace, halfway between misery and boredom — does not suggest she's all that into whatever is happening there. Like, she looks significantly happier during that Your Future Depends On This!!! exam, when she and Connell briefly make eye contact.
Now it's April, which at first I thought was a flashback because we've been doing this six weeks ahead/six weeks back thing, but no, it's just future-April, the end of this academic year. Where has Connell been living? We have no idea. But at this informal-looking outdoor gathering, we learn that both Connell and Marianne won this big scholarship prize in their respective courses of study, which means they get five years of free tuition and accommodation, which is transformative for Connell and means not a whit to Marianne. It's also kind of a weird thing, storywise, to have happen, because now one of the biggest legitimate obstacles to Marianne and Connell being together — their inability to overcome their considerable class/economic divide — has been magically wiped out. But mazel tov to both of these hardworking nerds.
At Marianne's house, all her friends toast her genius while Peggy, in another Blair Waldorf headband, talks about Berlin. ("Everyone's been to fucking Berlin, Peggy.") The festivities are interrupted when Marianne gets a phone call — it's Connell, who was mugged and is sloshed and bleeding at her doorstep. Hers is the only number he knows by heart.
He and Jamie cannot be, as Marianne pretended she hoped, "civil." (She obviously loves that they hate each other because of her.) So when all her friends go out, Jamie goes with them, leaving these two alone so that Marianne can, I don't know, not apply any ice or invite Connell to wash his face?
"You could have a different boyfriend, you know?" Connell says. "Guys are consistently falling in love with you, from what I hear." He would rather "literally anyone else" be her boyfriend, like for instance the guy who just punched him in the face. Oh, but by the way, he has a girlfriend. Her name is Helen, and she's in medicine. Marianne gives up on playing it even remotely cool and just bursts into tears.
Connell decides that now, a year too late, is a good time to tell Marianne that he'd "kinda hoped" he would have been able to stay with her last summer and he has no idea why they broke up. Marianne realizes with horror that Connell did not actually break up with her and she lost her boyfriend over nothing. Because DUH he could have stayed with her! "Always," she says. "Obviously."
Then she gives him money for a cab and sends him into the night, where Helen tends to his wounds. Helen, whose number he does not know. For whatever that's worth.
Want to stream Normal People? You can sign up for Hulu Live here, or as part of a Disney+ bundle here. (If you subscribe to a service through our links, Vulture may earn an affiliate commission.)