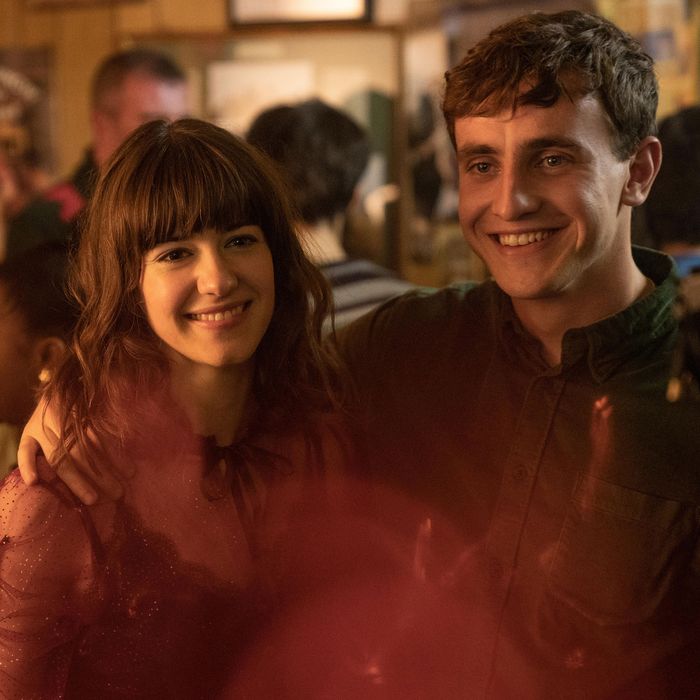 Photo: Courtesy of Hulu/Hulu
Like any good teenage romance, no matter how prestigious and literary, Hulu's Normal People adaptation is full of dramatic and emotional connections to music. When Marianne (Daisy Edgar-Jones) and Connell (Paul Mescal), two teenagers from opposite sides of the class divide in a small Irish town, fall for each other, we hear the sound of Irish band Anna Mieke. When they start secretly having sex, there's Imogen Heap's "Hide and Seek" — a track that'll call to mind a big moment in another major teen drama — though the show's music supervisors admit they hesitated when director Lenny Abrahamson wanted to use it.
"A lot of it was, 'Where do we pull out, what do we not use?'" says Maggie Phillips, an L.A.-based music supervisor who worked with fellow supervisor Juliet Martin, based in Ireland, to suggest and clear songs for the show. "It was important not to have something that was really obvious," Martin said — a concern that prompted those initial doubts about the Imogen Heap track — "but we didn't try to do something really out there. We'd have [Marianne] listen to things that other people would listen to, and quite a lot of Irish stuff." Now that Normal People is streaming, Phillips and Martin walked us through the show's 13 key needle drops and how the song selections track with Connell and Marianne's own taste and growth.
Episode 1: Anna Mieke, "Warped Window"
The scene: Connell invites Marianne to his house to have sex and then kisses her as the episode cuts to credits.
The song: "Lenny Abrahamson wanted something fresh, and then we both went off and both came back with different tracks from Anna Mieke," Martin said. "We wanted something that felt romantic but also wistful," Phillips added. "It's anticipatory, but also there's a little bit of fear and trepidation moving into the relationship they're about to start."
Episode 2: Imogen Heap, "Hide and Seek"
The scene: A montage that follows Marianne and Connell's first time having sex, as they avoid each other at school but hook up in secret.
The song: "That is one that Lenny and the editor put in. It was in there for a while, and I brought up The O.C. and the long list of places it had been used," Phillips said. "I felt very strongly that song shouldn't be in there, and Juliet agreed, and we tried to get something he liked just as much. Ultimately, we just couldn't." Phillips admitted that the song brings up a lot of loaded feelings, but in the end, "it served a purpose and was intimate and quiet and did what Lenny wanted it to do." "Some people will find that it takes them away from it, or it will enhance their experience of watching it," Martin said. "It was on the BBC [already], and 90 percent of the feedback was 'How brilliant!' and 10 percent was 'How could you do that?'"
Episode 2: Elliott Smith, "Angeles"
The scene: As the episode ends, Connell and Marianne return from an abandoned house where she's (sort of) admitted her feelings for him.
The song: Phillips and Martin were hesitant about using a song that might evoke California more than Ireland, so they suggested other Elliott Smith songs when Abrahamson brought up "Angeles," but they ended up going with this one in the final cut. "I'm a huge fan of his, and the second I hear his voice, I'm in," Phillips said. "It is a very L.A. song, but it's also a universal story," Martin said. "Why not have something that's from somewhere else?"
Episode 3: Yazoo, "Only You"
The scene: The episode ends with Connell calling Marianne in tears, regretting taking someone else to a high school dance.
The song: "We tried so many different songs out there," Phillips said. "Originally they had something that was way too heavy-handed. We're definitely pushing the emotions, but that one was too much." She suggested Amen Dunes's cover of "Song to the Siren," but eventually, on the editor's suggestion, tried "Only You." "Music is so personal, and it's just what hits right for enough people," Phillips said. "If Lenny's happy and the rest of the people involved are happy, that's what they'll run with," Martin said.
Episode 4: Lisa Hannigan, "Undertow"
The scene: Marianne decides to text Connell after seeing him again on their college campus, as the episode heads into its credits.
The song: Lisa Hannigan was one of many Irish artists that the supervisors wanted to include on the show. "She was on almost every playlist we created," Phillips said. "I love that we got her in. We tried so many different times."
Episode 5: Ane Brun, "To Make You Feel My Love"
The scene: By the end of the episode, Connell and Marianne reconnect and sleep together again. The song plays as they lie in bed naked.
The song: "We had originally finished the episode by reprising a piece of music from earlier into the episode, 'Into Dust,'" Phillips said, with the Mazzy Star song playing over a sequence of Marianne and Connell going through college separately. That needle drop changed to "La Lune" by Billie Martin, and so this track also changed. "Lenny had a few suggestions, and that was one of them," Phillips said. "The thinking was to use a quiet, romantic piece to celebrate the couple's reunion and not score the moment in a way that points to further heartbreak just yet."
Episode 6: Carly Rae Jepsen, "Too Much"
The scene: The Carly Rae track first appears diegetically in the background as Connell and Marianne flirt in an apartment, before playing over the Normal People title card.
The reasoning: "That scene is a celebration of them together," Martin said, so they wanted a song that reflected the mood. Their goal for the diegetic songs was often to find music that college students like Connell and Marianne might reasonably listen to, finding the right mix between what would be popular, what they might play at a party (like this Carly track), or what they'd choose just to seem cool (like Frank Ocean's "Nikes" in episode five). "In their houses, they're listening to a lot of soul and some emerging Irish acts," Martin said.
Episode 7: The Sei, "Metroma"
The scene: Connell gets mugged and goes to Marianne for help and then reveals that he has a girlfriend. The track plays as he takes a taxi home.
The song: "I was really happy with that one," Martin said, "and it's great because these are small Irish acts. It's great to give them a platform on the BBC and Hulu, and they stand up to the more well-known tracks."
Episode 8: Jealous of the Birds, "Dandelion"
The scene: Connell and Marianne ride bikes from her boyfriend's villa into a small Italian town.
The song: As it was one of the harder songs to select, Phillips and Martin remembered debating the scene until very late in the editing. "Last minute, we changed it, and luckily we cleared it quickly," Phillips said. "It's hard because they're riding a bike, so you need it to be fun."
Episode 8: Nerina Pallot, "Love Will Tear Us Apart"
The scene: Connell takes the train to Venice after a fraught visit to Marianne's boyfriend's Italian villa, heading to the Peggy Guggenheim Collection in Venice to see a painting she's recommended.
The song: This one was actually selected by the episode's editor, Stephen O'Connell, who worked closely with director Hettie Macdonald as she helmed the last six episodes of the series. "He'd heard it a few years ago and had always held back from using it, mainly because there only ever seemed to be a YouTube version and not an official release," Phillips said. O'Connell suggested using the cover at the end of the episode, assuming it would never clear, but luckily it did. (The song was previously only up on YouTube before the show premiered, but has now made it to Spotify.)
Episode 9: Selena Gomez, "Rare"
The scene: Marianne talks to Lukas, the photographer who will later sexually degrade her, for the first time at a party in Sweden.
The reasoning: "It was a choice around the specific scene," Martin said. "She's there, she's aloof, and then Lukas comes up. The overall choice was that we would have something that young adults would listen to."
Episode 11: David Byrne and Anna Calvi, "Strange Weather"
The scene: Connell drives Marianne home after rescuing her from her abusive brother. They sit in the car silently.
The reasoning: According to Phillips, the song was suggested by Normal People producer Emma Norton, who would listen to it as she walked home after work while they were finishing the final scripts. "It really reminded her of Connell and Marianne," Phillips said.
Episode 12: Fionn Regan, "Dogwood Blossoms"
The scene: Connell and Marianne have sex and then sit together, fully nude, after reuniting again, in one of the moments where they get closest to relative happiness.
The reasoning: The song, again from a local Irish artist, also appears in episode four, when Marianne and Connell run into each other and Connell calls her beautiful. At first, Phillips and Martin were hesitant about reusing it near the end of the series. "We initially had something there that we couldn't clear because of the content," Martin said, because, as it turned out, it was a song from a Christian artist who didn't want their work over a sex scene. "Then 'Dogwood Blossom' went in. We debated having it in twice. I don't think that's a problem. It's a connection through the episodes, and now they're back together and it's really warm and tender."
You can listen to the complete Normal People soundtrack below:
Want to stream Normal People? You can sign up for Hulu here or as part of a bundle with Disney+ here. (If you subscribe to a service through our links, Vulture may earn an affiliate commission.)