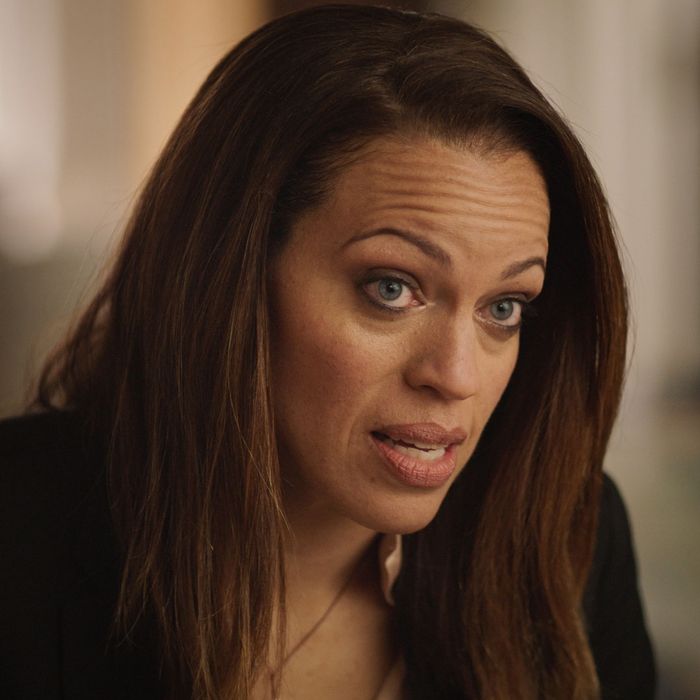 The documentary detailing accusations of sexual assault against Russell Simmons proves to be a compelling and uneven work of the Me Too era.
Photo: Courtesy of HBO Max
On the Record isn't just a documentary. On top of illuminating the stories of women who have allegedly been assaulted by hip-hop mogul Russell Simmons, it's the type of film that is poised to spark meaningful, concrete change in the lives of survivors and the broader culture that can both uplift and resent them. Director-producers Kirby Dick and Amy Ziering tie their work to the journey of survivor Drew Dixon, who as a young A&R executive at Def Jam in the early '90s was reportedly assaulted by Simmons and later harassed by record executive L.A. Reid, leading her to leave the industry altogether despite her success producing hits like "You're All I Need" by Method Man featuring Mary J. Blige. She came forward in a New York Times article alongside two other women to discuss her story. Today, there are 20 women on record accusing Simmons of sexual assault and impropriety. The documentary begins by placing itself within the reckoning that is the Me Too movement, questioning whose stories that movement has historically amplified. As journalist and radio producer Bim Adewunmi notes in the opening moments, "I don't think it's a coincidence that most of the women who have come forward in Hollywood have been white women. I don't think it's a coincidence that they are genuinely quite successful."
On the Record primarily builds itself around Drew Dixon's story, while glancing at the accounts of other women in the hip-hop community at the time, and confronts a multitude of dilemmas: the specific ways black women experience misogyny, the way that misogyny operates in the hip-hop industry specifically, the paths to success available to women there, and the aftermath of experiencing trauma in these spaces. In doing so, the film acts as a rallying cry, a balm, an instructional piece, and a necessary corrective for an ongoing public conversation — which at times feels like more than a single documentary can bear.
Undoubtedly, the stories of each woman featured in the documentary, starting with Drew Dixon are striking and compelling. They force you to bear witness to the patterns of men like Russell Simmons and the women whose lives they warp and livelihoods they squander. Their stories echo one another in moving ways that, as a survivor myself, hit me to my core. On the Record works best as a kind of chorus; each story, each tear, emphasizing the one that came before it. The film — which was, it feels important to note, directed by two white filmmakers — therefore errs in its decision to move only Dixon to the fore, shoving the rest of the women to the side, most of whom are only shown fleetingly toward the end of the documentary. While the filmmakers take great pains to communicate the particulars of black women's experiences, bringing in scholars, journalists, music writers, and feminists like Michele Wallace and Kimberlé Crenshaw to speak to the specific ways black women navigate misogyny within and outside of hip-hop, they struggle to balance all the voices that have come forward, who introduce moving lines of inquiry that deserve to be developed, too. (Toward the end of the documentary, Dixon, Jenny Lumet, and Sil Lai Abrams consider their own privilege as light-skinned, conventionally attractive women. It's a fleeting consideration among other loose threads.)
Because to understand the harm Russell Simmons has caused, one must examine the culture from which he was born. The documentary frames Simmons as the "godfather of hip-hop," stressing how his rise there and in subsidiary industries helped him to accrue the levels of fame, wealth, and power that allow men to abuse with varying degrees of impunity. At the same time, we are given a glimpse of the glory and potential that hip-hop offered fans in the early '90s, through Drew's love of music and her own rise in the industry. We never see the husband she eventually divorces, or her children beyond the intimate family snapshots flashed onscreen, but we do get insight into her friendships with people like Biggie. She's direct and vulnerable as she opens up before the camera about how Simmons's assault shifted the course of her career. Her recounting is moving on its own, but talking heads also poignantly grapple with the misogyny in the hip-hop community that she moved through, and which Simmons dominated. The filmmakers are careful to note that every genre of music has its own form of misogyny, punctuating the claim by showing videos of artists like The Misfits and the Rolling Stones. It feels both sheepish and defensive. Of course, misogyny runs rampant in music. The patriarchal systems that bind us are suffused through every industry, every art form, every interpersonal interaction.
Given the caveats in On the Record, it's hard to ignore how the documentary's own development story affects the experience of watching the film — namely, Oprah Winfrey's decision to take her name off the project as a producer, withdrawing the film from inclusion in her overall deal with Apple TV+ ahead of its Sundance premiere. (HBO went on to buy the film.) Oprah publicly stated that there was "more work to be done on the film to illuminate the full scope of what the victims endured," distancing herself from the "creative vision" of Ziering and Dick. She also said that she faced pressure from Simmons and took filmmaker Ava DuVernay's "harsh" critique of the documentary to heart. The pressures put on her were inevitably projected onto the film and the survivors who appear in it, who already have struggled with the aftermath of their assaults and what it really means to "come forward." It's this section from a New York Times exploration on the fractured partnership that struck me: "Ms. Winfrey, while in South Africa, received a call from someone she said she knew and trusted who cast doubts on Ms. Dixon's story. Those doubts, Ms. Winfrey said, 'gave me pause.'" It's a frustrating and heartbreaking thing to read, as it brings into question what makes a perfect victim in the public eye. There is no such thing, of course. Memory is unreliable. Trauma shapes not only our recollection of the past but how we deal with it moving forward.
Sheri Sher of Mercedes Ladies and Abrams, a writer-activist and former executive assistant at Def Jam, similarly wring their memories for meaning, carefully extolling on the rapes that shifted their lives. Abrams's story particularly struck me after hearing about her suicide attempt. At one point, Dixon mentions the various cultural news stories and events that helped her make the decision to come forward with her story despite the risks it had on her psyche and family life. One such event was Lumet's piece published in The Hollywood Reporter, a wrenching letter written to Simmons directly.
But again, strangely, Lumet only appears in the last breaths of the film, as do the host of other women who were assaulted by Simmons, including Alexia Norton Jones, Kelly Cutrone, Tina Baker, Keri Claussen Khalighi, and an anonymous woman cast in shadow. Their stories are braided together with solemn, sparse music from composer Terence Blanchard, underscoring the heavy mood. In concert, they paint an intricate portrait of women forced to navigate the whims of men in a patriarchal culture that refuses to listen, let alone believe the voices of survivors — most pointedly, of black survivors, the documentary reminds us. In that vein, despite its faults, On the Record is a necessary social document.