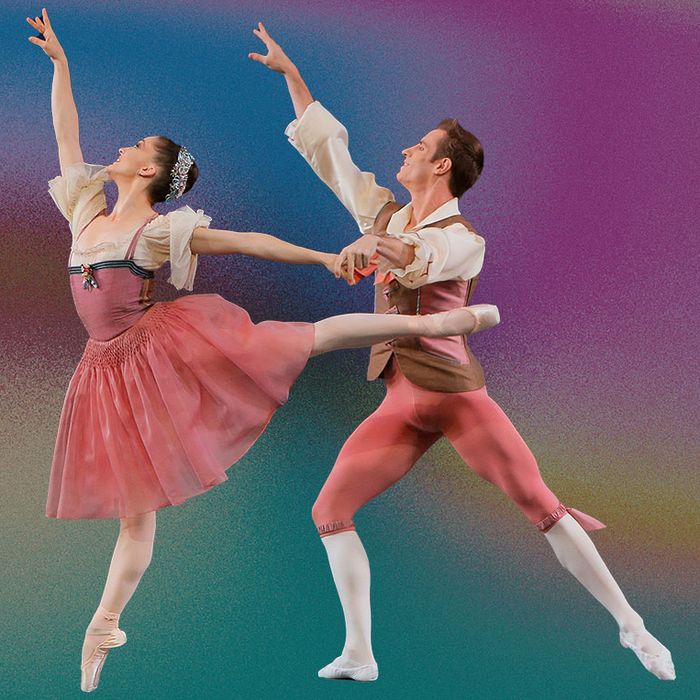 Photo: Erin Baiano and Paul Kolnik/New York City Ballet
You won't be able to attend a dance performance for a while: For the next few months, it's video or nothing. And there are certainly things you lose watching dance virtually, like the way a dancer's gestures communicate directly to the watcher's muscles (as she leaps, you feel yourself leaping too). But the screen doesn't cut that link entirely. Watching a TikTok dance, you can choose to stay on the couch, but you are experiencing a little kinesthetic shudder in your lumbar region—it's deep down, where the dance comes from. And what you can gain from on-camera dance is the screen's pristine landscape view. Those 19th-century choreographers exploiting the wide architecture of the classical proscenium stage were designing for the wide shot long before there was one.
In fact, I first fell in love with dance watching it on film. I was already taking my little ballet classes, deeply invested in leg warmers at eight years old, but I didn't connect the barre combinations to some larger form. Nothing awe-inspiring about pliés. But one night, I saw a PBS broadcast of La Bayadère, a lush old classical ballet, famous for its choreography by Marius Petipa. In one unforgettable sequence—the Entrance of the Shades—the corps de ballet slowly enters, single file, down a ramp. Each dancer does a classroom combination any child could do: step, arabesque, step, cambré back (an arch of the arms and upper body), step. More and more identical women process down the ramp—step, arabesque, step, cambré, step. It goes on for long minutes, repetitive and hypnotic. When I saw it, it reminded me of the marching brooms in Fantasia; now it looks like the sway of a gigantic Foucault's pendulum. Tick tock: eternity's clock.
There are other opportunities in developing a Watching Discipline in a time without live performance. The key ones: abundance and access. It's actually a good chance to give yourself a quickie dance education. What YouTube hole will you fall down? Ballet? Modern? Contemporary? In the past two months, I've found works I knew were seminal but had never gotten to see, pausing and rewinding to learn about a dancer I'd only ever watched from 30 rows back. Here, a little starter set for the enthusiast who wants to feel like leaping again.
Where to watch: Marquee, which some style the "Netflix of the Arts," an online subscription platform rich in dance and opera that has a growing catalogue of theater.
➽ The service has some ultratheatrical pieces like Kidd Pivot's Betroffenheit, and its classical section boasts a full house of Giselles and Nutcrackers. I prefer to drink deep from its international contemporary dance offerings, so I watched Sidi Larbi Cherkaoui's Sutra, the 2008 dance that turbocharged his global reputation. Filmed at Sadler's Wells, Cherkaoui's collaboration with the Shaolin Temple's monks and designer-sculptor Antony Gormley admittedly grows a little cool onscreen. What translates beautifully, though, is the arrangement of bodies and objects, as the kung fu dancers manipulate, disappear into, and jump off a series of wooden crates, like ancient Chinese terra-cotta soldiers cartwheeling out of their long sleep.
Where to watch: Many websites for long-lived dance companies — like the one at rosas.be — have deep archives as well as current programing.
➽ Anne Teresa De Keersmaeker's company Rosas is digging into its catalogue to show some of the Belgian maestra's work — though you can also find one of her early-period masterpieces, Rain, on YouTube. Even if you've seen many of these works when they were in New York, they bear rewatching and re-rewatching: De Keersmaeker's musicality is so keen, her work comes as close to being music notation as you can get without dressing dancers up like eighth notes. Through www.rosas.be, I watched the documentary on her titanic 1983 hit Rosas Danst Rosas to remind myself of her sensual '80s minimalism (the eyes are distant, but sweatshirts are constantly falling off shoulders, hair is constantly falling in eyes), and then toggled over to the 2013 Partita 2, a collaborative trio with dancer Boris Charmatz and the violinist Amandine Beyer, filmed at the Festival D'Avignon. Aside from choreographing West Side Story on Broadway, much of De Keersmaeker's recent work has explored Bach, and seeing her perform her own familiar gestures—the obsession with circles, the descent to the floor—alongside the complexity of Bach's violin partita teaches you a great deal about how his music makes mathematical relationships into structure, and structure into grace. (Use your best headphones for this one—you need the music right in your skull, where sonic "nearness" can substitute for liveness. Also, the first long section is in total darkness; do not adjust your set.)
Where to watch: Mercecunningham.org functions as (among other things) a living online museum.
➽ The website collects available films of Merce Cunningham's pieces, some of them set on other companies and licensed after Cunningham's death by the Trust. These serious recreations can lose some of the originals' playful air (you can still sense his characteristic insouciance with veteran Cunningham dancers like Rashaun Mitchell and Silas Riener on their Instagram), but it can still be thrilling to see a new generation of dancers working with Cunningham's abstraction, subtraction, neutrality, and complexity. I watched the Opéra de Lyon ballet company doing Exchange, set against a David Tudor noise-assemblage. The inherent scatteredness of watching dance online—your attention wanders, your other screens call you away—aren't fundamentally disruptive with Cunningham, since he was deeply interested in the way chance and accidental juxtaposition enriched his choreography. Who's to say that chopping onions while you watch BIPED violates its spirit? Exchange makes for a particularly interesting digital broadcast during quarantine—the Jasper Johns design used deliberately smog-like colors, so you can contrast the grey-green leotards with our increasingly clear sky outdoors. It's also a good introductory Cunningham video, since Exchange contains moments of gripping unison, the dancers shuddering in difficult, one-legged, deep-bending postures, refusing to break formation.
Where to watch: The biggest New York companies (ABT, NYCB) are putting content online for very short runs.
➽ NYCB's spring season was converted in the pandemic to online video released twice a week, each for 72 hours. On Friday, May 29 (and for the rest of the weekend), you can watch a smorgasbord of excerpts, introduced by the company's homegrown choreographic hope, Justin Peck. They're consciously Jerome Robbins–esque, as when the ebullient Peck and Robert Fairchild in sneakers break into ecstatic tap dances, college kids on an eternal holiday break, Lindy-hopping around the stage like a pair of spring lambs. That's fine if you're in the market for some joyous energy. Personally, I'm in it for the moodier pieces, like the swift snippet of Alexei Ratmansky's Voices, in which Lauren Lovette (sharp hipped, folding like a flick knife) is whisked around the stage by the susurrus of Setsuko Hara's murmuring voice, or Kyle Abraham's The Runaway, with its exquisitely muscular solo for Greek-god-in-human-form Taylor Stanley.
Where to watch: Ailey's website lets you do a thorough, interactive exploration of the company's work, and includes ways to take classes, follow specific dancers, and see how the signature Ailey gestures feel in your own body.
➽ Even for people with only a passing interest in dance, Alvin Ailey's Revelations may be familiar. It was the choreographer's undisputed masterpiece, made in 1960 and revived a million times since — you basically can't have a Kennedy Center Honors ceremony or an outdoor concert at Damrosch Park without at least an excerpt. But even if you've gone before, returning will feel like church: You can always worship again. Some of its gestures — the Ailey seagull arms, the way a woman's breastbone seems drawn right up into the rafters — act like a tonic when you see them. Before this, I watched the grainy version on YouTube in glum moments; now, on June 4, you can see the polished version for free, along with a whole suite of Ailey offerings, like classes and even a step-by-step breakdown of a few of the dance's key moments (see below). In the times before, you weren't a very good New Yorker if you hadn't seen Revelations. Now, in watching it, you might feel like you're back in the city, a citizen of its culture again, the one the Revelations promises will rise again.
*This article appears in the May 25, 2020, issue of New York Magazine. Subscribe Now!