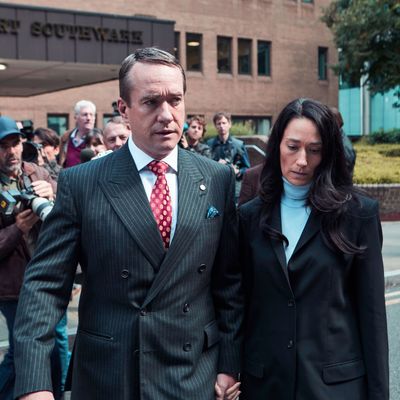 Matthew Macfadyen and Sian Clifford as Charles and Diana Ingram in
Quiz
.
Photo: Matt Frost/AMC/ITV/B) 2019 AMC Film Holdings LLC and ITV. All Rights Reserved.
If you don't remember the details about the Who Wants to Be a Millionaire? fraud scandal that happened in the early 2000s in England, don't go to Google before you watch Quiz. The fascinating three-part limited series, which first aired a few weeks ago in the U.K. and debuts Sunday on AMC, is compelling regardless, but may be best appreciated by those who come to it with as few preconceived notions as possible.
Quiz, written by James Graham, who authored the play of the same name, and directed by Oscar and Emmy-nominated Stephen Frears, differs from other scripted accounts of true crime because it doesn't merely add more nuance and color to a high-profile case. It invites the audience to seek answers to several questions, including a big one: Is it possible that the people accused of cheating their way into winning a million pounds actually are innocent?
The limited series is structured around the trial of Major Charles Ingram (Matthew Macfadyen of Succession), his wife Diana (Sian Clifford of Fleabag), and another Who Wants to Be a Millionaire? contestant, Tecwen Whittock (1917, The Alienist), that took place in 2003, but flashes back to the late '90s and early 2000s, when the massively popular game show was being developed and became a British sensation.
In 1997, executives at Celador Television, including chairman Paul Smith (Mark Bonnar of Catastrophe), are certain that the show they've dubbed Cash Mountain could be a major hit, if only they could find a network willing to run it. As Smith puts it, their game show has the same appeal as a good pub quiz, something British people love because it involves "their two favorite things: drinking and being right."
Two people who love a good pub quiz are Diana Ingram and her brother Adrian Pollock (Trystan Gravelle), a semi-sketchy character who doesn't have his life in the same proper order as his sister does. When Cash Mountain is turned into Who Wants to Be a Millionaire? and becomes a nightly fixture on ITV, Diana and Adrian are among its biggest fans. Diana's husband, Charles, on the other hand, isn't particularly interested in watching people try to answer multiple choice questions for cash prizes, deeming trivia to be, well, trivial. A decent but uptight and nerdy major in the English Army, he's smart but has little knowledge of popular culture.
After many, many attempts to become a contestant, Adrian makes it on the show. Then Diana does, too. But when a reluctant Charles is persuaded by his wife to give the game a go, and actually lands in the Who Wants to Be a Millionaire? chair for two consecutive nights, he manages to win the million pounds. But how?
The Millionaire producers find reason to believe that the Ingrams, with an assist from Whittock, who is seated in the circle of potential next contestants as the Major plays, rigged the game in their favor. (I'll spare the details since, again, it's best for you to hear or be refreshed on them while watching the series.) It's also clear that in their zeal to launch Millionaire, the people behind it weren't particularly rigorous in abiding by vetting and security protocols. When the events leading up to and surrounding Charles's win are first presented in Quiz, the fact that the Ingrams cheated seems obvious. But when considered again once their lawyer, Sonia Woodley QC (Helen McCrory), argues their case and puts, among others, Millionaire host Chris Terrant (Michael Sheen) on the stand, doubt enters the picture. Quiz is a series about a game-show scandal, but it's also a mystery, with a dash of Rashomon in its approach.
It's also frequently really funny. Macfadyen, who is an absolute master of conveying cluelessness in his Succession role as Tom Wambsgans, channels his instinct for awkwardness into Charles, the kind of guy who is always a verse behind when he tries to sing a Gilbert and Sullivan tune with his boss. Clifford's Diana can seem exasperated by him, but the two actors also have a warm chemistry together, and display tenderness that makes it possible to believe there are shades of gray in their story. There are wry touches elsewhere, too, including a laugh-out-loud moment when one of the Millionaire producers, sure that Charles has no chance of winning, realizes she forgot to load glitter into the machine that's supposed to dump it in the event of a million-pound winner. And when one of the British producers realizes executives from ABC are on their way upstairs to discuss buying the rights to an American version, he says, in a panic: "Basically, Mickey Mouse is coming up the stairs."
Quiz is smart, entertaining, and told with a great sense of efficiency. By sticking to three hour-long episodes, it provides all wheat and no chaff. While the series doesn't blatantly aim to be culturally relevant or offer specific lessons that can be taken away from this episode in British pop-cultural history, it hints at how frighteningly easy it is to perpetuate falsehoods once they become accepted as fact.
"Say something loud enough, long enough, it becomes de facto truth," one character notes in the final episode. That was true almost 20 years ago during this English scandal. It's even more true now.