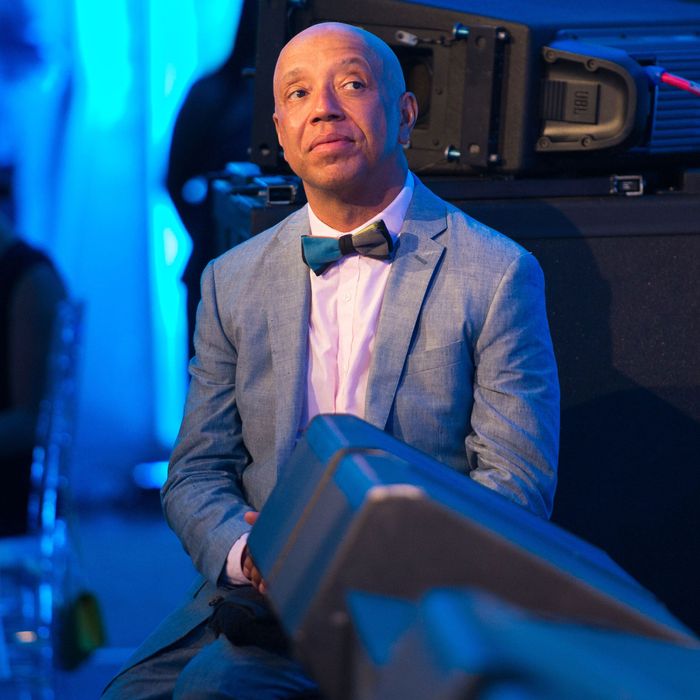 Photo: Scott Roth/Invision/AP/Shutterstock
With the launch of HBO Max, the Kirby Dick and Amy Ziering documentary On the Record, which premiered at Sundance and details the sexual-assault accusations against music mogul Russell Simmons by several women, is now available for wide viewing. Similar to Leaving Neverland and Surviving R. Kelly, it paints a picture of a powerful figure who used his position to allegedly prey on multiple women for many years. But the film, originally executive produced by Oprah Winfrey until she left the project, citing various concerns, focuses more on the broader culture that allows such abuse to happen and that privileges the voices of certain survivors over others, rather than emphasizing the sordid details of the incidents themselves. Mainly, it tells the story of Drew Dixon, a rising star in the Def Jam world who'd go on to tell her story to the New York Times about her alleged rape by Simmons and sexual harassment by fellow industry stalwart L.A. Reid. Her account and the accounts of other women in the hip-hop community at the time are indeed harrowing, and for those who would rather read about them before hearing them told, in full, to heartbreaking effect, here are the accusations that are covered in On the Record. (As the film notes, Simmons admitted to some improprieties but denies all of these accusations.)
Drew Dixon
Dixon was a rising star in the rap world — she was responsible for Method Man and Mary J. Blige's "I'll Be There for You/You're All I Need to Get By" and hits by Aretha Franklin, Lauryn Hill, and many more — and, in addition to what she told the Times, she recounts that the first time Simmons was inappropriate with her was in a restaurant, where he accosted her outside of the bathroom, pulled her into a closet and tried to kiss her. She resisted that advance, but then he started repeatedly harassing her in her office.
"He would come in and lock the door," she recounts. "The first couple times, he would just try to kiss me and I got out of it. But then Russell escalated from pushing me against the wall to literally coming in, not touching me, but exposing himself. I thought he was like this tragic ADD puppy dog that I just had to keep retraining."
Dixon says Simmons would apologize and then back off for a while before repeating the process, which she thought would end as she moved up within the ranks at Def Jam. But in 1995, after a night at New York City's Bowery Bar, he invited her up to his apartment under the pretense of ordering a car. There, he told her he had a demo she should listen to, an offer she described as "catnip for me," and said it was in his bedroom CD player. When she went in to retrieve it, the assault began.
"The next thing I know, he is naked, wearing a condom, and he just grabbed me. He just grabbed and he just threw me on the bed, and he wrestled me to the bed and pins me down and I'm fighting and I'm saying no. He's telling me to stop fighting in a very cold, menacing, detached voice that I'd never, ever heard from him before."
At that point, Dixon noticed handcuffs dangling from the canopy of his bed and, though she says they were never used on her, it scared her so much that she "blacked out," which she points out is a common self-preservation mechanism for sexual-assault survivors. "The next thing I remember, I was in the bathtub with him naked and he says, 'So now that you and I are fucking, Drew, we'll hang out and we'll fuck all the time,'" she recalls. At that point, she got up, got dressed, walked the 22 blocks back to her apartment, and got in her shower, fully dressed, and sobbed. "I was reduced to nothing in that moment," she says. "I was nothing. I was trash […] I was some physical thing he utilized for his pleasure." Miguel Mojica, an A&R executive, says Dixon told him about the incident a few days later and asked her if she wanted to report it to the police, but she declined, saying nobody would believe her. She remembers going back to Def Jam for some meetings, with Simmons once asking her to sit in his lap, before she quit.
Dixon moved on to Arista Records, where she worked with A&R executive L.A. Reid, who'd discovered TLC, Outkast, Usher, and many others. Their working relationship soon soured when he'd invite her to meet him at hotels and play with her hair, advances she gently resisted at first until, she says, "You realize this is gonna end one way." After repeatedly saying she would not meet with him in private to listen to music, she says "he gets meaner and meaner and meaner, and there are more and more professional consequences." In one instance, he berated her in front of the A&R staff for wasting his time by bringing in Kanye West for an audition; in another, he refused to attend an audition for John Legend, then still known as John Stephens, and told his senior staffers not to go either. "Unless I sleep with L.A. Reid as a quid pro quo […] I am doomed," she says. Dixon left the music business soon after.
Sheri Sher
Sher was a founding member of rap's all-female hip-hop group, Mercedes Ladies, and approached Simmons to be their manager in the early '80s. One night, he invited her to his new office, where she thought they'd talk about the group's future. "The next thing I know, I'm pinned down to the couch that he had and I remember I kept saying, 'What are you doing? Get off of me,'" she recalls. "It happened so fast. He had his pants down and he just took, took, took what he wanted." While she told her sister and a friend about it at the time, she didn't come forward until 2017, after the Times report.
Sil Lai Abrams
Abrams*, a writer and activist, was a model before becoming an assistant at Def Jam. In 1994, she was socializing with Simmons when he made a pass at her and she rebuffed it, as she was dating another man at the time. He said that he understood, but as day turned into night and she grew increasingly intoxicated while he remained sober, Abrams says he convinced her to return to his place to sleep it off. There, she says that he raped her when she, despite all her efforts, was no longer able to physically fight him off.
"I remember I came upstairs and I passed out on his bed and I heard some noise," Abrams says. "I think he'd gone to take a shower. And I opened my eyes and he is walking towards me and he's naked, except he's wearing a condom. I kept saying, 'No, no, no.' I kept thinking, My boyfriend, my boyfriend, my boyfriend. And then he raped me and I couldn't fight. I couldn't do anything. I just lay there."
When she went home that night, she was so filled with, as she puts it, "rage" and "self-loathing," that she took 18 prescription sleeping pills and said good-bye to her son as they kicked in. Thankfully, the friend she was staying with got Abrams to a hospital just in time for doctors to save her. Later in the film, she meets with Dixon and Jenny Lumet, the screenwriter and daughter of director Sidney Lumet, who accused Simmons of raping her in a 2017 column in The Hollywood Reporter.
Alexia Norton Jones
At the beginning of a segment that intersperses the accounts of several women, Jones, a writer, says Simmons invited her to his apartment one evening. "And suddenly here I am and he has pinned me," she says, voice rising in anger throughout the interview. "That anybody could so swiftly and forcibly penetrate me, while, actually while I'm saying no … He took a piece of me with him when he did this, and then he carried it with him. And he carried it with him for three fucking decades."
Kelly Cutrone
A publicist and author, Cutrone says she thought of Simmons as a "hangout peer" through their work in the music business. "I felt safe with him," she says. "He pushed me into the door, in through the door, and pushed me down on the ground. He wanted to physically dominate me and rape me. I kicked really, really hard and I fucking screamed. And I just ran to the door and he, like, let me go."
Tina Baker
Baker, a singer and songwriter managed by Simmons in the early '90s, also came forward in the same Times story as Dixon, telling a familiar tale of being assaulted after getting invited to the executive's apartment. "I was absolutely shocked and taken aback and I froze," she says. "I think of it akin to that feeling that must happen when you think that you're on a plane and it starts to go down. That 'No, no, no, this isn't happening.'"
"Anonymous"
One accuser appears in silhouette, and the documentary notes that her voice has been reenacted to protect her identity. She says she bonded with Simmons over yoga and spirituality, topics he's written inspirational books about. "He puts his knees on my legs and pins my hands down," she says. "I pushed him off of me and I was like, 'What the fuck are you doing? What the fuck is wrong with you?'"
Keri Claussen Khalighi
Khalighi made her accusation against Simmons in 2017, saying that when she was a 17-year-old model, Simmons assaulted her while director Brett Ratner, who's faced his own slew of misconduct claims, watched. "It was just so out of left field," she says. "I remember being shocked to the point where I thought it was a joke. I remember fighting it, fighting on the bed, because I didn't want his penis in me. I had to do some dark nights of the soul to work through this layer of shame."
* An earlier version of this article misspelled the last name of Sil Lai Abrams. Vulture regrets the error.