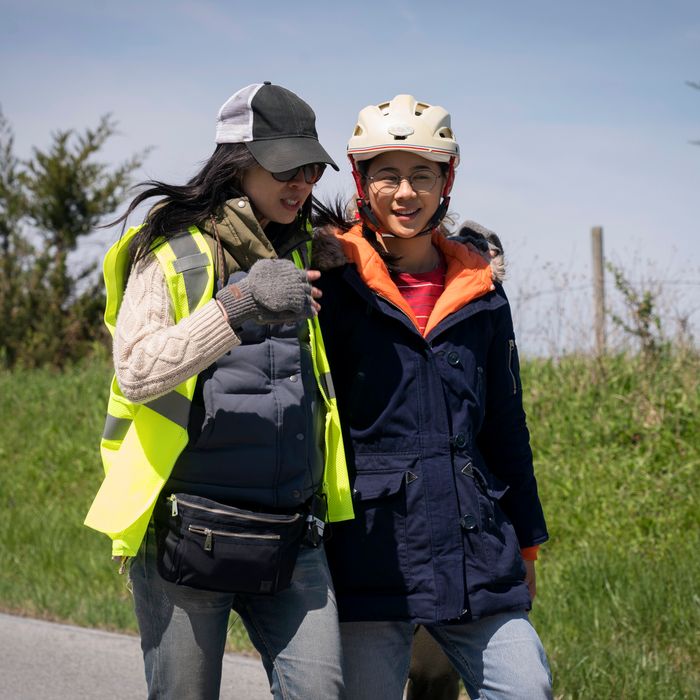 Alice Wu and actress Leah Lewis on set of the director's new Netflix movie,
The Half of it.
Photo: KC Bailey/Netflix
This article was featured in One Great Story, New York's reading recommendation newsletter. Sign up here to get it nightly.
There's a scene in Alice Wu's Saving Face in which Joan Chen, playing Ma, wanders into a Brooklyn video store in search of Mandarin-language fare. The film premiered in 2004, when rentals were thriving, but the establishment Ma finds herself in is on the seedier side, and there's something particularly desultory about the section she's pointed toward. There's a copy of wuxia hit Crouching Tiger, Hidden Dragon, Bernardo Bertolucci's The Last Emperor (a nod to Chen's own filmography), and The Joy Luck Club — a whole country and its U.S. diaspora represented by a scattering of titles, one of them directed by an Italian and all of them shelved next to an Asian porn selection that looks a lot more robust. It's a wry summary of the territory "China" occupies in the mainstream American cultural imagination — but then Wu's film adds a twist to the joke. Ma, who's been living in the immigrant enclave of Flushing and watches imported soaps all day, is unbothered by yearnings for representation onscreen. It's the porn that attracts her abashed attention, as a 48-year-old widow who's never had the liberty to watch something like that before.
Saving Face, which played at the Toronto International Film Festival and Sundance before it opened in theaters in 2005, was the first film from director Alice Wu, who was 35 at the time, having left a career at Microsoft in order to bring her debut project into the world. And for a while — until The Half of It, a Gen-Z take on Cyrano de Bergerac, arrives on Netflix on May 1 — it was her only film, a feature whose existence continues to feel unicorn-improbable a decade and a half on. It's a film about Wil (Michelle Krusiec), a semi-closeted surgical resident whose romantic life becomes increasingly complicated when her mother (Chen) moves in with her, pregnant with a baby whose father she won't name. There aren't exactly an abundance of Chinese-American lesbian rom-coms in existence, especially ones that happened to have been produced by Will Smith (courtesy of his Overbrook Entertainment partner, Teddy Zee) with aspirations of chasing the success of My Big Fat Greek Wedding. The scene at the video store feels like an acknowledgment of that fact — as well as a playful shrug at the impossibility of pleasing everyone who hopes to see some part of their experiences onscreen.
Needless to say, Saving Face did not make My Big Fat Greek Wedding money, maybe because it's not interested in serving up cultural differences to be laughed at rather than with; there's no outsider character serving as an audience surrogate. When Wil falls in love, it's with a childhood friend turned ballet dancer named Vivian Shing (Lynn Chen) — someone who understands the two worlds Wil straddles. And while the film stays gently comedic throughout, it deals with heavy themes like filial obligations and disownment — the reasons that Ma turns up on Wil's doorstep, and the reasons that Wil doesn't discuss her love life with Ma. There's something about its steadfast ebullience, the insistence that a happy ending is as authentic as pain, that feels better suited to audience appetites today than it did to arthouse tastes at the time.
Saving Face wasn't a hit, but it performed well enough at the box office and with critics for studios to offer Wu new projects. Speaking over Zoom from her home in San Francisco this month, she recalled the aftermath of her debut. "I was like a deer in headlights. People were like, 'What's next?' And I was like, 'I don't know. I just was thinking I was going to get this thing made.'" She was attached for a while to an adaptation of a memoir called Foreign Babes in Beijing for Paramount, and then she sold a pilot to ABC that was inspired by her experiences working in the tech industry. But the sense of urgency that had led her to make her initial leap of faith from that world, writing a screenplay and moving to New York to learn filmmaking, just wasn't there anymore. "I was reacting to the market," she said. "I was picking things that I was interested in, but it was work for hire. It was still enjoyable in a lot of ways, but there's a difference between something that's yours and something that you've been hired to do."
Wu is 50 now, though anyone would peg her at a good decade or two younger, and she's a discursively delightful person to talk with, prone to chasing different trains of thought and refusing to place herself at the center of the conversation. But that same sense that she doesn't have to be the one speaking if she doesn't have something pressing to say also amounts to why she ended up leaving Hollywood ten years ago. When Wu got her start as a filmmaker, articles about her stressed a certain pragmatism — the way she left a lucrative software gig in Seattle and gave herself a five-year window in which to make a go of filmmaking — in a way that underplayed the sheer tenacity required to push through a project that every executive reflexively wanted to make more white and less gay. The process reinforced what Wu perceived to be true in college, that "being a writer conjures up a white guy in Paris smoking a thin cigarette and drinking a tiny coffee," and that "being a filmmaker conjures up another white guy who commands respect in this patriarchal, square-jawed way. None of these things are me."
After Saving Face, the idea of making compromises on behalf of something she was less personally invested in, just to direct again, wasn't that appealing. "It turns out I'm just very stubborn," she said. "I'm just not going to be like, 'Yeah, I'll make these changes for a financier.'"
Then when Wu's mother, for whom she wrote her first film ("I wanted my mother to know that it was never too late to fall in love for the first time," she wrote in her director's statement) had a major health issue around 2009, Wu went up to the Bay Area to take care of her for what she initially thought was going to be a few weeks. Around the eight-month mark, when her agent called and asked if she was coming back to Los Angeles, she admitted she wasn't. To herself, she admitted more than that. "I didn't say this to her, but in my head I was like, 'I've left the industry.'" Wu took care of her mom, taught long-form improv, and lived thriftily off the investments and the savings she'd put together from her two careers.
A decade passed, the movie business ebbed and flowed and started to seriously contend with its own assumptions about what a writer and a filmmaker looks like — and suddenly Wu found the industry she'd walked away from newly interested in her. "I'm like a weird forest animal that's in some part of the forest that no one ever goes to," she joked. "Then one day, for reasons I don't understand, someone went off the path. I come out of my hole, and there are all these random people around. They're like, 'Hey, so exciting.' Literally, someone was like, 'You know, what we need is an Asian lesbian. There's one!'" Now The Half of It, a teen drama that just won the Best Narrative Feature award at the curtailed Tribeca Film Festival, feels destined to break a million quarantine-weary hearts when it hits streaming.
The Half of It owes its existence to Donald Trump. After the presidential election, Alice Wu found herself unable to focus on the spec script she'd been hired to write for someone else's project, or to do anything except doom-scroll through the news. She started to wonder if what she needed to do was finally work on something of her own again, so she figured out a way to blackmail herself into finishing a first draft of a film that she could direct. She made out a check for $1,000 to the NRA, and placed it in the care of a friend who was under strict instruction to mail it off if Wu didn't meet her deadline. The threat of actually becoming a donor to the organization turned out to be an incredibly effective motivator.
Trump's also the reason that The Half of It takes place in a small town called Squahamish instead of, say, a suburb in Orange County or New Jersey, and the reason Wu took the story to Netflix, the distributor that could promise the widest reach. Wu, a child of Taiwanese parents who grew up bouncing around the Bay Area, wanted to explore the experience of being the only immigrant kid in an insular area, as well as — as far as her heroine, Ellie Chu (Leah Lewis), can tell — the only queer one. But she also wanted to make a film that offered empathy toward people raised on beliefs they might grow out of, because she did. "I grew up in a very conservative Chinese family," Wu said. "They were young immigrants in a very unfriendly country to them — but my parents were totally sexist and racist and homophobic, and so was I." When Ellie arrives at a house party where everyone cheers that "the Chinese girl came!," they don't intend it to sting the way that it nevertheless does.
Ellie's life is a series of slights, only some of them actually meant to wound, but the film takes care to emphasize how much time and space its characters have to change. Not that that's much comfort to someone who's socially invisible outside of the dubious honor of being the only Asian in school, a piano-playing, straight-A student who takes care of her depressive single dad (Collin Chou) and helps with the household bills by selling essays to classmates for $20 a pop. That side hustle is why a second-string football player named Paul Munsky (Daniel Diemer) comes to her for help punching up his woefully inept letters to school beauty Aster Flores (Alexxis Lemire). Ellie happens to also like Aster, as much as she's allowed herself to think about things like that, and ends up channeling all her frustrated longing and wit into wooing her on Paul's behalf, first via notes, and then over text.
It's a love triangle set-up that also brings to mind something Wu mentioned about the periods immediately following Saving Face. At that time, her agent urged her to prove that she could write a broad range of characters, by which he meant: straight and white. "Obviously, I can write those characters," she recalls thinking. "I literally live among those characters all the time." Ellie's been doing the same, and it never occurs to her that she could be the romantic lead among them. Instead, she reflexively puts her words and thoughts in the mouth of Paul, who's sweet if not especially smart, and who looks like the kind of person who traditionally gets the girl. She scripts herself out of the narrative, something the industry has so often asked Asian and Asian-American creators to do.
When Crazy Rich Asians came out in 2018, it was touted as the first studio film to feature a majority Asian cast since The Joy Luck Club in 1993. That's also, with slightly tweaked wording, one of the ways Saving Face was described in 2005, to give a sense of how slowly ground is gained when it comes to Asian-American cinema. These years-long gaps between breakthroughs can make it seem like history has to be continually remade. "It's true that each subsequent generation of Asian-American filmmakers feels like they have to start over, that they're the first," said Andrew Ahn, whose new film, Driveways, will be released on May 7. He pointed out that before Saving Face, there was Ang Lee's gay 1993 green-card farce The Wedding Banquet, which was a hit. But he also notes that when he was trying to make his 2016 directorial debut Spa Night, a portrait of a queer Korean-American teenager, he was told it would be impossible unless he could get it done for a budget of under half a million dollars.
We're currently experiencing a big moment for Asian-American film, if one whose successes have skewed heavily toward the East Asian and, within that, the Chinese-American — what with Jon M. Chu's hit, the arthouse dominance of Lulu Wang's The Farewell, the documentary awards racked up by Bing Liu's Minding the Gap, and Cathy Yan and Chloé Zhao helming superhero sagas. But when talking recently to Leah Lewis, the star of The Half of It, along with Michelle Krusiec and Lynn Chen from Saving Face, what comes up is both a feeling of greater opportunity and uncertainty with regard to whether it will last. It's part of the reason Saving Face has become a kind of nexus point of Chinese-American women filmmakers.
Joan Chen, who can be seen in Alan Yang's recent Netflix movie Tigertail, has directed two features since. Krusiec, who came to the realization that "you can't really wait for somebody to write for you," got a spot in the AFI Directing Workshop for Women and was preparing, before the world was put on hold, to direct her first short. For Lynn Chen, Saving Face was a wonderful but unrepresentative introduction to acting in feature films. "I went into it naively thinking that lots of feature film directors are Asian women. It was a rude awakening, right after that, the real world of independent film." It eventually led her to make her own directorial debut, a black-and-white indie called I Will Make You Mine that comes out on demand on May 26.
Tangled up in this discussion is something even more complicated, and tied back to that sparsely populated shelf in Saving Face and the idea that one film could meet the many expectations of a population so underserved. It's something Wu is aware of, especially in the ramp-up to The Half of It. "Someone literally wrote, 'I trust Alice Wu to give all of the gays everything they want,'" she said. "I'm just like, 'Oh my God, I can barely figure out how to give one gay some of what they want, let alone all gays everything they want.'" Ironically, when Saving Face came out, you could get a sense from reviews that its feel-good touches were held against it. "Everything that happens in the last half-hour betrays the canny, hardheaded perspective of what came before," Stephen Holden wrote in the New York Times.
That finale, in which Wil and Vivian are reunited with the help of their parents, cemented the film's place in LGBTQ canon as the rare happy ending. But it also got Wu challenged at festivals about acceptance as something implausible. "Growing up queer — especially when you're not out to yourself for so long — the arc of love can feel tragic," she said. "If, any time you have a crush, you immediately think, this is deeply shameful, I can't tell anyone or I'll probably get killed, obviously there's no happy ending. The best that will happen is you somehow survive." But she doesn't find Saving Face's last sequence — which, incidentally, prompts other characters in the background to walk out of the scene in disgust — unrealistic.
"Honestly, I believe those characters could get there," Wu said. "Do I think everyone has that? Clearly not, but I never get to see that, and if I can't even see it, how can I believe it can happen for me?"
What's more amazing to Wu is that, 15 years later, no one seems to feel the same way about the ending, which, she observed, "means the world changed." It's changed just in time for her to make a movie that's ultimately hopeful, but considerably more melancholy. Fifteen years later, The Half of It makes for an appropriate bookend with Saving Face — another story about a young woman taking care of her single parent and showing off a capacity for self-sacrifice that's also become a protective response, a way of putting herself last before anyone else can do that for her. It isn't a love story, which is something that Ellie herself warns viewers about in a voiceover early on — not the kind "where anyone gets what they want." But it is a story of a girl learning to love herself a little bit, to see the worth the film so easily finds in her. Ellie wasn't meant to be filed away on a shelf like the movies in Saving Face — an exhibit of coming-of-age, of coming out, of "the Chinese girl." She's just someone who finds herself at the center of the screen, and holds it perfectly well.